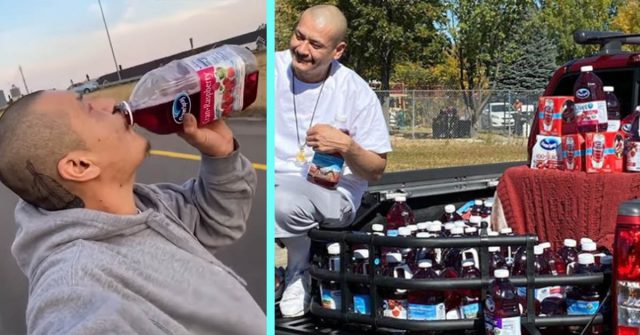 When Nathan Apodaca was on his way to work at a potato factory in Idaho, his truck unexpectedly broke down on the highway. Rather than letting it ruin his day, he simply grabbed his skateboard and a bottle of cranberry juice, and he continued on his way to work.
While he was riding to work on this otherwise beautiful morning, he decided to take a short video clip of himself riding on the social media platform TikTok. The background song to the video he chose was Dreams by Fleetwood Mac. In the viral video, which has been viewed more than 30 million times, he seems to look somewhat tired after having dealt with the stress of his truck, but he keeps a positive attitude, and a very welcoming and gentle smile.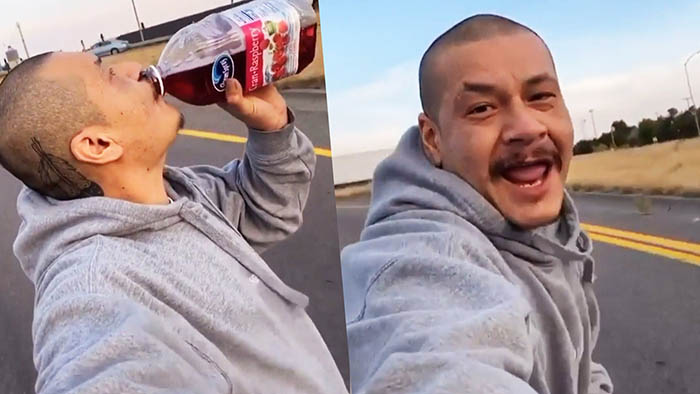 Half way through the 20 second video, Nathan unexpectedly begins lip syncing a beautiful part of the song while holding his arms open and cruising by a lake. Many are saying that his positive attitude in the following video is just what people need to get through the struggles and stress of the pandemic.




Watch this 20-second video of Nathan which has been viewed more than 30 million times:
"My car shuts off from time to time, and it shut off down the highway… I didn't want to wait to flag someone down to get a jump. So I grabbed my juice and grabbed my board," Nathan said.
While a seemingly simple video, it has been appreciated by millions, many of whom say they have watched it dozens of times as a form of stress relief during this difficult time.
The lyrics of the song Dreams are:
"Now here you go again,
you say you want your freedom.
Well, who am I to keep you down?
It's only right that you should
play the way you feel it."
Mick Fleetwood, the drummer of Fleetwood Mac, loved Nathan's video so much that he made his own version, which has him drinking the same ocean spray cranberry juice.
The CEO of Ocean Spray juice, Tom Hayes, also made his own version of the video online and decided to add a little bit of extra kindness for Nathan. Seeing how Nathan's truck had broken down, Ocean Spray decided to purchase a brand new cranberry red Nissan Frontier pickup truck for Nathan, and they filled it to the brim with cranberry juice.



When the Ocean Spray team arrived at Nathan's home, he was very surprised.
"I hear a knock…so I get up and open the door. I poke my head around the corner and then there's a camera behind (my daughter), camera behind that camera man…I'm like what the heck is going on?" Nathan said. "I didn't add two and two together until they told me it was mine and even then I didn't believe it."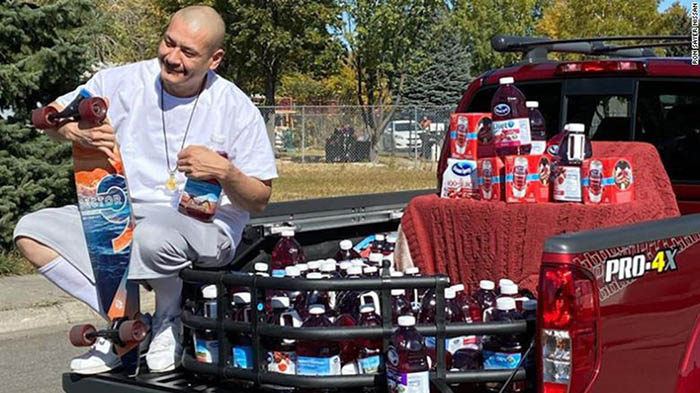 Nathan couldn't believe that they had decided to buy him a new truck, and when he saw it he continually said, "no way, no way!"
"This is from Ocean Spray to you," the Ocean Spray spokesman said. "Thanks for keeping it positive… The truck is yours and the Ocean Spray is yours."
Millions have shared how Nathan's simple video has helped brightened their day.
"I have legit watched this 20+ times. This is therapy," wrote lynzlab.
"I haven't felt this calm in ages. Thank you," shared another.
"This man defeated 2020 ???" commented Mike R.
While the pandemic has been tough for all of us, let's do our best to keep a positive attitude: We will make it through.
You are Loved.
See Also: Leonardo DiCaprio Has Raised Over $100 Million For These Truly Beautiful Charities