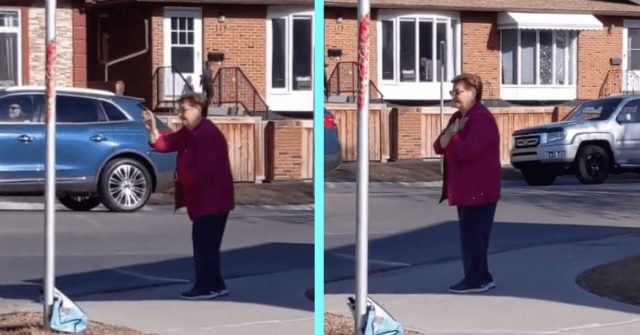 A kind 85-year-old woman is spending her free time waving, blowing kisses and giving "air hugs" on a street corner to show love to people who drive past.
For the past few years, Helen Jusic has been waving to cheer up her neighbors from a street corner in Bridgeland, Calgary. This simple act of kindness has not only brought hope, smiles and brightened the days of thousands of her neighbors, but it has also helped her feel good too.
"This lady stands on the corner every day in Bridgeland and waves and blows kisses and gives mock hugs to everyone who is driving by," Kerry Bennett, who lives in Calgary, shared in a post online. "So heartwarming! I'm going to take her flowers."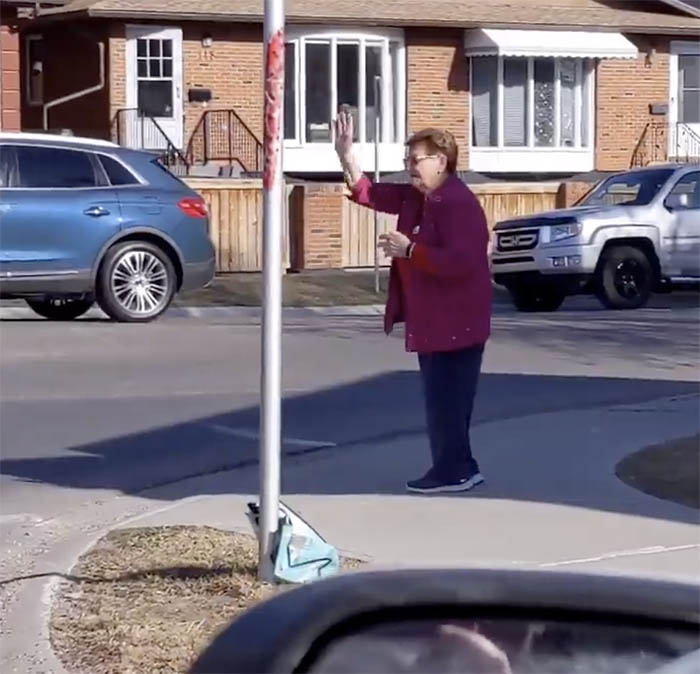 Helen first began waving to cars driving by during the beginning of the pandemic, when she was struggling with self-isolation and was unable to volunteer at the nursing home which she regularly helps at.
"Before the virus came, I was very busy. I was volunteering a lot… here in a nursing home (and with children with disabilities)," Helen said. "But when the virus came, they didn't need volunteers anymore. I live by myself. I was in the house and I felt like a bird in a cage. I lost contact with people and I became depressed and had really bad anxiety."
"So what [am] I gonna do?… That's not me just doing picture puzzles or something like that… I needed something. I said, dear Lord, please help me. Lord, help me find something to do."
During this time of her life, Helen was out on a walk one day and saw a bus driving by. On an impulse, she raised her arm and waved, and the bus driver smiled and waved back. She then waved to the next car driving by, and then to another truck that drove past. It was making people happy.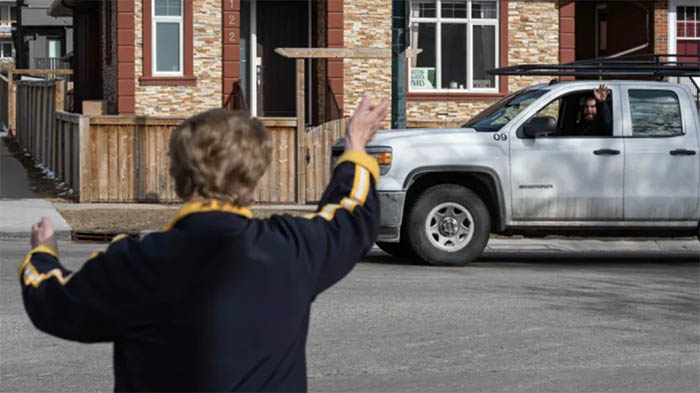 "I said, there is something I can do. There is something. That's how I started," Helen said. "I'm just greeting, just saying hello and have a good day or God's blessings."
Helen began standing on the street corner in her neighborhood and each day would wave and smile to the cars passing by. She also gives "air hugs" and blows kisses to show how much everyone is loved.
Kerry Bennett, a resident in Calgary, shared how much the "lady on the corner's" waves and smiles mean to her.
"I felt like I was getting a hug that I'd really been missing for a year kind of thing. She's really brightened my world."
Another neighbor who drives by Helen each day, Eileen March, shared how it helped brighten her days.
"To me, it's a ray of sunshine in what's been a tough year, so it's just a joy to see her out there every day," Eileen said.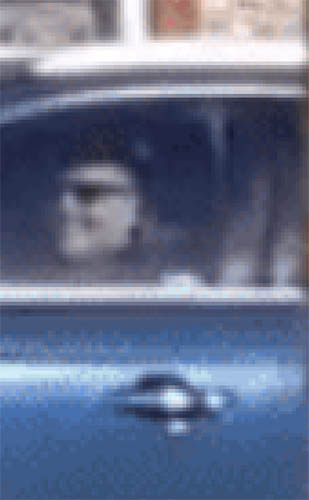 Two other neighbors who live down the street, Matt Mister and Alli Marshall, have also appreciated her kindness.
"If your window's down, she says: 'I'm sending you love; I love you. You're beautiful,'" Matt said.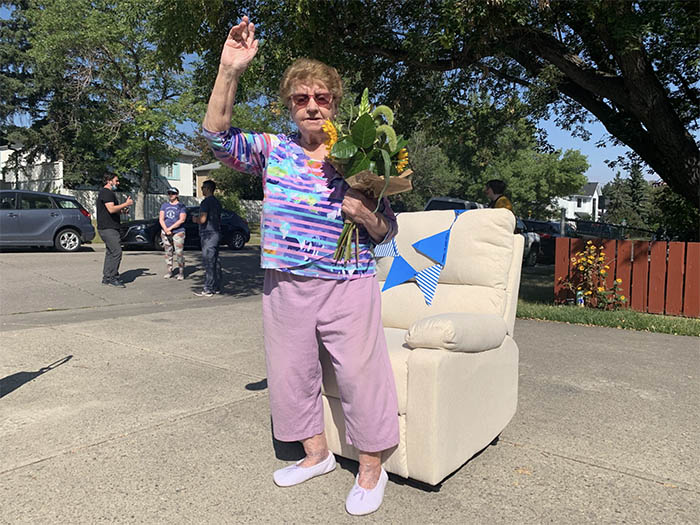 "The first time that I saw her, it got me really in the heart, you know?" added his partner, Alli Marshall. "She was taking this time, with her life's energy, to share a lot of love with the neighborhood during a time when we all need some hope. I think she's just an amazing person."
Videos of Helen have been shared online, and thousands of hearts online have appreciated her kindness. People from her community and from around the world have been sending her thank you notes and flowers in the mail.
"How incredibly fantastic. What a good human being. Can you imagine a world filled with people who think like her?" commented one grateful heart.
"Soooo sweet. Where and when does this lady do this? My mum lives in Calgary I want her to drive past and feel the love," wrote another.
"I never dreamed something like this would happen," Helen, who has lived in Calgary for nearly 35 years, said. "When I was young, I was introverted and shy and somehow I survived, and now I can't believe that's me. I can just cry, the goodness. I have to thank God. Only God can arrange something like that. I didn't realize it would be so meaningful."
One of Helen's favorite thank you notes came from an anonymous healthcare worker who signed the note "Your neighbor".
The note reads: "I use the drive home to clear my mind and my heart from all the heaviness before I come home to my family's needs and wants. Your beautiful act of kindness helps us all be present in the moment and makes us smile."
Helen is deeply grateful that her simple gesture is making people happy.
"I cry with the goodness of a hug that I touch so many people in a such a small way, you know, just to say hello…. "Hello good looking!" Something small becomes so big…" she said.
Watch this short video of a driver seeing Helen waving:
View this post on Instagram
You are Loved.
Subscribe for free to Understanding Compassion on YouTube and help us make the world a kinder place.
Related Compassion:
This Sweet 'Grandma In The Window' Waves To Kids Every Day, And They Returned The Love When She Needed It Most
Kind Moms Offer Free Hugs At Pride Parade For Kids Whose Parents Rejected Them
Kind Grandma Drives 100 Miles Each Morning To Small Town To Cook For Children In Need