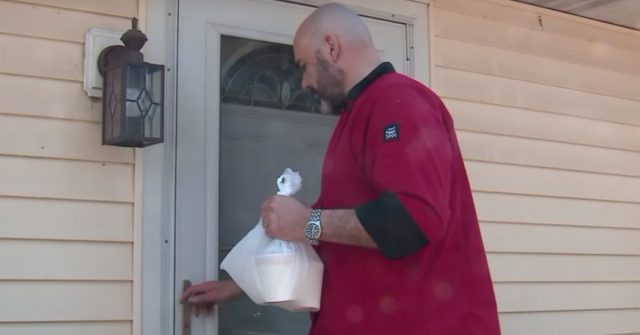 When a wheelchair bound man going through chemotherapy did not feel strong enough to order and pick up his favorite soup, a kind chef decided to deliver it to him himself, free of charge, and has been doing so several times per week for a year now.
Illinois chef, Juan Carlo Beristain, felt compelled to help Noah, who suffers from multiple sclerosis and cancer, by delivering the fresh vegan soup he makes straight to his door.
Juan is a chef at JC's cafe, a popular restaurant known for its baked goods and especially for its delicious vegetable soup. The soup is freshly prepared each morning using organic ingredients from local markets.
"As soon as they try that soup, they [fall] in love with it… it is a delicious soup," Juan explained.



During his first round of chemo, Noah did not feel well enough to make the 15-minute journey in his wheelchair to JC's cafe to enjoy some of his favorite soup. While staying at home, he commented on the cafe's Facebook page saying how much he loved their vegetable soup. After seeing Noah's comment praising his soup, Juan did a little browsing of Noah's profile and learned of his difficult condition which was keeping him from making it to the cafe.
Juan immediately knew that he wanted to help and decided to deliver the soup himself to Noah, free of charge. However after reading the message of his offer, Noah initially declined, explaining that he didn't feel comfortable receiving the help.
A year later, Noah was going through a second round of chemo and asked his mother to go into the cafe to buy him the delicious soup. When Juan realized that the woman was Noah's mother and he was again in chemo, he insisted on helping and asked where Noah lived.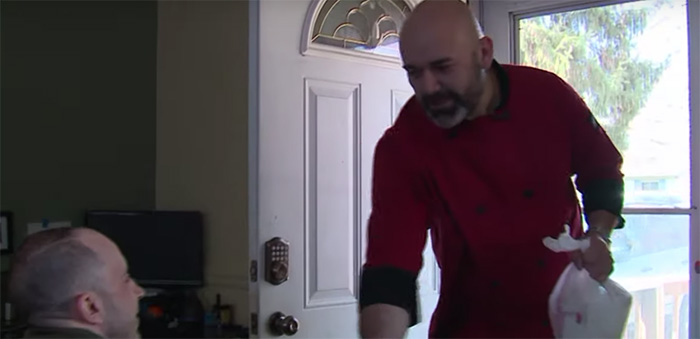 "I really feel when other people are in pain. I felt that I could help him at least by delivering the soup that he likes, with the nutrition that is going to help him," Juan said.




Juan has now been taking his fresh soup to Noah's house several times each week for more than a year, and has refused all attempts at payment.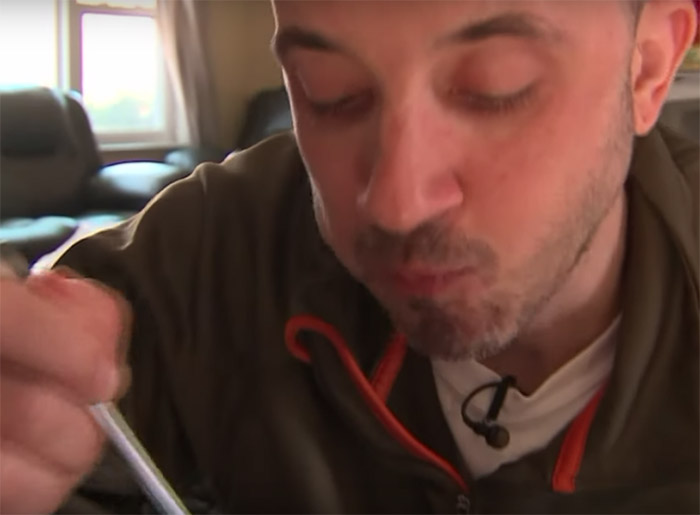 When asked, Juan said that his inspiration for wanting to help others comes from his father, who was "always a giver." 
"This is part of my way to thank him. I couldn't be any other way," he said.
Noah's heart has been deeply moved by Juan's kindness;
"I think the guy's a saint … he's an amazing human," Noah said.
Juan, on the other hand, doesn't think that what he is doing is a big deal, but he is thrilled that Noah is now receiving more attention because it is leading to money being raised for Noah's stem-cell treatment.
Juan is soon moving back to Mexico to help care for his elderly parents, but it won't mean an end to his friendship with Noah. In a beautiful coincidence, the treatment center which Noah will be going to isn't far from Juan's family home. The center has successfully completed more than 2,500 stem cell treatments and specializes in helping those with multiple sclerosis. Noah is determined to visit Juan while he's there, whether it's by foot or by wheelchair.
Juan's compassion for Noah made his life a bit easier when he was going through a very difficult time; both physically and emotionally. He not only delivered him his nutritious soup free of charge more than one hundred times, but he encouraged Noah to keep going and to live another day. Juan planted the seeds of true friendship through his kindness.
If inspired, donations for Noah's treatment can be made at this GoFundMe page setup for him.
Watch the following video of Juan helping Noah:
You are Loved.