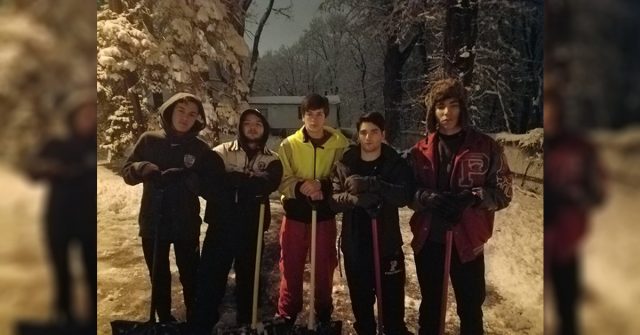 When a group of kind high school students found out that an upcoming snowstorm could prevent a neighbor from getting dire medical treatment, they decided to shovel her driveway at 4:30 in the morning to ensure that she would be able to leave her house.
The weather forecast called for eight inches of snow in their New Jersey community, and brothers Brian and Patrick Lanigan knew that this could be a real problem for their neighbor Natalie whose life depends on regular dialysis treatments.




Brian is an EMT, and had shoveled Natalie's driveway several days earlier during a previous snowstorm, but he found out he would be at work during this next one. His little brother Patrick, a senior at Parsippany High School, knew that in order make sure Natalie could receive her crucial treatment, he needed to do whatever he could to help.
With so much snow on the way, Patrick began calling his friends to see if they could help, and four of his classmates compassionately answered the call to volunteer to help a neighbor.
Peter Lanigan was proud of his son and his friends and shared a few photos with the following message:
"Snow Angels disguised as PHS Srs, Justin, Pat, Chris, Tyler & Amon got up super early 4:30 (really never slept) to shovel a driveway for a neighbor who needed to get to dialysis"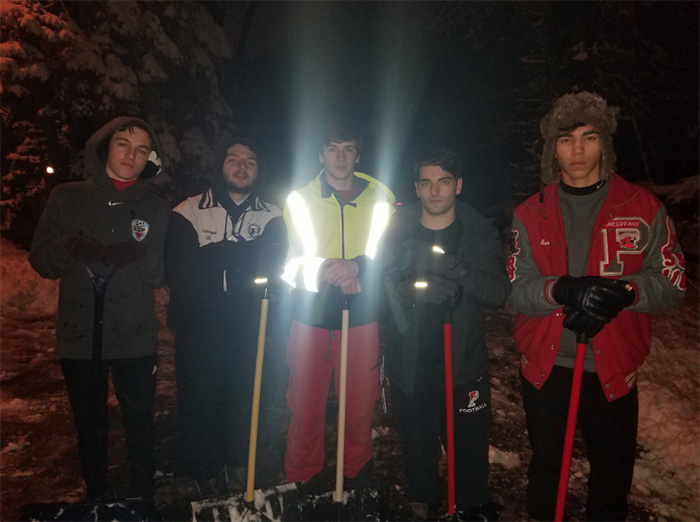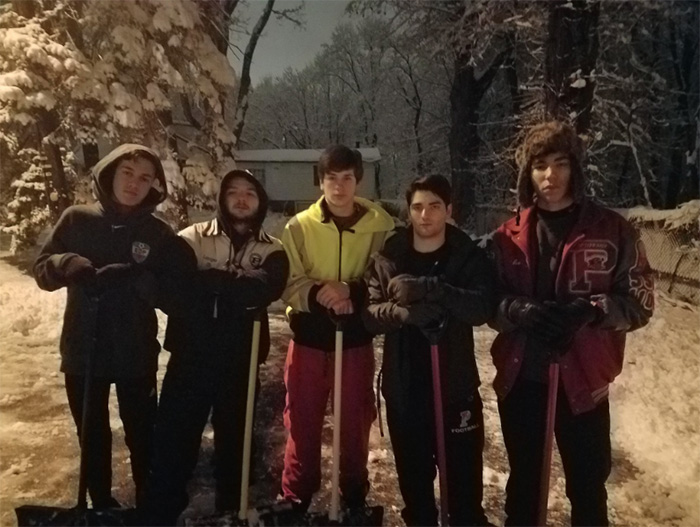 The four friends stayed the night at the Lanigan house with the purpose of waking up at 4:30 a.m. to clear Natalie's driveway. With the five of them working together, they were able to shovel the decently sized driveway in just under 30 minutes.
The high school seniors were hoping that the large amount of snow would give them a snow day at school, but the school was able to open two hours late, which gave the kind young men some extra time to rest.




Peter said this act of kindness was not at all out of character for his son and described him as a "small kid with a big heart."
Shoveling snow is not the only way Patrick serves his community: he is active in his church and in his high school Patrick is a "peer buddy," serving as a role model for students on the autism spectrum.
Many people were grateful to hear of the kindness of these high schoolers, as a few of the comments online read:
"These young men restore my faith in humanity!! Job well done! Thanks guys!" @AlmaGayle
"The parents of these kids have raised some good human beings," wrote @ohromujici.
"This made me cry! So proud of these young men! They ARE true ANGELS in this world! God bless them all! Made my day!" Tasha Strehl wrote.
When we take the time to consider the needs of and to go out of our way to help our neighbors, beautiful things can happen. The love we share with others is a reminder that we are all part of one big family here on Earth.
Do you have a neighbor who could use some help?
Consider going a little out of your way this week to show them that you love them.
You are Loved.
See Also: Proud Dad Moment: His Kind Sons Asked Him To Stop Car So They Could Help Man In Wheelchair Shovel His Sidewalk