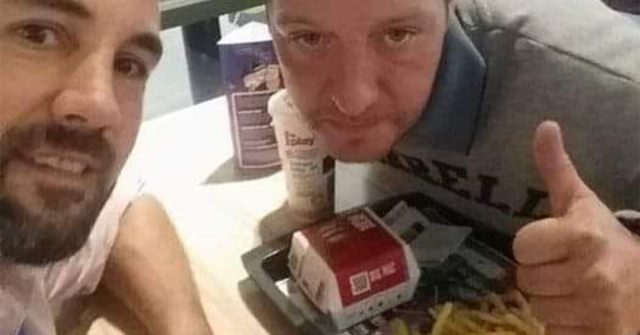 After a polite homeless man asked for spare change for food, the man he asked purchased him a large meal, and they sat down together and had a caring conversation.
Liam Marum was in a parking lot after he finished work in Dublin, Ireland, when a homeless man came to him and asked him a question.
"This evening after work, I [met a] guy in Tallaght Shopping Centre Car Park. As I sat in my car, he tapped on the window and said, "Excuse me sir, but can you spare some change for a Burger? I'm Homeless!" Liam shared in a post online. "My first reaction was, "No mate, I'm sorry I've [got] no change." His reply; "no problem sir and thanks very much, I apologize for asking you, have a great day!" and he walked off across the car park."
While Liam's first reaction was to say he didn't have any spare change, he felt compassion for the homeless man, and he sat in his car and watched the homeless man as he walked towards McDonald's and appeared to be looking for dropped coins on the ground.
"I paused for a minute, then looked to see where he was walking too. He walked towards McDonald's in Tallaght Square. This guy was genuine and hungry. I drove out of the Shopping Centre and across to McDonald's after him, to witness him looking on the ground for any coins."
Liam drove up to the homeless man and apologized, and asked him if he could buy him a burger at McDonald's.
"I pulled up beside him and apologized… and I asked him if it's OK, can I buy you that Burger in McDonald's? His reply; "Thank you so much." I parked my car and walked into McDonald's in Tallaght with this guy, who I now know as Nathan. I asked him his name and said order what you want off the menu. He ordered a Big Mac Meal, the customer assistant asked, Would you like to go Large? Nathan looked at me and I smiled, I said, go ahead mate, no problem. He even had the manners to ask."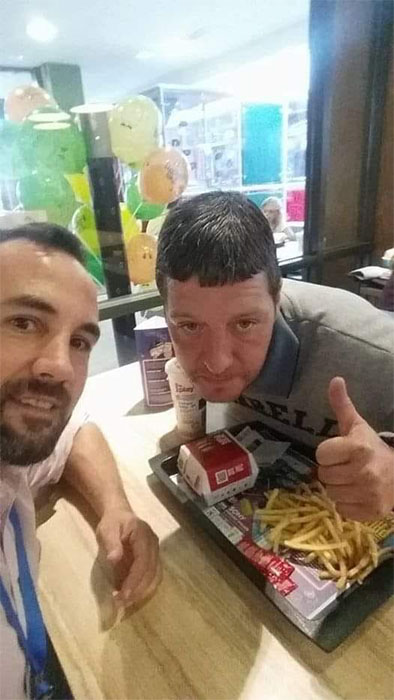 Nathan was deeply grateful for the meal, and he was very polite to both Liam and to the cashier.
"Nathan couldn't stop saying thanks and when receiving his €6.99 Meal. He was so polite in asking the customer assistant for Salt and Ketchup."
"I asked Nathan was it ok if I joined him, we sat down and chatted for a few minutes. Nathan told me he lost his brother two years ago and his sister. He is now sleeping rough at the back of a school or college, in a sleeping bag! My heart went out to this guy…"
Liam reflected on the moment and realized that for just a small bit of his time, he was able to really be there for a struggling homeless neighbor.
"It only took 20 minutes of my time and a few euro to HELP this lad and actually sit and speak with him for a bit. When I got up to leave, he said, "Thanks so much Liam, and God Bless You…" those few words meant a lot to me."
You are Loved.
Subscribe for free to Understanding Compassion on YouTube and help us make the world a kinder place.
Related Compassion:
Kind Man Bought Meal For Homeless Man Collecting Scraps Of Food From Trashcan; Learned He Had Been Prayed For
Kind Man Gave His Dinner Money To Homeless Woman Outside Restaurant; Person Watching Bought His Meal
Kind Restaurant Puts Up Sign Offering Free Meal For The Homeless Person Going Through Their Trash
View this post on Instagram