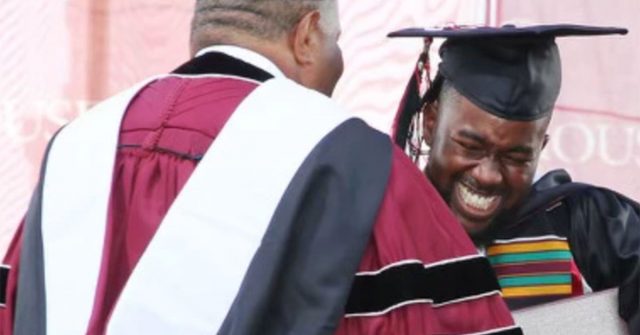 A kind man surprised the graduating class at Morehouse College by announcing that he would be paying the entirety of all student loans owned by the class of 396 graduating students.
The kind man, Robert F. Smith, made the investment in the graduating class of young men and women, and only asked that they pay it forward.
"We're going to put a little fuel in your bus," Robert said during the graduating ceremony.
"This is my class," he said, personally claiming the graduating seniors as his own. "And my family is making a grant to eliminate their student loans."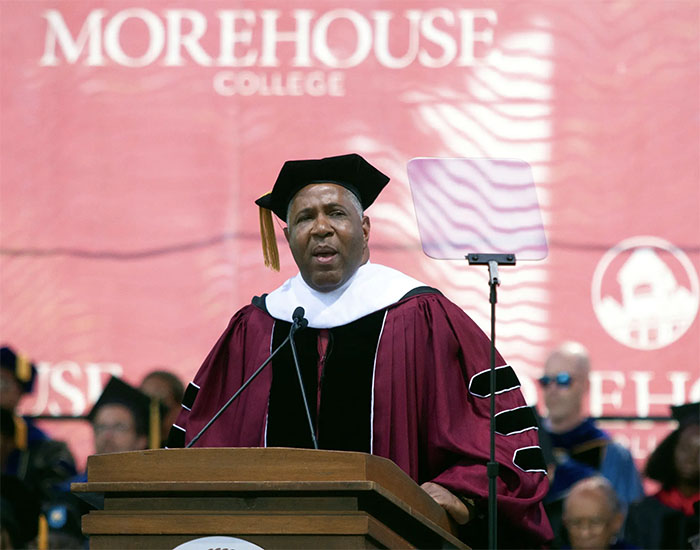 Morehouse college is a historically Black college, and Robert's investment is particularly significant because Black Americans "are more likely to graduate with debt, and that debt increases over time," explained Dorothy Brown, a law professor at Emory University.
"Each year, thousands of black graduates from HBCUs across America enter the workforce with a crushing debt burden that stunts future decisions and prevents opportunities and choices," Robert explained.
Robert's gift of paying every student's loan totaled roughly $34 million dollars.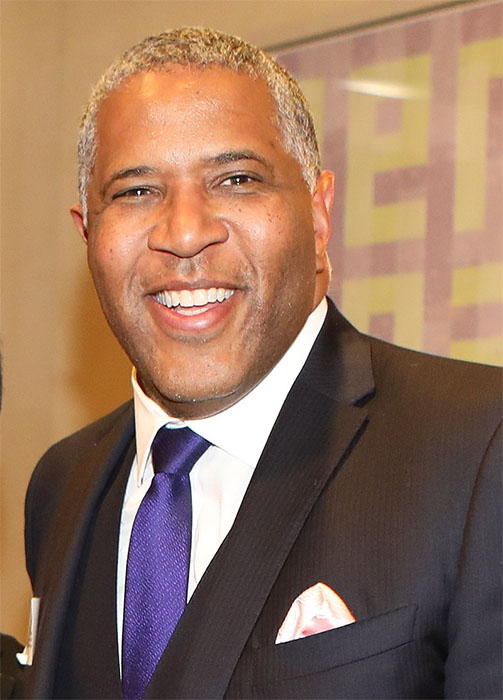 Robert received hundreds of thank you's, smiles and handshakes, and as a successful businessman, he plans to mentor the graduating class by holding a monthly call with them to guide each student towards opportunity, success and a positive mindset. His deepest joy though is knowing that hundreds of bright young individuals are going to someday pay his kindness forward through acts of kindness of their own.
"We are enough to ensure we have all of the opportunities of the American dream, and we will show it to each other through our actions and through our words and through our deeds," Robert said.
The young graduates were overwhelmed and filled with gratitude during their graduation ceremony.
"We're all in robes, hot, the sun was beaming on us," shared graduate Ernest Holmes, who had about $10,000 in students loans paid for by Mr. Smith. "We're holding our papers up, trying to block the sun out of our eyes. Everyone jumped up, cheered. People were crying. It was just the most amazing thing."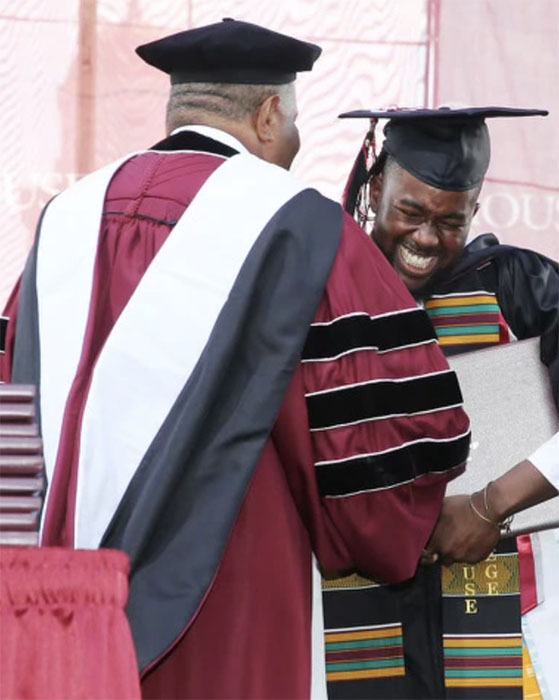 Brandon Manor, a medical student, had around $100,000 in student loans paid for by Mr. Smith.
"A blessing, a blessing!" he said. "Now all of a sudden, I can look at [graduate] schools I might not have considered, because I am not applying with about $100,000 in undergraduate loans."
The Morehouse college president, David A. Thomas, shared how Robert's generosity is deeply freeing for the college graduates.
"This was a liberation gift, meaning this frees these young men [and women] from having to make their career decisions based on their debt. This allows them to pursue what they are passionate about."
The previous college president, John Silvanus Wilson Jr., said that Mr. Smith's gift was "an extraordinary investment" that was "simply an act of high grace."
"Mr. Smith is a wise investor, and based on how he made the announcement, challenging them to 'pay it forward,' it sounded to me as if he wants the return on this particular investment to be tabulated by the giving and good these young men show others throughout their lives," Dr. Wilson said.
The average debt for students with federal loans is $32,000, according to government data.
John Cooper, another graduating student, is inspired to use Robert's gift as motivation to be kind to others.
"Not only does this donation help create generational wealth, but it inspires people to give back," he said. "The fact that I know somebody who paid off $98,000 of my student loans makes me just want to go out and just give to people even more than I did before."
You are Loved.
View this post on Instagram
Related Compassion:
Uber Driver Earns College Degree After A Kind Passenger Paid Off Her $693 Tuition Financial Hold
Instead Of Buying A Yacht, He Decided To Pay For 26 Kindergartners To Goto College
Billionaire Charles Feeney Has Lovingly Given Away His Entire $8 Billion Fortune To Charity
Kind Homeless Man Gave His Last £3 So College Student Could Get Home; She After Raised £46,000 For Him