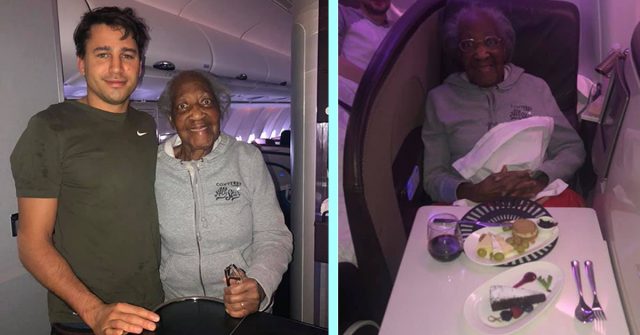 On a Virgin Atlantic flight from New York to London, a kind stranger gave up his first-class seat so that 88-year-old Violet could fulfill her dream of "sitting at the front" of the plane for the first time.
Jack and Violet met at the airport while waiting for their flight back home to London. Violet, an 88-year-old retired nurse, had been visiting her beloved daughter in New York. Violet had not seen her daughter for a long time due to a recent knee operation which made flying difficult. Jack and Violet struck up a conversation, and then a friendship, and while chatting Jack learned how Violet had always wanted to sit in first-class, but never got the chance.



Being 88-years-old and not able to regularly travel, Jack thought that Violet would get more out of his first-class seat than he would. His kind heart selflessly decided that he would swap seats with her; trading his expensive international first-class seat for an economy seat next to the economy toilets. For the entire flight, he didn't complain once or even ask for anything from the flight attendants.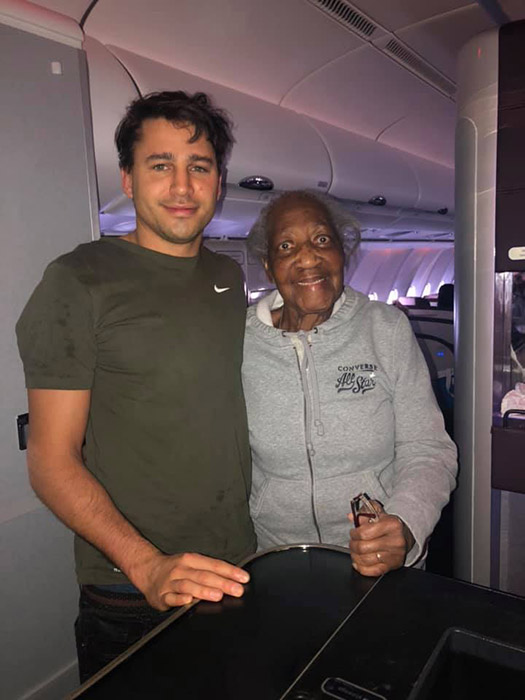 One of the flight attendants, Leah Amy, was so impressed by the young man's kindness that she shared the following online:
"Of the hundreds of flights I've operated, I've had the pleasure of looking after footballers, supermodels and some Hollywood movie stars but let me tell you about my two favorite passengers EVER! Jack and Violet ? (I wish she was called Vera or Rose ?)" Leah wrote.
As a flight attendant, Leah flies on numerous return trips each week, with more than 500 passengers on each plane, and while she's not supposed to have favorite passengers, Leah couldn't help herself.
"Jack and his family purchased seats In our upper class cabin for a flight home from New York, but when he got onboard, Jack went and found violet in economy and swapped seats with her," Leah explained.
"He then sat on the row of seats directly next to the economy toilets and never made a peep or asked for anything the rest of the flight. No fuss, no attention, literally did it out of the kindness of his own heart, no one asked him too."
"Violet is 88-years-old, has been a nurse in both the UK and over in America. She travels to New York to see her daughter, but hasn't been able to for a while because of a knee replacement. Her dream has always been to sit at the front, and Jack made that come true."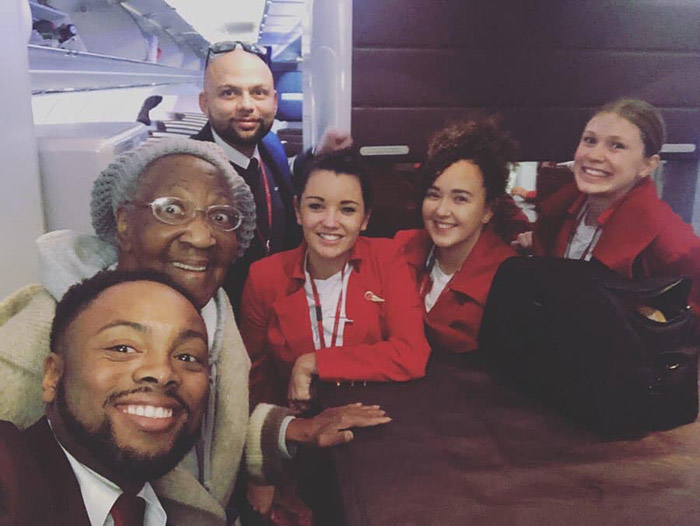 Violet was overjoyed with her experience of flying first-class and asked Leah if she would take a photo to help her remember.
"You should of seen her face, when I tucked her in her bed after supper ☺️ She said her daughter won't believe her, and wanted a 'selfie' to prove it, but didn't have a phone or an email address. These photos are getting sent in the post tomorrow, can you even cope?￰❤️"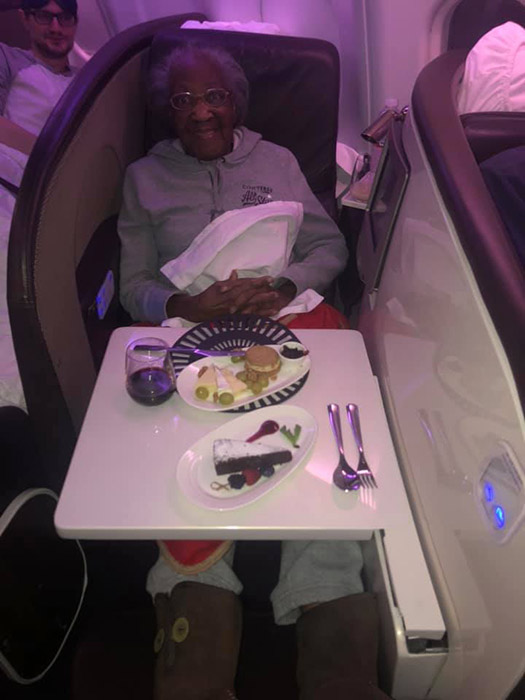 Thousands online were overjoyed by just how sweet and generous this act of kindness was.
"Look at that big smile on her face. Thanks to Jack. May we all learn to be like Jack, kind and spreading a smile a day." commented Amy K.
"Amazing young man! God bless him!!" wrote Teresa B.
"Jack you give me hope for the future of this planet. With everything that is going on in this world I sometimes wonder what will happen to us. But you have made my day… may you receive many blessings…" said Carolyn G.
Jack's kindness and generosity allowed 88-year-old Violet's dream to come true. It is wonderful to see that there are such deeply compassionate people in the world; who are willing to share what they have in order to make life better for others. The gift of giving compassion and kindness is something that benefits everyone and truly does make the world a better place.
You are Loved.
See Also: Her Kindness On A Flight Is Gaining National Attention For All The Right Reasons