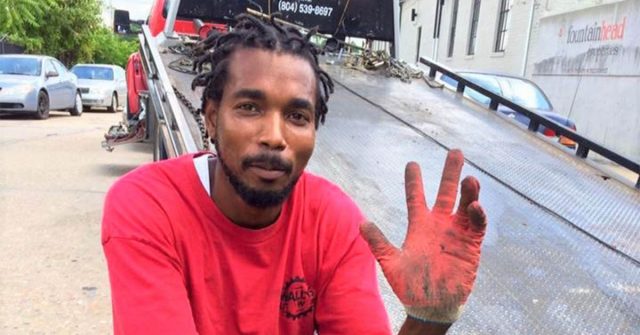 When a disabled man's tire nearly fell off of his modified van while driving, a kind tow truck driver came to help him fix his vehicle, and did it free of charge.
Josh Smith is a quadriplegic and has lost the use of some of his limbs due to paralysis. He uses a wheelchair to get around, and has a modified van which allows those in a wheelchair to drive. His mother, Caroline Smith, shared that as Josh went out to run some errands one day, his tire nearly fell off of the van while he was driving and he needed to call a tow truck driver.
"My son is a quadriplegic and drives a modified van," Caroline wrote in a post online. "This morning when he went to drive off in his van, the front driver's side tire fell off! All the lug nuts came out and the rim and tire were damaged. Apparently someone attempted to steal the tire in the middle of the night, but because it is a modified van, could not get the tire off with a regular jack. This kind of incident is annoying for able bodied people, but when you are paralyzed and in a wheelchair, and you lose the use of your modified vehicle, it becomes extremely problematic!"



They needed a specific flatbed tow truck to be able to tow his modified van, and after a bit of calling around, they were able to find a driver who could come to help: Jason.
"After much calling, we finally found a towing company that could come right away with a flatbed tow truck to take the van to the shop. Jason from 'On Time Towing' in Richmond, VA went above and beyond to help my son out. He had to rig a system to get the van just enough on the bed of the tow truck to get a jack underneath to remove the damaged tire. These modified vans have lowered floors and it took some time to even do that."
After hoisting the van, Jason saw that the hub assembly was not damaged and that a spare tire would be enough to help Josh get on his way. He removed the damaged tire, replaced it with a spare, and then lowered the van back down so that Jason could continue running his errands.
"Once Jason saw the hub assembly was not damaged, he offered to put on the spare tire for my son so it did not have to be towed. It was a very hot and humid day today as well! Jason truly was a life saver for my son! My son was able to drive his vehicle to an important event this evening until he can get to the shop on Monday. Thank you, Jason! You rock!"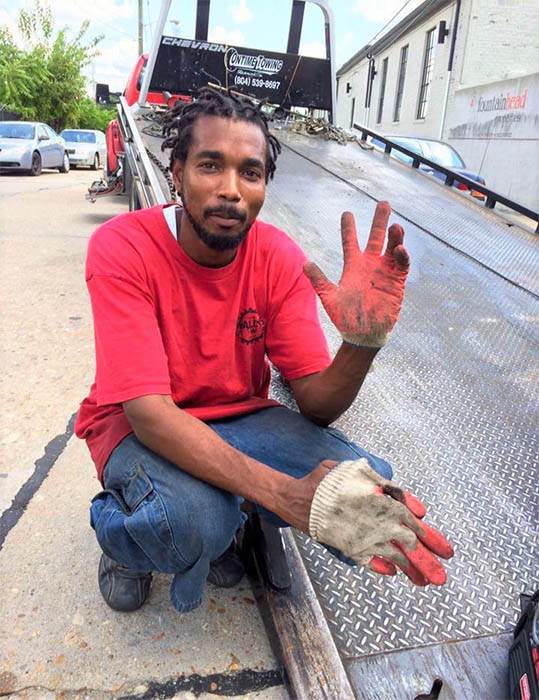 Many hearts online have appreciated the tow truck driver's act of kindness for Caroline's struggling quadriplegic son.
"Now I have a favorite tow truck driver! We are so fortunate to have such good people in the world!" commented Barb H.
"Jason, that was so nice of you to help this young man and not price-gouge him. I really wish people would care about others as you did. I hope it puts another star in the crown. God bless," wrote Donna L.
"This is what should be on the national news. I am so tired of hearing only about problems!" wrote Debra D.
"There are still good people out there you just don't hear about them often enough," commented Maureen A.
"Yes these tow guys never get enough recognition!!! They work long hours to help people out & risking their lives in the process on the side of a busy highway or road. And they usually stay on call 24/7. I would know. I'm a proud Tow wife! ⛓? #TowWife #TowLife" shared Jessica D.
You are Loved.
Related Stories:
Kind Stranger Used His Own Spare Tire To Fix A Woman's Flat
Kind Restaurant Manager Came Outside And Fixed A Flat Tire For 96-Yr-Old Veteran
Kind Man Picks Up Two Men Stranded With Flat Tire, Drives Them To Auto Shop And Then Back To Help Put It On
View this post on Instagram
Subscribe for free to Understanding Compassion on YouTube and help us make the world a kinder place.