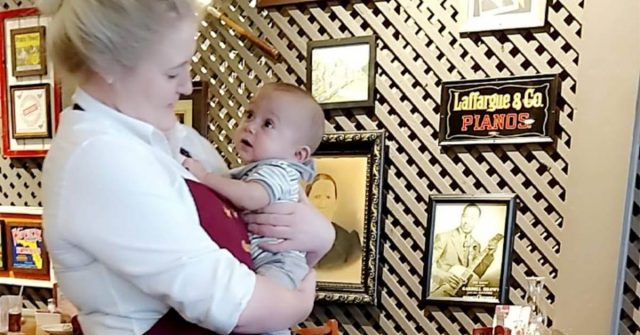 When a kind waitress saw a young mother holding her baby in one arm while trying to eat with the other, she offered and then held her baby so she could eat her meal.
Nicole Kindhart was on her way to Disney World with her baby, and after driving for a while, she stopped into the Cracker Barrel in Lake City. As challenging as it is, Nicole often holds her child with one arm while eating with the other. Her waitress, Charmin, noticed her trying to eat while holding her baby, and offered to help hold him while she finished her meal.
"Every day I hold a baby in one hand and eat with the other, but it's not every day that I have a waitress offer to hold my baby so I can eat," Nicole shared in a post online.
After talking with the waitress, Nicole gratefully agreed to let her hold him and was able to eat her meal. It was a busy lunch rush, and Charmin still needed to wait on her other tables, but she did so while holding Nicole's very cute baby.
"Then, she proceeded to still walk around to the other tables (with my baby) doing her job, asking if they needed anything, etc. It's not like it was a down time, either: this was busy lunch time. Everyone loved it; it was the sweetest thing."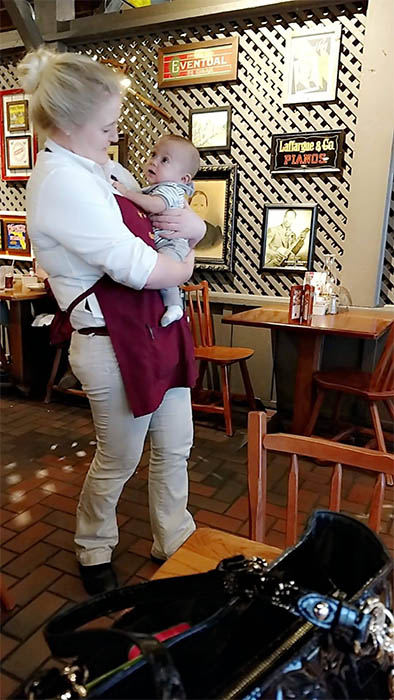 Nicole deeply appreciated Charmin's thoughtfulness and kindness.
"Hospitality is still very much alive. Thank you so much to Charmin at Cracker Barrel in Lake City, FL. This made my day! ❤️ We've driven through seven states between yesterday and today on our way to Disney and have been cooped up in the car. This was our first in-restaurant sit-down meal. You didn't know any of that, yet still extended a warm welcome. Thank you! God bless!"
You are Loved.
View this post on Instagram
Related Compassion:
Kind Waitress Holds And Gently Calms Woman's "Fussy" Baby So She Can Finish Her Meal
After Baby Says 'Hi' Kind Man Spends 45 Minutes Letting Her Draw On His iPad And Watching Cartoons Together
Kind Woman Held One Of Struggling Mother's Twins Who Was Told She Couldn't Hold Two Babies On Flight