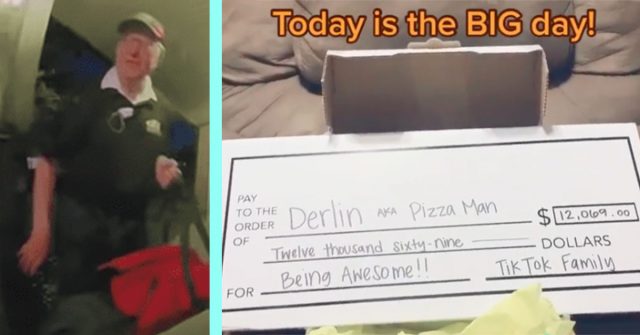 When 89-year-old Derlin Newey began delivering pizzas in order to pay his bills, he never imagined the amount of kindness he would receive from his customers.
Derlin is almost 90-years-old, but he works 30 hours a week delivering pizzas in Roy, Utah, in order to make ends meet. He not only delivers pizzas to his community, but he always hands off each pizza with a friendly smile and says, "Hello! Are you looking for some pizza?"
One person he had delivered to, Carlos Valdez, really appreciated how friendly Derlin was when he brought his family their pizza. He began requesting Derlin specifically each time their family would order a pizza. The security camera on Carlos' door recorded Derlin's "Hello! Are you looking for some pizza?" several times during deliveries.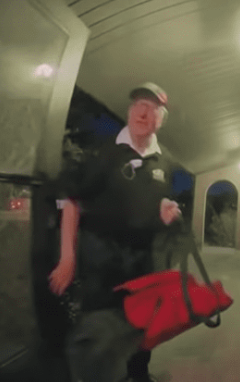 "Everybody loves him," Carlos said.



Carlos wanted to share with others how wonderful and friendly their family's delivery driver was, and how he had won their hearts, so he posted on TikTok a video of one of Derlin's pizza deliveries. The video had a very positive response, yet many people were asking: Why is a man who is 89-years-old still working and delivering pizzas?
"Somebody at that age should not be working that much," Carlos said in reply to much of the sadness and compassion expressed.
Carlos decided to create a 'Venmo Challenge' for Derlin, where his friends and followers would each donate a little bit of money through an application called Venmo and they would pool everything together to present to Derlin as an extra kind tip. While only expecting to raise a little bit of money, they ended up raising $12,069.
"Collectively as a community, we all came together, and we were able to raise $12,000 for this amazing person," said Carlos.
Carlos called Derlin's pizza store and told them that he wanted to deliver a custom made t-shirt to Derlin which said "Hello, are you looking for some pizza?" and asked for Derlin's address so that they could stop by and surprise him with the money they had raised. Then Carlos and his wife went over to Derlin's house to make a surprise delivery.
"Good morning, dude! How you doing?" Carlos said to Derlin as he opened the door.
Carlos gave Derlin the t-shirt and explained a little bit about what TikTok and social media is.
"We collectively collected a gift for you, and I'm here to deliver that gift to you on behalf of the TikTok community," Carlos said.
Derlin was happy to see them and loved the t-shirt, he also was not too familiar with social media or what TikTok is.
"Is that an online group you communicate with each other through the telephone?" Derlin innocently asked.
"Together as a community we all were donating 50 cents to a dollar for you. And collectively, because there were thousands of people who loved you, and love you, we collected over $12,000 for you. That's yours. All yours," Carlos told Derlin.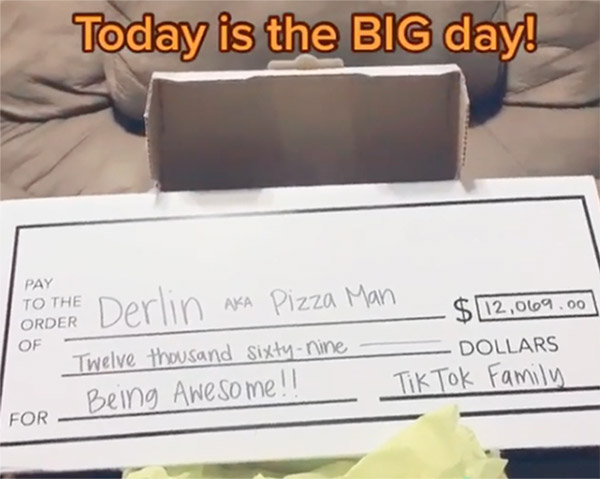 Derlin became quiet for a second and his voice became tenderly shaky, as tears filled his eyes.
"No…. How come…. Why would you do such a thing?" Derlin asked while in tears.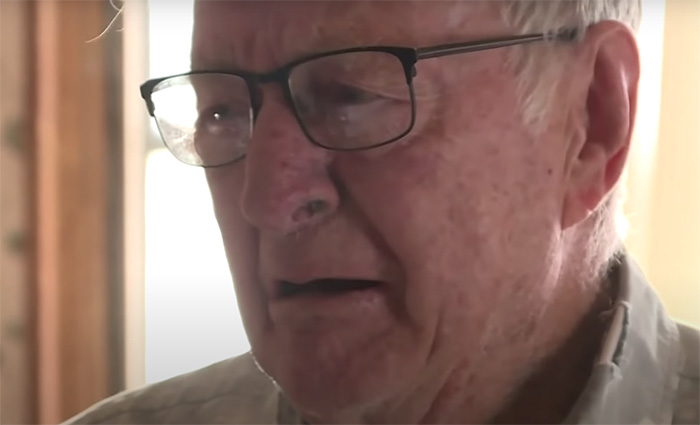 "They love you so they wanted to give you a present," replied Carlos' wife.
"My gosh… I don't believe this… Wow… How do I ever say thank you? I don't know what to say," Derlin said very tenderly as tears were rolling down his cheeks.
He then shared a hug with Carlos.
After receiving the money, Derlin now no longer has to work so many hours each week, and he is able to rest more.
"This couldn't have gone any better," said Carlos. "He needed this. I'm just glad we could help him. We just need to treat people with kindness and respect the way he does. He stole our hearts."
Watch this heartwarming clip of Derlin being tipped $12,000:
View this post on Instagram
You are Loved.
See Also: Uber Driver Earns College Degree After A Kind Passenger Paid Off Her $693 Tuition Financial Hold