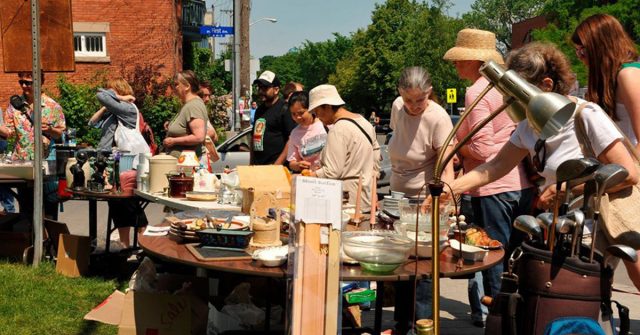 When a kind woman overheard a mother telling her daughter that they couldn't afford to buy several things the girl wanted at a yard sale, she decided to bless them both with as many items as they could carry.
The kind woman, who has remained anonymous, explained how the cute 6-year-old girl really liked a pink Disney Princess TV which she was selling. Rather than asking if her mom could buy it for her, she asked if she could somehow earn the money to help her mom buy it:
"The cutest little girl and her mom were at my yard sale today. I happened to be selling a Pink Disney Princess TV, (because who doesn't need a Pink Disney Princess TV, right?), and I overheard the little girl very politely ask her mom if there was anything she could do to earn the money to buy the TV. She did not just ask if she could have it. She asked if she could earn the money herself. She was 6 years old. Her mom told her she could not afford it right now, then kissed her forehead. The little girl replied, 'It's okay mommy' and grabbed her mom's hand."



The sweet mother and daughter continued looking at different items, selecting only what they needed and could afford.
"I watched them carefully pick out items they needed and count their money to the penny as they did. At one point they were picking out some dishes and the little girl said how pretty she thought the dishes were, how nice it will be not only having one cup and one bowl at their new place anymore, and…how lucky they were."
The yard sale owner saw the little girl continue to look over at the Disney TV, and her heart started to melt.
"I could tell this mom and daughter had gone through something and the interactions between them were so genuine, so precious. I saw the little girl look over at the TV every so often…My heart was mush."
The kind woman's heart couldn't let the sweet little girl and her mother go without:
"As the mom brought her items up to pay, I said, 'I would like you to have these things, no charge.' Tears filled her eyes as she thanked me, told me how much it meant to her, and that I had no idea how much I was helping her right now. Then she asked, 'but why?' I said, 'I sense that you are going through something right now, and I don't need to know what that 'something' is. But you obviously have not let it deter you from being an amazing mom, and you are raising a wonderful, beautiful, joyful, polite, little girl.'"
The woman learned that the mother and her daughter had just fled an abusive relationship, and that while they were starting over with very little money, they were grateful to be safe.
"She confided that they had fled an abusive situation with only what she could fit into a duffle bag for them both. She had saved just enough money to get them into a small one room apartment. She felt blessed, lucky. They were safe."
"I handed her a couple of large kitchen garbage bags and told her to fill them with anything her and her daughter could use, gave her some pillows, blankets, a blow up camping bed, and a box of food. She hesitated at first and seemed almost ashamed. I told her, 'We all go through hard times. This is a season, and seasons pass. When this season passes for you, you can 'pay it forward' to someone else.' And then, yes… I quietly asked her if I could give her little girl the Disney Princess TV. I know, I know….y'all saw that one coming, ya? Lol."
The kind woman will never forget the look she saw on the 6-year-old's face when she realized she was getting the pink Disney Princess TV.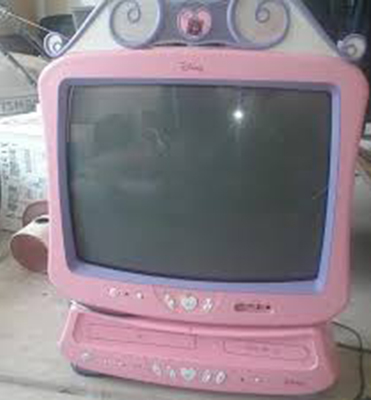 "I wish everyone could have seen the look on that beautiful little girls face when my husband carried that TV to her car. I will never forget it. ?"
"My heart is full knowing that precious little girl and her mom have full tummys, clean pajamas to put on, a "bed" to sleep in, pillows under their heads, blankets to snuggle into, and maybe even watched some TV."
"What they probably don't realize, is that they blessed me far more than I blessed them." ❤
Many hearts were moved to tears after reading about the yard sale owner's act of kindness.
"That made me cry. God bless you for your kindness…you taught that little girl a beautiful lesson…and I have no doubt she and her momma will pay it forward ❤️" wrote Michelle K.
"Had a tag sale last year and had a similar experience. My husband started grabbing toys and items and handed them to the families as our daughter watched. She was so proud of her daddy. Priceless to us to see the gratitude from the families. Generally, we donate everything for this reason but we were doing a fundraiser for school and decided on a sale. Grateful to be able to provide to someone in need," wrote Maribela C.
"When I was in college I was 28 days away from my wedding day when a light went on and I realized my soon to be husband was abusing me. I told him to get out of my college run apartment and then he destroyed it and almost me. I looked at him in fear and asked him again to leave and he proceeded to give me a list of things he "needed" including a bus ticket before he would go. He knew of course I was broke and he had isolated me from my friends. But I took a chance and asked a friend for help. He said he would be back in 10 minutes with the money—$175 and he was. I found out later he had pounded on every door in the complex asking for help until they came up with enough. Later the university even waived the damages stating he was no longer my guest when he destroyed the apartment. My family has faced a lot of challenges the last few months and I was actually laying here awake at one in the morning wondering what had happened to kindness and caring about one another. Where were all the people that used to work together to make a better world! Your post and your kindness answered that question. They are still out there and actually I have quite a few of those caring people in my life! I just cannot lose sight of them when life gives me a lot of challenges!
Thanks I needed that reminder tonight!" shared Karla B.
"Good God you made me cry. When my son was small my husband took his life. No insurance, applied for assistance and was turned down. Our neighbors daughter went around and raised some money. ❤️ my son's school, called me and asked me to come to the school. I didn't know why. When I got there, they had bags of presents for my son for Christmas. They have no idea what that did for us. People may forget what you say, but there never will forget how you made them feel," shared Germaine G.
At a time when the mother and her sweet daughter needed it the most, the love and compassion of a stranger helped give them the basic necessities they needed to survive on their own. The wonderful pink Disney TV also greatly lifted the spirits of the young girl who has already been through so much…
The kind woman shows us that we can truly make a difference in the lives of others when we take the time to listen with our hearts, and act generously.
You are Loved.
See Also: From Survivor To Thriver: 8 Key Elements To Heal From Domestic Violence