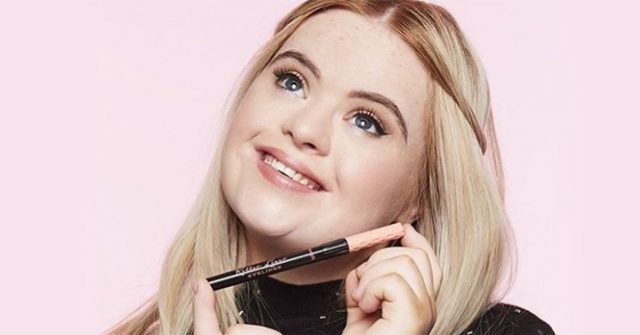 20-year-old Kate Grant is an inspiring model with Down Syndrome who has teamed up with Benefit Cosmetics and together they're showing the world the true meaning of beauty.
Numerous cosmetic and fashion companies are working to change society's perception of beauty; by celebrating diversity through inclusive modeling competitions and advertising campaigns.
Benefit Cosmetics saw a Facebook video of Kate which detailed her journey towards becoming a model and they "instantly fell in love."
"Meet the new face of our #rollerliner campaign!" Benefit shared in a post online:
"At Benefit, we celebrate women who stand up for what they believe in — which is why we're working with @kategrantmodel, whose motto is "different is beautiful." We couldn't agree more… check out her page to see why she's a true benebabe! #benefit"
"We were captivated by her incredible zest for life and determination," Benefit said in a statement. "She embodied everything we stand for as a brand so we knew we had to find a way to work with her."
"We're truly honored that Kate was able to join us, and we hope her involvement goes someway to showing that beauty and makeup shots can absolutely feature people from all walks of life," the Head of Digital for Benefit Cosmetics UK said. "The beauty industry is changing and we love that people like Kate are leading the way."
Kate is one of the treasured few models who are helping the world understand that people with Down Syndrome are beautiful too.
"She is paving the way for people coming behind her," Deidre Grant, Kate's loving and supportive mother shared in an interview. "Kate is aware of that and wants to spread awareness about inclusion for people with disabilities and that is what she has done from the very start." 



In 2018, Kate become the first woman with Down Syndrome to be crowned as the Teen Ultimate Beauty of the World. She has been featured on the covers of magazines and her goals include having regular appearances in both London's and Paris' fashion weeks.
Kate shared how she feels about her inspiring achievements.
"I was in shock. My family were all in the audience, ­crying and cheering. My dream has come true. And that dream is to get a chance to inspire young people who have Down's ­syndrome and other special needs to believe in themselves," Kate said.
Kate is inspiring many people with Down Syndrome, as well as their parents and families:
"As the mum of a child with Down syndrome, I can't tell you how much it means to us that you have featured this beautiful girl!" one mother shared on Instagram. "Thank you so very much for your awesome gesture of inclusiveness, hope to see more of Kate."



Benefit cosmetics also decided to appoint Kate as one of their brand ambassadors.
"She is so beautiful, thanks @benefitcosmetics. This shows that you are part of #inclusion and this fills the hearts of humanity and compassion," one fan commented.
"You are absolutely stunning, well done Kate, you inspire so many xo," one woman shared.
"You are a beautiful & inspiring girl Kate. I wish you every success & continued joy for you in your modeling career ❤️ You are a truly wonderful Ambassador," commented another fan.
See and cheer for Kate in this 30 second video from Benefit cosmetics:
You are Loved.
See Also: 4-Year-Old Girl With Down Syndrome Can't Stop Smiling As She Walks The Runway In Fashion Show