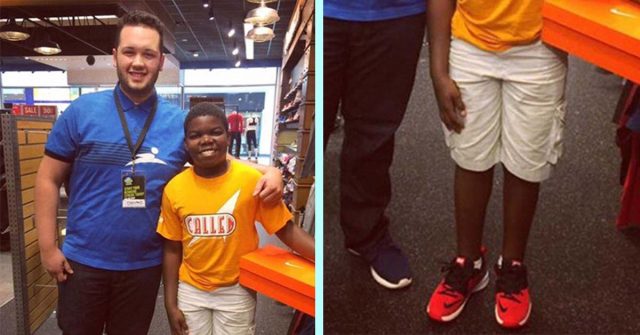 When heading back to school, most children are ready with new school supplies and new clothes, but not every child is so lucky. Some struggle to get a new t-shirt or a new pair of shoes for the school year.
When one of these lovable children came into the Finish Line shoe store, his current shoes had been just about completely worn out; they were tattered and destroyed. He had worn them to his first day of school, and shortly after, he quickly came into the store asking employee Osmani Torres where he could find the cheapest pair of shoes they had.
"So Today This Little Boy Came Into The Store And Asked Me 'Where Do You Guys Have The Cheapest Shoes?'" Osmani shared. "So I Showed Him Were They Are. I Asked Him If These Were For School. He Said Yea. I Looked At His Feet And Saw The Shoes That He Was Wearing Were Destroyed. Literally They Were Breaking Apart."
Osmani learned that he had worn his broken shoes to his first day of school, and that his family could not afford to buy him a new pair.
"I Asked Him If He Wore That For The First Day Of School And He Said Yes. He Told Me In A Low Voice So No One Could Hear, "My Mom Didn't Have Enough Money To Buy Me New Shoes To Start The Year." And That Broke My Heart."
Osmani decided right there that he was going to buy the young boy any pair of shoes he liked.
"I Told Him. Don't Worry. Pick Any Shoe You Like. He Said Why 'I'm Not Gonna Have The Money' I Told Him 'Don't Worry, I'll Buy Them For You.' He Was Like 'Really?!!' I Said Yea Of Course."
The child was so surprised, and he was able to get his favorite pair of shoes.
"He Got His Favorite Shoes. And I Told Him To Make Me A Promise. To Get Good Grades And Be Good In School. He Said He Promises. He Kept Telling Me This Is Unreal And Couldn't Believe It Was Happening. So My New Buddy Sebastian Walked Out Of Finish Line With A Brand New Pair Of Shoes For The School Year… Nothing Makes Me More Happy Than Seeing Someone With A Smile On Their Face. Helping People Is The Best Gift God Has Given Me. Have A Good School Year. Bless Up."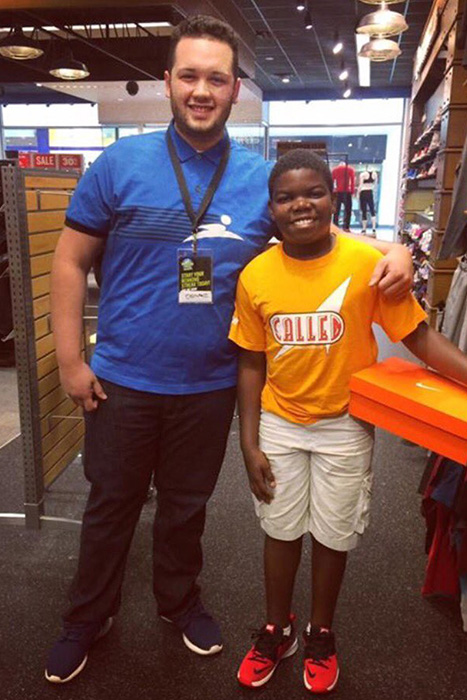 Thanks to the kindness of Osmani, this wonderful child can feel better about himself while going to school each day.
If there is a school in your area where children may be in need of basic necessities, consider stopping in and asking if there is any way to donate or if there are any children you can help. Your act of kindness may help to boost a child's self-esteem for the entire year.
You are Loved.
See Also: After Finding Out It Was Her 90th Birthday, This Kind Cashier Left His Register, And Bought Her A Rose