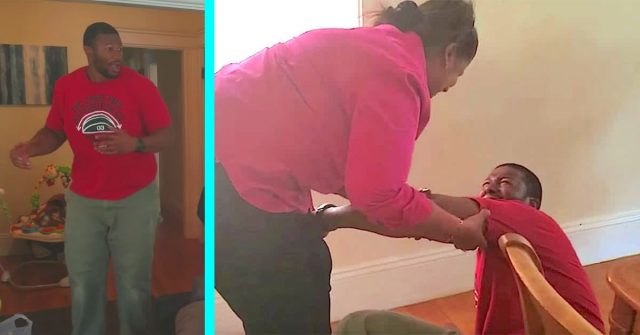 When Jeffrey Mayi walked through his front door in Massachusetts, he was ecstatic to see his younger brother, who lives in Florida and he hadn't seen in four years, waiting for him. Yet he didn't know that his mother, who he hadn't seen in more than 10 years, was waiting in the next room, and seeing her overwhelmed this gentle man.
This heart-touching moment is easy to relate to, as it reminds all of us just how much we love our mother.
Watch Jeffrey reuniting with his mother after not seeing her for 10 years:
"Jeff's brother Axel got a visa in place for their mom, Madeline, who lives in Libreville, Gabon. (About 23 hours of traveling by plane) Jeffrey had not seen his brother (who lives in South Florida) in about 4 years. Axel let me know the day before that he and his mother would be flying in for a surprise visit," Jeff's partner, Shannon, shared.
SURPRISING my MOM with her PARENTS after 10 YEARS *emotional*:
In this video, a daughter surprised her mom by flying in her mom's parents, who she also hadn't seen in 10 years.
"What a huge surprise! They came all the way from Australia ??"
Dad gets huge surprise for 60th birthday:
This dad hadn't seen his best friend in seven years, so his children organized a surprise visit for his 60th birthday.
"My dad hadn't seen his best friend in 7 years
So we got him good for his 60th!! In the video he sits on his couch and watches a video filmed by his best friend Ben. Then at the end of the video he gets a hug from behind and thinks it's his son but too his surprise it's his best friend Ben!"
Treasure those who love you.
You are Loved.
Subscribe for free to Understanding Compassion on YouTube and help us make the world a kinder place.
See Also:
Kind Man Buys Woman's Groceries After Hearing Her Tell Daughter They Couldn't Afford To Eat That Night
A Fifth Grade Teacher Found This Thoughtful Thank You Note From His Student; Thousands Have Been Moved To Tears By It
Shaking Elderly Man Asked Pizza Shop For Food That Would Be Thrown Out, Manager: 'Make This Man Whatever He Wants'
View this post on Instagram