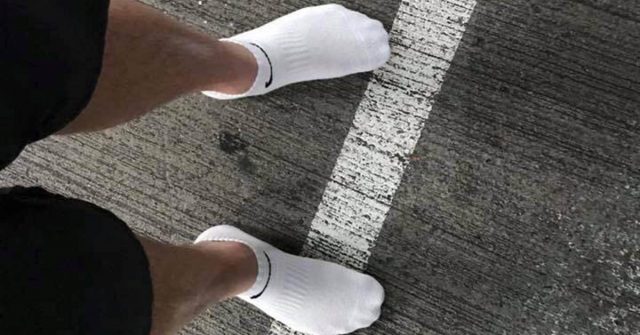 If you can be one thing, be kind.
When Bryan Hodgson stepped into a Starbucks for a quick coffee before heading to the airport, a homeless man stood in line in front of him.
"Went to the airport barefoot this morning and it was the best feeling ever," Bryan said. "Before the airport, I stopped at Starbucks to grab a coffee real quick in San Francisco before heading to the airport….I got in line behind a homeless man with no shoes on, he had collected enough change to grab a banana and a drink."




After the shoeless homeless man used what little he had to purchase a drink and a banana, he spilled a little on the ground, then quickly cleaned it up so that no one else would step in it.
"After getting his drink he spilled a little on the ground and rushed over to grab some napkins to immediately clean up after himself saying 'I would hate for someone to step in this.' The man with no shoes on… was worried that someone else with shoes on might step in his mess…"
The thoughtfulness of this homeless man brought forth a deep feeling in Bryan's heart.
"I followed him to the back of the store as he was grabbing more napkins and asked him if he owned any shoes."
"He said, 'Man, they stole them from me last night, but you know what. I'm not going to complain. That is the life of a homeless man.' Told me to have a nice day and didn't ask me for a thing. I asked what size he wore and he said 11… I told him I'm a 14 but would give him my shoes if he wanted. He didn't even think about it.. didn't matter what size. I took my shoes off and gave them to him, and it literally brought him to tears."




As Bryan left, the humble homeless man was so grateful that he had given him his shoes, but he had trouble accepting such a generous gift for himself.
"He followed me out to my car asking several times 'Are you sure you want to give me your shoes?' Here I am with two more pairs in my luggage for a 4 day trip."
Bryan hopes that people will recognize the good that exists inside of those who are struggling around us.
"I am not saying this for a pat on the back… but to bring awareness that there are good people out there who need help. Everyone has a story. At the end of the day I am blessed to have a job where I get free shoes regularly. The look on his face when I gave him my shoes was priceless. He wasn't begging, he didn't even ask me for a single thing. I hope he enjoys the heck out of those comfortable Nike Air Prestos, and somehow finds a way to pay it forward. I hope this also inspires someone reading this to do something nice for someone else today. With all the craziness going on in our country…find a way to make even the smallest difference."
You are Loved.
See Also: Searching For Food, This Starving Man Finds Kindness: A Story That Everyone Should Read
View this post on Instagram