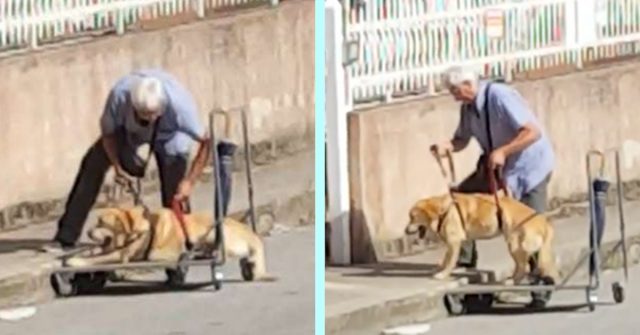 When an older gentleman's 13-year-old golden retriever became disabled, he made sure his beloved best friend would still be able to join him for their daily afternoon walk.
Those of us who have been blessed with a furry companion in our lives know that a dog is not just a pet; a dog is family. Dogs are overflowing with love… They're always excited to see us when we get home, and regardless of how we are feeling, they're always ready to play or cuddle.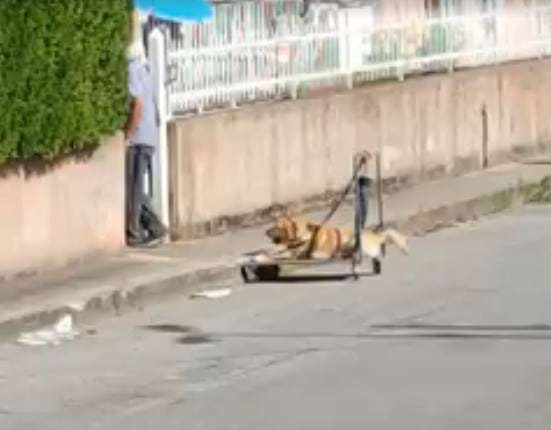 Dogs are companions and provide comfort for us when we crave a connection with another living being. Studies have shown that having a dog can decrease levels of loneliness, especially for our older generation, who may or may not be able to get out to socialize as much as they used to. Exercising and playing with a dog can also reduce stress levels. One study conducted by Harvard University found that interacting with a dog can even be a remedy for certain challenges associated with heart disease and autism. As cute little companions of unconditional love who treat us without judgment, the happiness of our beloved dogs becomes something we value as deeply important.
While spending time in Vibo Valentina, Italy, Sabrina La Grotteria noticed an older man who loved his dog so much that she was moved to take a short video of their afternoon walk. She noticed the older gentleman, Tonino, walking his Dog, Dylan, but it wasn't a type of walk that you see dogs and their owners usually taking. Tonino would place his loyal dog, who couldn't walk, on a cart and push him around their neighborhood.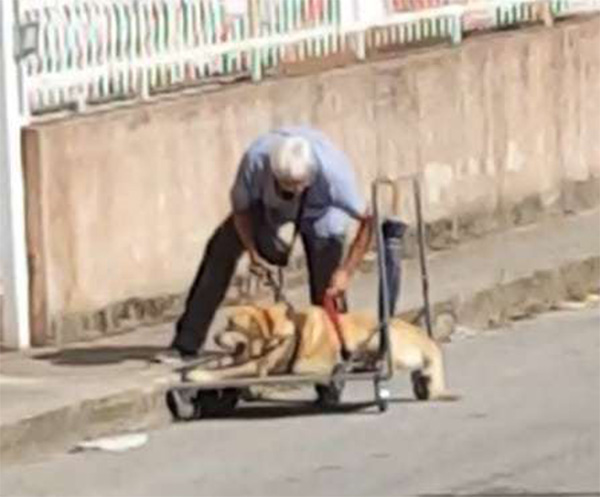 Sabrina found out that 13-year-old Dylan had lost the mobility of his hind legs due to arthritis, but that he had always been fond of taking an afternoon walk. Because Tonino knew just how much Dylan loves taking a walk around the city, the kind elderly man found a cart that his dog can lay on while the two of them continue their scenic journeys together.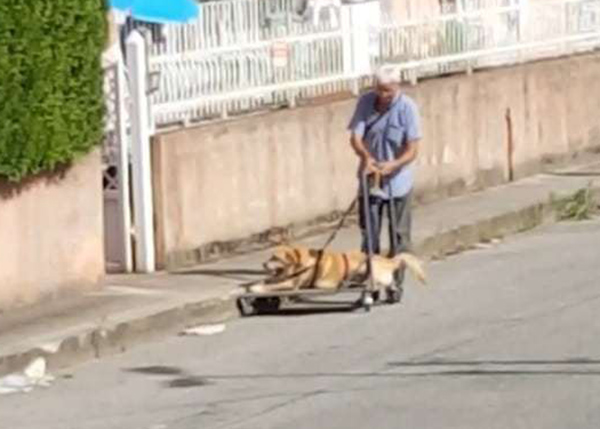 Even though pushing the cart up and down uneven streets seems to be quite a workout, Tonino doesn't mind, as the most important thing to him and his family is that Dylan is alive, happy and enjoying life.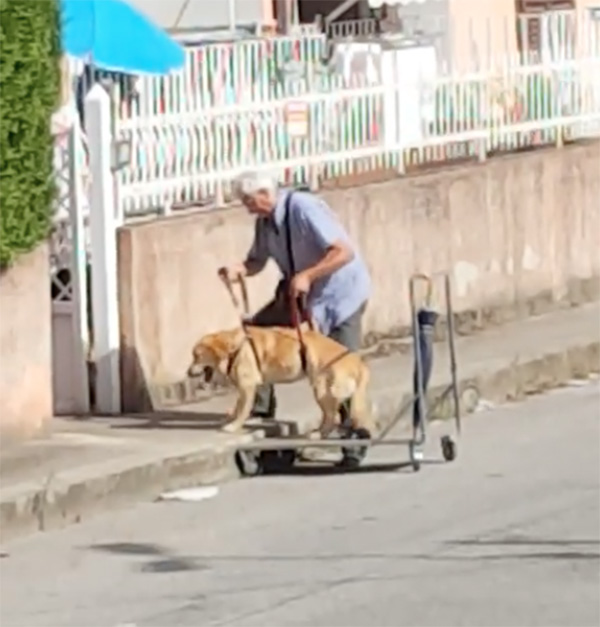 After Sabrina shared the sweet video of Tonino and Dylan, thousands of hearts were moved by it. When asked about the video's response, Tonino simply said that he hopes it teaches other people to love, care and respect animals.
Many who appreciated Tonino's love for his dog shared their thoughts in the comments:
"Beautiful to see. Our animals are there for us… it's great to return the favor and be there for them." commented T. Bolton.
"All doggies deserve the very best even in old age!!!! I had a doggie stroller for my elderly dog and he loved it!" wrote Sara E.
"So Beautiful." wrote Sandra B.
"That's unconditional love so nice to read n see positive things…" commented Ladean C. 
"What kindness this man has & loyalty to his beloved dog.love this." wrote Bridget M.
Looking at the smile on his face, you can tell Dylan surely enjoys continuing his walks with Tonino.
Watch the following video of Tonino coming back from a walk with Dylan:
You are Loved.
Related Compassion:
See Also: Puppy Drags Her New Blanket Outside To Share With A Cold Homeless Dog