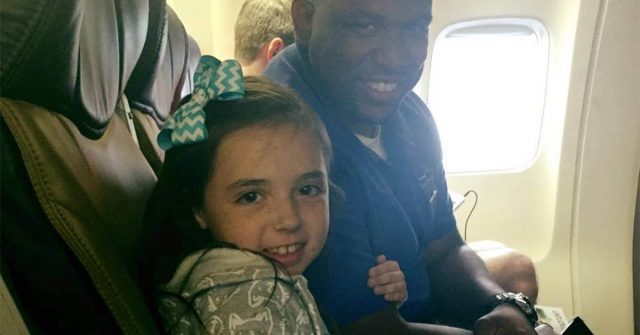 When a 9-year-old was experiencing anxiety during a flight with some rough turbulence, a kind flight attendant stayed by her side for more than 30 minutes to make sure she felt safe.
Erika Jeorgean Swart was flying with her three children from Orlando to Newark when some rough weather began causing turbulence on their flight. Gabby, Erika's 9-year-old daughter, has severe flying anxiety, and a flight attendant named Garrick noticed that she was struggling.
"This is Garrick, an employee of yours working flight 1264 flying from Orlando to Newark," Erika wrote in a post online, "and holding his arm is my 9 year old daughter, Gabby, a type 1 diabetic with severe flying anxiety. Upon take off he noticed she was struggling."
Garrick went out of his way make regular conversation with Gabby and brought her several special drinks to help.
"Throughout the flight he tried making her laugh and bringing her special drinks. As we were getting closer, weather was rough and there was a bit of turbulence. Gabby began having a complete panic attack on descent."




Noticing that Gabby began to really struggle, Garrick asked her if she would like for him to sit next to her to help her feel safe, and this kind man sat with her for more than 30 minutes.
"He came up to the front and asked if she would like for him to sit next to her in the empty seat. I was flying without my husband with two other smaller children and couldn't leave my row, in the photo she is holding my hand from across the aisle."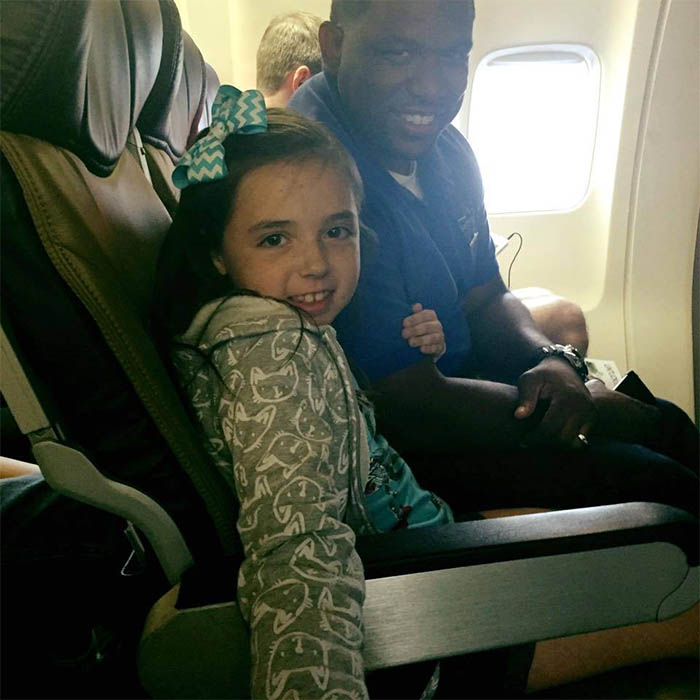 "She happily accepted his offer. He suggested they talk to distract her from thinking about the landing so they talked for around 30 minutes about everything from his daughter who is the same age to her pets to what grade she is going into. During extremely rough turbulence she began crying and grabbed his arm, he gently told her she could hang on as long as she needed to. Just after this due to the extreme stress she was under her blood sugars began dangerously crashing. He got up from his seat to get her an orange juice and came right back to sit with her. She asked again if she could continue to hold his arm while the plane was landing. He of course agreed."
After landing, Garrick congratulated Gabby, and everyone on the flight gave her a round of applause.
"Once on the ground while taxiing to the gate he came on the intercom and announced that his friend, Gabby, in the front row overcame her fears of flying and asked for a round of applause. The whole plane clapped for her. It was a wonderful experience on Southwest. We are forever grateful to have met such a beautiful, selfless soul."



Many hearts have appreciated how Garrick helped Gabby get through a difficult time.
"This man will remain in her memory forever for his kindness and caring! He helped her have a wonderful memory for future flights and of good people!" wrote Linda S.
"Thank you Garrick for going above and beyond what a flight attendant has to do. You not only helped the little girl but also her mother who couldn't be next to her," shared Sharon R.
"As someone who has been terrified of flying my whole life reading a story like this brings tears to my eyes. What a wonderful guy and I hope he gets all the accolades he deserves for doing what he felt was his job but in reality was so far above and beyond. Thank you for this heart warming story!" wrote Kelly B.
"I think all of us nervous flyers could use a friend like Garrick," wrote J. B.
"Garrick, what a special man you are!!! You helped Gabby through her fear. I fly but don't enjoy it and I am a lot older than little Gabby!!! What a kind and thoughtful thing you did for this little girl!!" commented Kathleen R.
You are Loved.
See Also: Kind Stranger Gave His First-Class Seat To An 88-Yr-Old Woman Who Had Never Flown First Before
View this post on Instagram