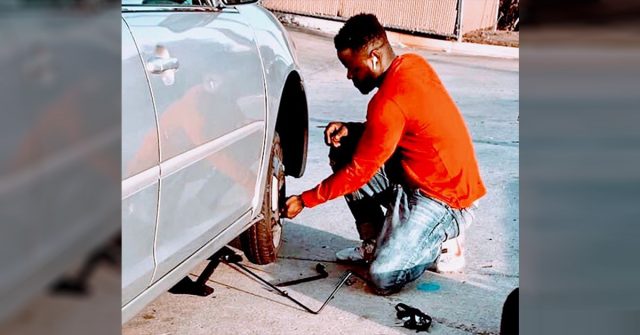 When Erica Usinger had a flat tire on the side of a busy highway, she was quite distressed, not only because of the tire, but because she did not know how to safely replace it with her spare; which was flat as well.
After 20 minutes on the side of the road, a kind stranger pulled over and offered to help, and he truly went the extra mile for her:
"My tire blew out on I-85 and I had a very difficult time getting over to the side of the road and was waiting for at least 20 minutes with my hood up and no idea how to change a tire [when] someone stopped," Erica explained in a Facebook post praising the kindness of the young man.



The gentleman removed her flat tire, but when he tried to replace it with her spare, he discovered that it was also flat.
"I'm very thankful for the gentleman named, Teewon, who stopped on an extremely busy part of 85 in rush hour on his way home from work and tried to replace my tire with my spare… which we discovered was also flat," Erica said.
Erica's mom was on the way, and she had an extra spare tire, so Teewon patiently waited another 40 minutes with her on the side of the road so that he could help.
"I let him know that my mom was on the way to me and had a spare in her trunk, so he waited with me for more than 40 minutes until my mom got there," Erica wrote.
When her mom arrived, they discovered that her spare was also flat, so Teewon offered to let her use his own spare tire so that they could drive to a gas station and fill up the tires there.
"Unfortunately, her spare was flat too. So, he used his own spare so that I could safely get off the side of the road and lead us to the closest gas station where he could fill up my spare and change out the tires. He also filled up my mom's spare tire in case of an emergency."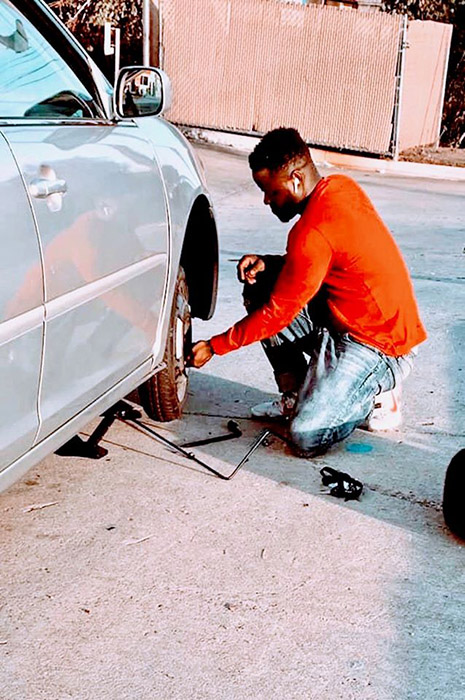 Erica and her mother wanted to repay the stranger's kindness, so they tried to buy him dinner, but he would not accept their offer and simply asked that instead they pay it forward and are kind to someone else in the future.




"We offered to buy his dinner for everything he had done for us, but he wouldn't allow us to and just asked if the opportunity arose to pay it forward and do something kind for someone else in need."
Erica said that Teewon's act of kindness changed what would have been a bad day for her into a positive experience which restored her faith in humanity.
"What was a bad evening ended on positive note and restored my faith in humanity! He works for Wells Fargo in Charlotte. What an amazing employee they have and what he was willing to do for complete strangers just out of the kindness of his heart."
Fixing a flat tire for the first time while on the side of a very busy highway can be a stressful and difficult experience for anyone. Teewon not only helped a stranger replace her flat tire, but he was patient by spending several hours of his day after work helping Erica and her mother. He then let her use his own spare tire and even drove with them to a gas station where he kindly filled up both of their flat spare tires. When offered a free dinner for his help, his kind heart declined and simply asked that when they get the chance, to pay it forward by helping someone else in need.
As anyone who has been helped on the side of the road by a kind stranger knows; Teewon's act of kindness will never be forgotten.
You are Loved.
See Also: Kind Woman Spent 60hrs Cleaning Her 76-Yr-Old Neighbor's Apartment, Which Hadn't Been Cleaned For 13 Yrs