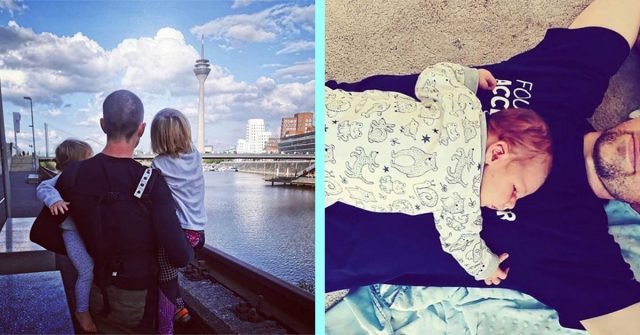 When it comes to parenting and being a supportive partner, while there aren't any set rules, there are some wonderful pieces of advice that come from couples that have found healthy ways to make it work.
Learning how to be there for your partner, or even how to parent, is not something that they yet teach in public schools, so finding good husband or dad advice can be a challenge. Ted Gonder, a father of three, wrote a letter to his "childless 24-year-old self" explaining what he had learned about being a supportive partner during the "becoming parents" phase of life, and decided to share what he's learned online in the hopes that maybe it could help another. His following 5 pieces of advice have since been shared hundreds of thousands of times, and they're worth reading:
"I'm now 29 and have 3 kids with my wife, Franziska, who carried and birthed them all like a pro." Ted writes. "Here's what I would tell my childless 24-year-old self about how to be a supportive partner during the 'becoming parents' phase:
1. Wifey carried baby IN her belly for 9 months. So, you carry baby ON your belly for 9 months every chance you get. Not only does it help her recover but it bonds you to your kid more than imaginable.
2. Wifey is breastfeeding and–while beautiful and fulfilling for her–it's exhausting. So, you change EVERY diaper you can. From diaper #1 onward. You will get over the grossness fast. And you will prevent imbalances and resentment in the relationship; in fact, when all your wife's friends are complaining about how absent and unsupportive their husbands are, your wife will be bragging about you.
3. Make her the decaf coffee every morning. Even if she leaves it cold and forgets to drink it most mornings because she falls back asleep while you're working or (later) taking the kids to school. She was up all night feeding the baby so help start her day in a way that helps her reset.
4. Tell her she is beautiful and help her see that in the moments when she is feeling most self-critical and hopeless about her body. Remind her of times when she achieved goals in the past. Remind her she is a superhero. She literally just moved all her organs around and gained 20 + pounds to give you a child that will be a gift to you for the rest of your life. Help her see past her body image issues and stay focused on a positive goal, one day at a time.
5. Take the heat. Hormones are crazy, both pre and post birth. She won't seem like herself every day and sometimes she will say things she wouldn't say if she didn't feel like she was hungover, caffeinated, and on steroids every day. Remember your job is to be her rock through all of this, so toughen up and keep perspective when her tongue is sharper than you know her best self intends. Normal will return soon and you want her to be grateful that you kept it together when she wasn't, not resentful and disappointed that you hijacked her emotions by making her problems yours."
From other parents, to husbands and wives, Ted's message was deeply appreciated by people all over the world. In an interview with Good Morning America, Ted explained where some of his ideas came from.
"I was lucky to spend several weeks on paternity leave. In between changing newborn diapers and playing with our 1 and 4-year-olds," he said. "Those few weeks provided a chance to reflect on how much I've learned on the beautiful battlefield of parenting in the first few years. My incredible wife has birthed three kids in 5 years and we've co-parented every step of the way, so a lot of my biggest learnings have been about how to be a supportive partner before and after birth."
"It's been hard for me to find good dad advice along the way," he said. "So I decided to write about what I'd tell the younger version of myself."
Ted's wife appreciated his post, and over the years the two of them have had insightful discussions on the subject.
"We've talked about many of these points with friends over the past few years, so I think she appreciated me sharing them in writing," Ted explained.



Thousands of people who've read his advice have reached out to him online.
"Encouragingly, the most common comments have come from women tagging their male partners thanking them for being 'their rock.' I think this says something about a growing group of men today who have the courage and strength to think beyond their traditional male role toward how they can be a true 'family co-founder' with their wife," he said.
"I think a lot of people also shared the post because they're outraged that so many women go through pregnancy, birth, and recovery totally alone when their male partners could be doing more," Ted said. "Many reflected on how a lack of supportive partner during this crucial phase planted seeds of resentment that ruined their relationship and family later."
Ted had some bonus advice which he shared to help husbands support their wives:
"Initiate the conversation early about household roles — breadwinner or homemaker or both," he said. "Take the pressure off your wife to explore what role each of you wants to play as you become parents. Relieve the topic's tension so it doesn't explode on you later. Push each other to think about a family vision, considering both of your desires equally, then work backward from that shared vision to plan how you'll manifest that reality together."
Ted's supportive partner advice is deeply appreciated.
You are Loved.
See Also: 12 signs she's a high-quality woman