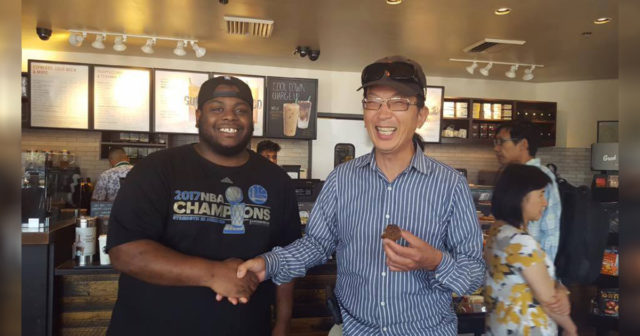 "So I walked into Starbucks this afternoon looking to buy the new Horchata Almond Milk Frapuccino for my lady and I. This man comes along and simply asks 'How are you doing today young man?' I responded 'I'm doing just fine, and yourself sir?' And as I began to place my order with the Starbucks representative, he says 'What's this young gentleman having today? Well whatever it is, I'm covering it.'




For a second I thought to myself, why is this man coming out of pocket for me, when he knows nothing about me? Why is he smiling at me, even though he knew I had the money to pay for our drinks to begin with? Well, this definitely caught me off guard. I had no idea how to react but to say, that I was very appreciative of such a nice gesture from a man that I didn't even know.
I told him he didn't have to use the rest of his his money to purchase my drinks, but all he did was leave me with words of wisdom, and he said 'It's either put up, or shut up in today's society. We are so busy fighting each other, that we forget that we all live in this world together. It's important that we show love towards people in our community. Because we have to work together to make things right. You're a blessed young man, and you seem like you're going to do a lot of great things in this world.'




The lady that took this photo of us was so choked up, she was at a loss of words. She simply said, 'Such a wonderful thing to see in our community. People coming together and showing some love. You don't see that everyday.' And in that moment, I said to myself that life is so much bigger than hatred, or to have dislike towards one another just because of nationality, race, ethnic background or the color of our skin. This simply proves that we can all come together as a country and look past all of the nonsense, and stand up for what's right. Instead of waiting for things to transpire, let's start by coming together and being united as one to make a statement to the people in our society and show the younger generation the meaning of equality and what it is to be a proud American."
Story courtesy of Joel Aaron Miles Hudson.
If you have a story of an act of kindness or compassion that has touched your heart, please share it with us here and help inspire others to see how beautiful the world truly is. Showing Kindness Is Growing Kindness.
You are Loved.
See Also: This Coffee Shop Opens Its Doors Every Night To Stray Dogs So They Can Stay Warm In The Winter