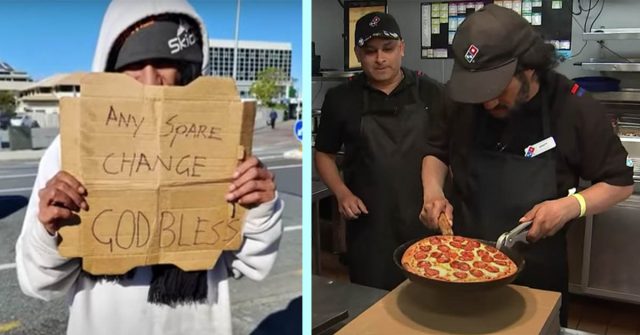 When a kind man saw a homeless person asking for spare change using a sign written on a pizza box from his store, he offered and gave him a job in a warm and friendly environment.
Rishi Sharma was on his way to work when he noticed a homeless man holding a sign made from a discarded pizza box. After taking a closer look, he found that the box was actually from a Dominos pizza shop that he owned.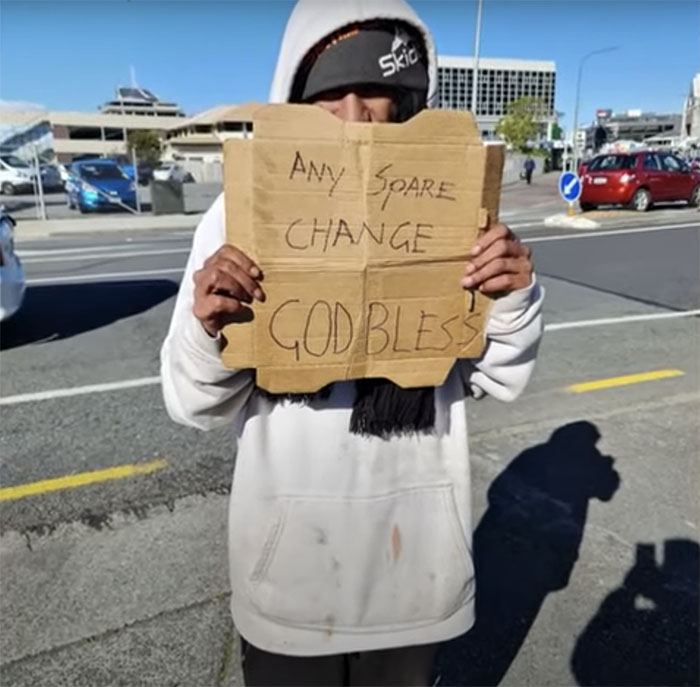 Rishi walked over to the homeless man, Brian Wallace, also known as "Sooty", and asked him how he was doing. The first thing Rishi noticed was how polite Brian was.
"As soon as I spoke to him… [I noticed] his manners were very nice," Rishi said.
Rishi also noticed that Brian was shivering from the cold, so he invited him to have a warm cup of coffee at a nearby cafe. He learned a bit about Brian's difficult situation and how he had lost his job, but during their conversation, Rishi couldn't help but appreciate how friendly the homeless person was.
"He was very passionate, and when I spoke to him, he looked very humble. The main thing was his attitude and the way he was talking to me," Rishi shared.
Rishi learned that Brian hadn't eaten yet that day, so he invited him to have some free pizza at his store, and Brian happily agreed. As his pizza cooked the two got to know each other more, and Rishi felt moved in his heart to ask Brian if he would like to work for him.
"I thought… I should ask him if he's keen to work for me, and without a second thought, he said 'Yep!'" Rishi shared.
Rishi started Brian as a wobble board advertiser and has now trained him to bake the pizzas.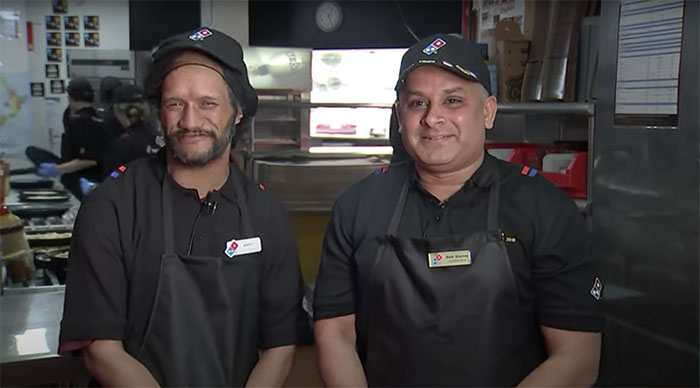 "On his first shift, I trained him on all of the wobble-boarding basics, including where to stand outside of the store and how to safely hold the board," Rishi said. "Within 48 hours [we were] able to help a man go from being unemployed, to employed; providing him with a simple, yet life-changing opportunity."
Brian is grateful and enjoying every minute of his new job.
"At the end of the day, I am just happy to be working and enjoying every minute of it," Brian shared. "I'm just happy to be here is all… to be offered a job just made my day."
Within Brian's first few weeks, he was able to get fully trained in becoming a pizza chef. Rishi also helped connect Brian with government resources available for helping the homeless find a place to live, and Brian is now no longer homeless.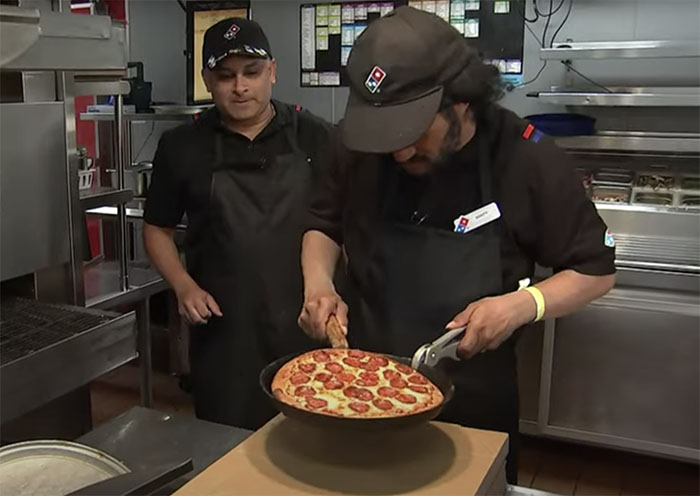 "He is very happy, he has a house in Taita now and Work and Income (NZ government assistance) has been very amazing. I spoke to them last Monday and a lot of things have been sorted," Rishi said
Rishi has helped change Brian's life for the better, and believes that the world needs more kindness.
"At the end of the day, I believe that the world is full of nice people. But if you can't find one, then be one," Rishi said.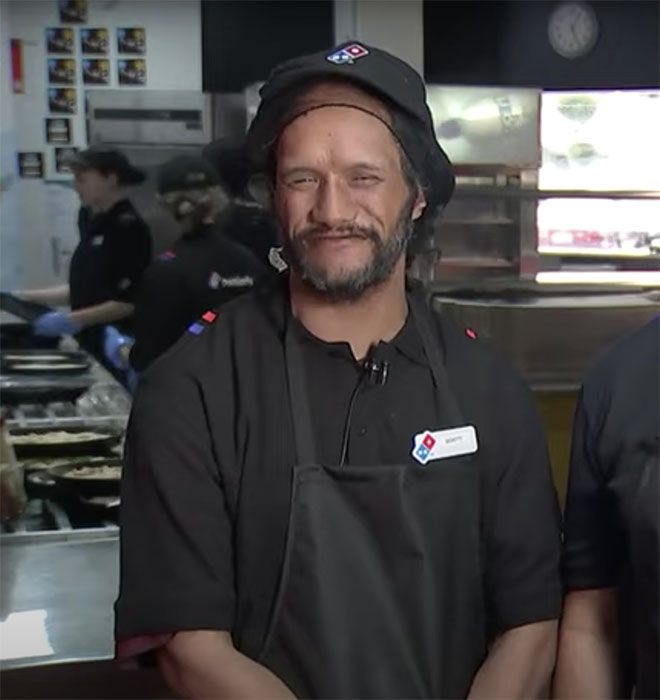 Watch This Heartwarming Video Of Brian Working At His New Job:
You are Loved.
View this post on Instagram
Related Compassion:
Shaking Elderly Man Asked Pizza Shop For Food That Would Be Thrown Out, Manager: 'Make This Man Whatever He Wants'
When Buying Breakfast, He Found It Had Already Been Paid For By A Kind Homeless Man Who He Regularly Talked To
Formerly Homeless Man Opened Pizza Shop Where Each Monday The Homeless Eat For Free