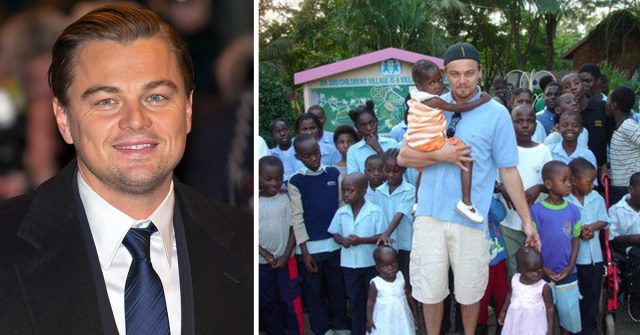 While many successful Hollywood stars choose to sit back on their fortunes and watch the world from afar, Leonardo DiCaprio has been using his fame and wealth to make a serious difference for the environment through charity work.
Beginning immediately after his success with The Titanic, he set up the Leonardo DiCaprio Foundation to fight for environmental justice around the globe. Since its creation, Leo has raised and donated over one hundred million dollars to this beautiful cause.




DiCaprio's foundation funds over 200 compassionate projects that impact over 50 countries and all five oceans. From protecting forests and wildlands, to saving tiger, elephant, wolf, and orangutan populations, to expanding protected marine wildlife areas, to funding renewable energy projects, to protecting indigenous rights, Leo seems to be one of the most influential people in existence who is doing everything possible to save the environment.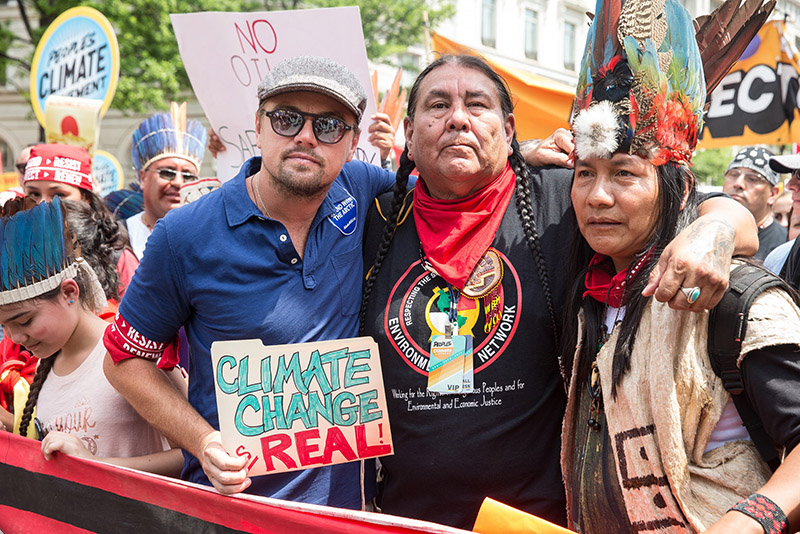 Outside of his foundation, Leo continues to be as generous and giving as humanly possible: In 2010, he donated $1 million to relief efforts in Haiti after the earthquake. In April of 2013, DiCaprio donated $61,000 to GLAAD, an organization which compassionately promotes the image of LGBT people in the media. In 2016 Leo took part in an annual fundraising gala event of Children of Armenia Fund, himself donating $65,000 to the cause. After Hurricane Harvey in 2017, Leo wanted to help, and he was able to transfer $1 million from his foundation to the United Way Harvey Recovery Fund.




In accepting his Best Actor award at the 2016 Oscars ceremony, DiCaprio stated:
"Climate change is real, it is happening right now. It is the most urgent threat facing our entire species, and we need to work collectively together and stop procrastinating. We need to support leaders around the world who do not speak for the big polluters, but who speak for all of humanity, for the indigenous people of the world, for the billions and billions of underprivileged people out there who would be most affected by this. For our children's children, and for those people out there whose voices have been drowned out by the politics of greed."
Leo has addressed and been honored by the United Nations. After an invitation, he met with the with Pope Francis, where he gave a charity donation and spoke about environmental issues. A few days later, inspired by his meeting with Leo, the Pope said he would act in a planned faith-based charity film, Beyond the Sun, and donate the profits to charity. It would be his first acting experience, and would also be the first time in history that a Pope has appeared in a feature film.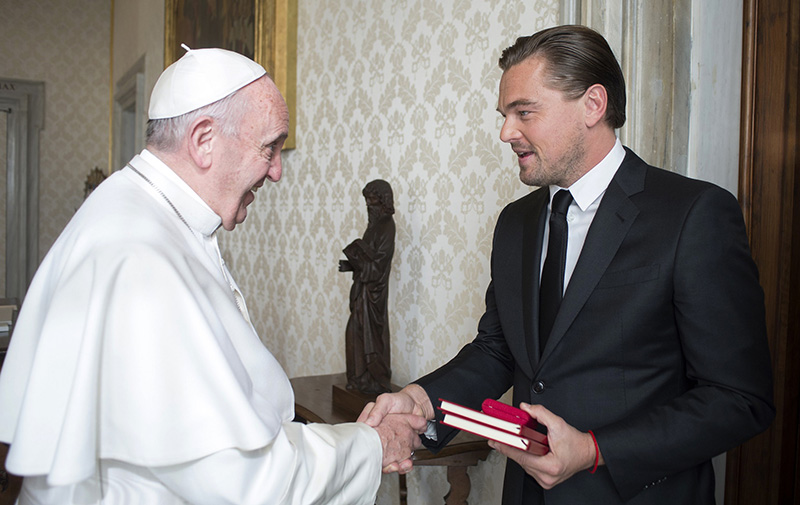 Leo's foundation explains that:
We are now experiencing what can only be called a planetary crisis — a convergence of accelerating climate change, unprecedented loss of biodiversity, and increasing human health issues caused by a toxic environment. Since 1970, we have lost one-third of the world's wildlands, and in that time 50% of all vertebrate land animals have vanished. One-third of the world's coral reefs, the "nurseries" of the ocean, have died and another third are expected to perish by 2030. Climate change is only adding fuel to the fire, with rapidly increasing global temperatures wreaking havoc on the delicate balance that has allowed life to flourish since the end of the last ice age. The situation in which we find ourselves is not just tragic for the thousands of species that will never again roam the Earth, but could threaten the very existence of our own species, homo sapiens.
Leonardo DiCaprio's big compassionate heart shows us just how powerful and influential a Hollywood star can be in helping to save our environment, our Earth, our Home.
When our heart is in the right place, beautiful things can happen.
You are Loved.
See Also: The Compassionate Keanu Reeves Has Been Secretly Donating Millions To Children's Hospitals For Years