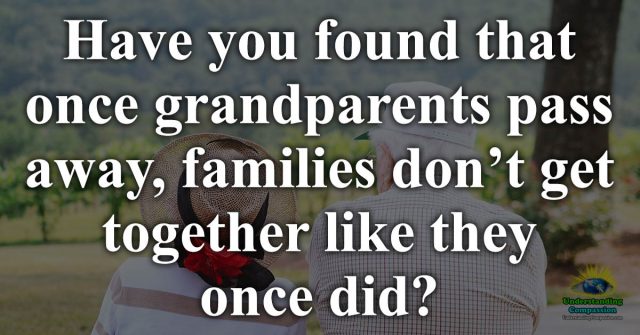 Have you found that
once grandparents pass
away, families don't get
together like they
once did?
More Related Quotes:
The love between a grandmother and granddaughter is forever. 
Do you ever look at your children or grandchildren and feel your heart melting because you love them so much? 
Some moments can only be cured with a big squishy Grandma hug.
A grandmother thinks about her grandchildren day and night. Even if they are not with her, they are always in her heart. 
I think one of the Greatest Feelings in the world is when someone openly tells you how much you mean to them. 
My grandkids can make me laugh when I don't even want to smile. 
Grandmas hold our tiny hands for just a little while, but our hearts forever. 
Never ignore a person who loves you, cares for you, and misses you, because one day you might wake up and realize you lost the moon while counting the stars. 
Grandma, a woman with a heart of gold and the number one babysitter who's there in a pinch. 
I'm proud of many things in life but nothing beats being a Grandma! 
Spend time with your Parents, treat them well. Because one day when you look up from your phone, they won't be there anymore. 
A grandchild fills your soul with sunshine. 
A Grandchild fills a space in your heart that you never knew was empty. 
Your Light Is Seen, Your Heart Is Known, Your Soul is Cherished by more people than you might imagine. If you knew how many others have been touched in wonderful ways by you, you would be astonished. If you knew how many people feel so much for you, you would be shocked. You are far more wonderful than you think you are. Rest with that. Rest easy with that. Breathe Again. You are doing fine. More than fine. Better than fine. You're Doin' Great. So Relax. And Love Yourself Today.
~Neale Donald Walsch 
My Wish For You Is Simple: Have the best life imaginable. Live like you will never grow old. Laugh, giggle, cry if you must. Play as hard as you work. Make time for people and things you adore. When you sleep, I hope you have the best dreams that will make you wake up with a smile on your face. And that you always, always know that you are loved. That's My Wish For You. 
I can't promise my Grandchildren that I will be here for the rest of their lives, but I can promise I will Love Them for the Rest of Mine. 
When you're young your grandparents try to tell you their history, and you don't care because it doesn't interest you at the time. Later on, you wish you had written down what they said. 
You are Loved.
Watch This Video Of A 6-Year-Old Boy Who Beat Cancer And Got A Surprise Greeting From His Entire School: