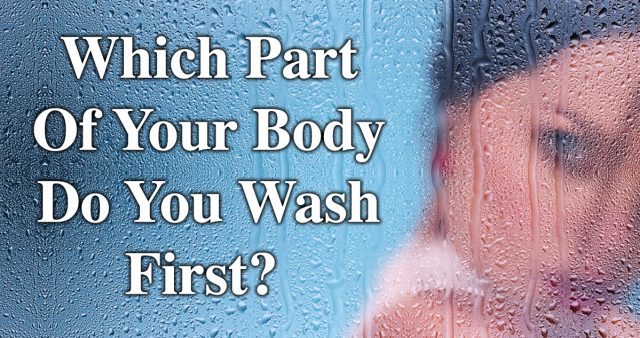 Everyone has their own personal routine when it comes to washing in the shower. Some start with their chest and arms, some with their face and hair, but we all begin somewhere.
It is believed that your shower routine is connected to certain aspects of your personality. Which part do you start out washing first?




CHEST:
You are a practical, direct and straightforward person. Convenience makes you feel comfortable and beating around the bush is not something you do. When you're focused on something, being distracted is quite irritating and you can be somewhat impatient with people who do not see things your way. In terms of your love life, you match well with those who wash their hair first.
FACE:
Making money is one of your primary motivations, and many of your goals are built around achieving financial success. You see your plans as often more important than the plans of others, so if friends cannot adhere to your schedule, the two of you often can't meet. The strengths of not caring what people think is self-confidence, but without remembering to be kind to others, it's possible others can view you as self-centered. Your could have some selfish tendencies in your love life, but the one you're dating most likely places a high value on you and wants to stay anyway. Your best match is with those who wash their 'privates' and others first.
HAIR:
Creativity and artistic would be two words to describe you. Your daydreaming has resulted in very creative expressions and a uniqueness that others have trouble duplicating. Your dedication to ordinary things is not very strong as things lacking excitement can easily lose your interest, but your goals on the other hand receive your full attention. You value intellectual friends over money. For your love life, you are highly sought after as your energy is beautiful and passionate. Your best partner is those who chose chest and privates to wash first.
ARMPITS:
You are known for your dependability and aren't afraid of doing hard work to get what you want. You value real and tangible qualities, and have a solid foundation. You are popular within your social circle and love to help others. Your judge of character isn't always 100% accurate and sometimes things don't always go the way you planned in your relationships, but you always have a large circle of people to fill your schedule. Your best match is those who chose shoulders.




PRIVATES:
You are known to be shy around people you don't know too well. Self confidence has been a struggle at times even though your emotional landscape is quite a beautiful thing to behold. You give up too easily at times so a little training in perseverance is necessary. There's something people can't quite understand that draws them to you, yet you don't show your feelings to just anyone. Close, intimate and passionate relationships give you strength as you are able to open up fully. Your best match is with those who chose face and hair.
SHOULDERS:
Sometimes excessive in what you like to do, being extreme is something you're drawn towards. Whether it's in sports, gambling or eating, thrills excite you. You tend to get discouraged by failure, even though it is just a stepping stone to success. Negative habits can be easy to pickup when being a thrill-seeker, so remember to take care of yourself. Your best match is with those who chose hair.
OTHERS:
You are likely still unaware of your inner strengths, but regardless of what you've learned, they are there. Deep within you is a person to be loved by many, you just need to follow your heart and open up a little bit more. An average love life applies to others, unless they are willing to get serious in reading books on relationship techniques and psychology. Your best match is those who chose to wash face.