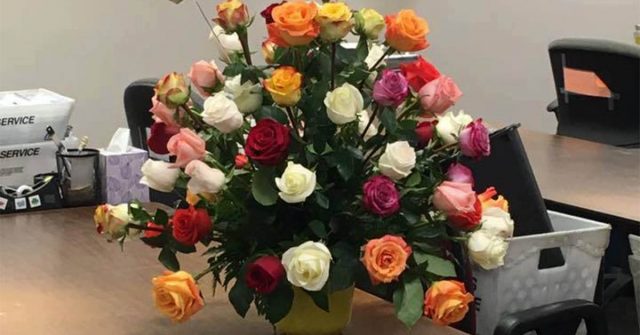 A loving husband made sure that his wife would not feel alone when he was gone by sending her future deliveries of flowers and gifts.
Kayla Miller noticed that her coworker was receiving beautiful bouquets of flowers at work, and learned that they had been pre-ordered by her coworker's late husband before he passed. Her heart was moved seeing the meaningful delivery and she shared it with the Facebook page Love What Matters.
"I got to witness a real-life P.S. I Love You story," Kayla wrote. "These flowers were delivered to work today for a lady I work with. They are from her husband who passed away two years ago."
Each holiday and birthday, her coworker receives various gifts from her late husband, including flowers, various gifts and jewelry. He didn't want his wife to feel alone during the holidays when he was gone, so he sent her a reminder on each one to let her know that she is still loved.
"Every holiday and birthday since his passing she has been receiving flowers, presents, and jewelry from him. Before he passed, he lined all of this up for her so she wouldn't feel alone on those days that would be the hardest to spend apart."
Seeing the late husband's love for his wife helped Kayla understand that true love is real.
"I am sharing this story not only because it's amazing and it warms my heart, but to show girls that true love is real. You don't have to settle for someone because you think no one else will love you. You don't have to put up with being cheated on or lied to or being talked down to. You are a prize to be won, and there is someone out there that will love you forever and even through the afterlife. I hope this brightens your day and P.S. I Love You."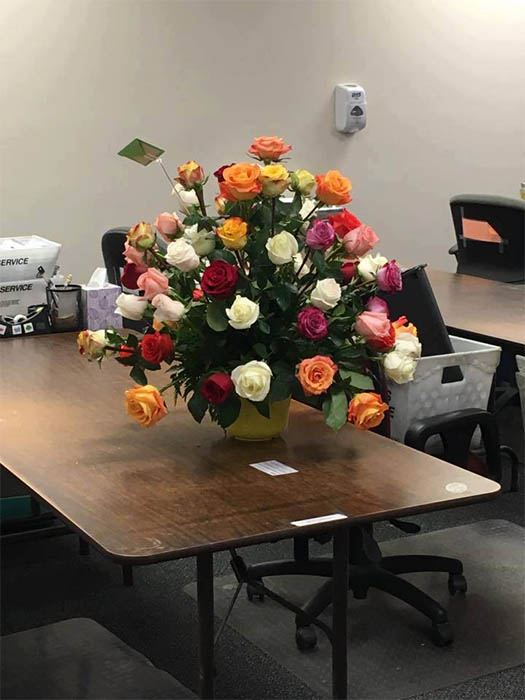 Thousands of hearts online have been moved by the late husband's love for his wife.
"How beautiful, what lovely gift, just to know when he's gone he's still there," wrote one grateful heart.
"I am so so happy to see a love like this and can only imagine how much she misses him," commented Shellon B.
"It's wonderful her husband was able to do that. Many aren't able to but love just as deeply and forever. I should know, my husband passed away 6 years ago and without the gifts and flowers, I know he couldn't have loved me more," shared Mary M.
"[My father] used to leave [my mom] random notes and cute cards just because. I grew up hearing him not just acknowledge her in the morning, but tell her how pretty she was. True love is awesome. I'm still looking but at least I know what it looks like thanks to such a great man," wrote Connie S.
If someone you care about has lost someone they love, consider letting them know they are loved during the holidays, so they know they are still loved and not alone.
You are Loved.
View this post on Instagram
Related Compassion:
Loving Husband Spends 2 Years Planting Thousands Of Flowers For His Blind Wife To Smell To Get Her Out Of Depression
Photo of 96-Yr-Old Husband Feeding Wife With Alzheimer's Proves Life-Long Love Exists
Loving 99-Year-Old Husband Walks 6 Miles Every Day To Visit His Wife In The Hospital (True Love Exists)