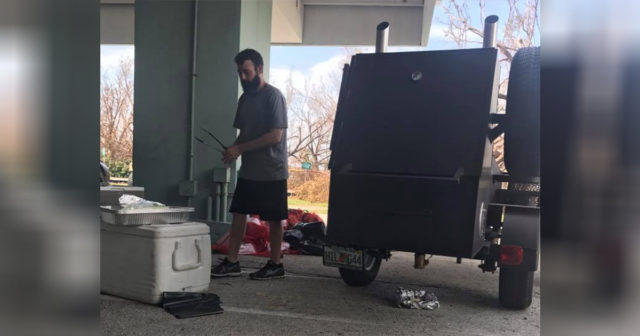 With so much damage caused by Hurricane Irma, first responders and military members were working day in and day out to help those affected in Florida. Most of the men and women went above and beyond their call of duty to help the tens of thousands who were affected, and one kind man wanted to make sure they were all well fed.
National Guard member Robert Vien was providing relief when he witnessed a man, who wished to remain anonymous, drive up with a grill and hundreds of pounds of chicken to cook for the hardworking Irma relief group in a heart warming act of kindness.
"I don't know who this guy is, other than he is a prosecutor in Miami-Dade. He came down to the Florida Keys with his own grill and 300 lbs of chicken to cook for all military and first responders out here helping with Hurricane Irma relief," Robert shared in a post online.
"Let's make his guys famous instead of all the negative stuff happening. Thank you from all of us!!!! #RealNews #DoingTheRightThing," Robert continued.
While we all too often focus on the problems happening in the world, we need to remember that there are countless amazing and compassionate people who are all around us, working hard to make the world a better place, and to help those in need.
You are Loved.
Photo courtesy of Robert Vien.
See Also: This Kind Restaurant Made 1,000 Free Meals For Hurricane Victims, Hasn't Been Covered By Media. Let's Thank Them