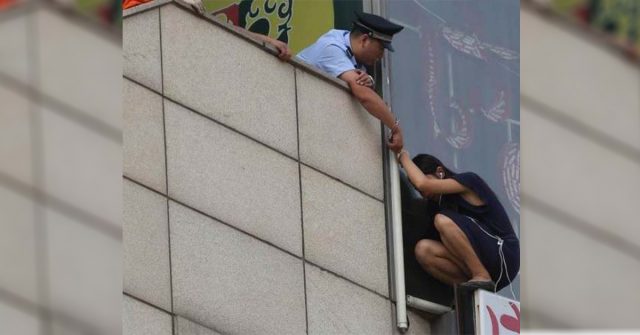 In a stunning act of compassion and bravery, a police officer went above and beyond his duty by risking his own life to save the life of a woman on the brink of suicide.
In Beijing, China, a very distressed woman climbed the stairs of a building, and then walked out beyond the ledge on to a billboard and prepared to jump.
Passersby noticed the woman, and began to shout at her and try to convince to her not jump.




Within a short amount of time, a few police officers arrived and this one in particular pleaded with the woman not to jump.
The hero cop decided that the only way to save her life, was to handcuff himself to the woman.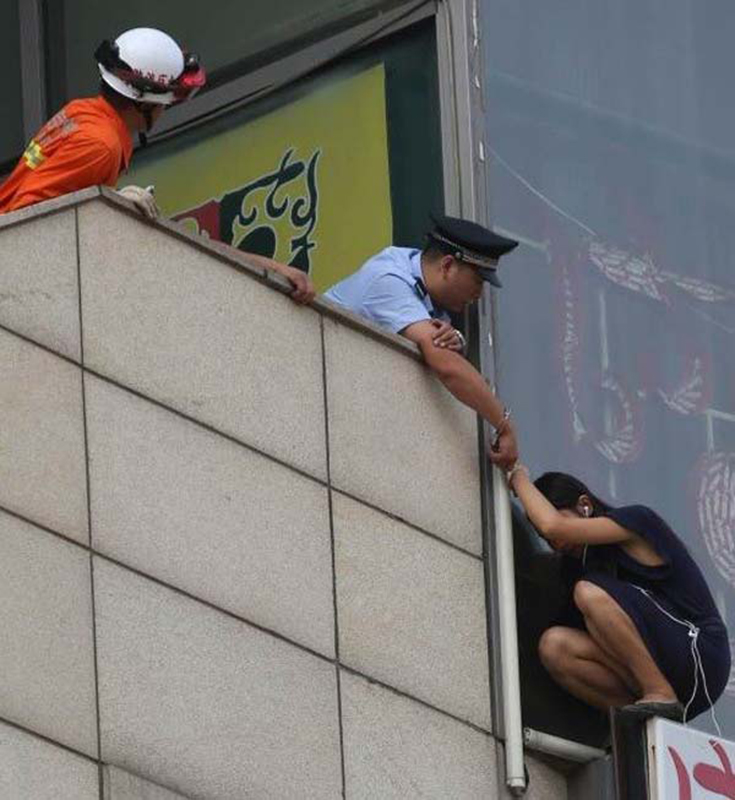 While another officer was speaking with her, he handcuffed himself to her, but that still did not cause the woman to return to safety.
In a determined bid to make sure she realized he was serious about saving her, he then threw the key over the ledge so they could not be separated.
"She knew then that if she died she'd take someone with her and that seemed to bring her back," said one officer.
Police then used a length of rope to pull the woman off the sign, and they were able to pull her up to safety.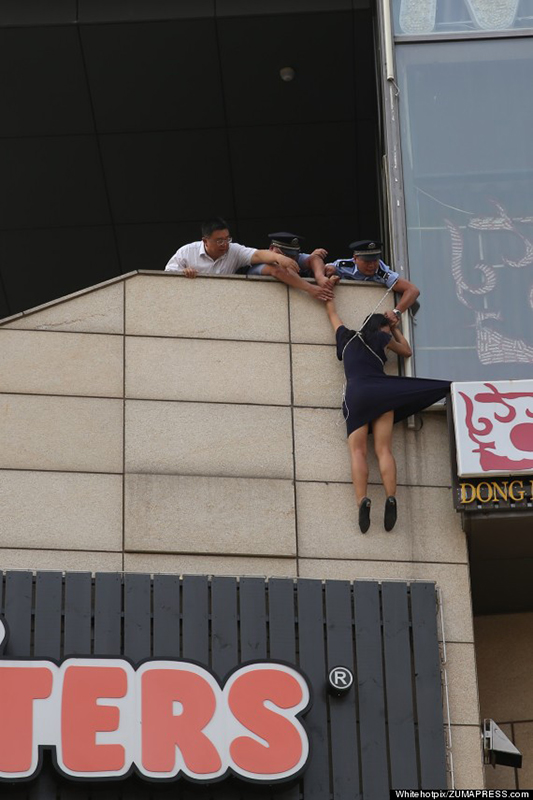 In the many stressful work, family and living situations we encounter on a daily basis in life, it can be easy to feel extremely overwhelmed and like things are out of control. Sometimes when it feels like there is no where left to turn, many lovable people feel that their only option is to try and end their lives. It is during these overwhelming and stressful moments, that the love from other people can make all of the difference in the world to someone.
Often times what people needs is someone to talk to about their situation, and will listen without judgment and without giving advice. Simply they need a gentle heart to listen. Having someone there for them can allow them a space place to process their current situation and to calm down little by little.
It's important to remember that our troubles are not permanent in life, and that each dark night is followed by a bright and beautiful dawn. Never give up hope that life can and will improve.
If someone you know is struggling with depression or suicidal thoughts, make an effort to be a support for them, let them know you are always there to listen and to help them, whenever and whatever it may be they need. It is also very necessary for them to speak with free suicide lifelines where trained professionals and always waiting to speak with, listen to, and counsel the beloved people who are struggling. Here is a list of suicide lifelines to call and which country they are in.
Seeking a professional psychologist is also a great help for someone struggling with thoughts of suicide. Here is a great article explaining how to best find a counselor who meets your needs.
The courage and compassion of this brave police officer helped a woman during her time of need, and has inspired millions of others to do the same.
Always remember; you are beautiful, you are loved and you are not alone.