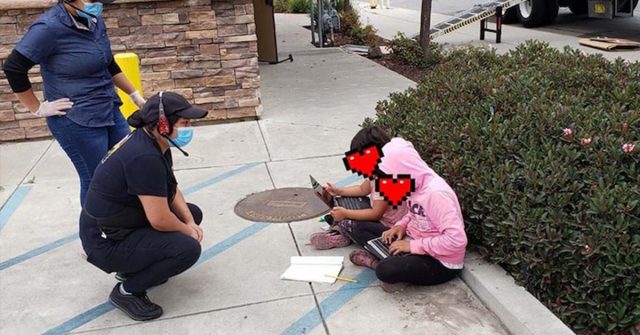 Kind neighbors raised more than $140,000 for two young girls who were doing their homework on the sidewalk of Taco Bell for WiFi.
Jackie Lopez received a picture message from her mom of two young elementary school girls trying their best to do their homework by using the free WiFi outside of a Taco Bell in Salinas, California, and her heart went out to them.
"My mom sent me this picture today," Jackie shared in a post online. "These 2 young girls were looking for a place with WiFi to do their school work so they sat near Taco Bell to connect to the free WiFi. A lot of us don't have to worry about having a proper WiFi connection or a quiet place to work from home."



Jackie wanted to organize some help for the girls, so she called on her friends to see if there was something they could do together.
"Every student from preschool through college should have free access to reliable WiFi especially now. What can we do as a community to pull together for students who need something as simple as WiFi in order to succeed? Please share and tag people in our community who can help."
Jackie learned that the two girls are Salinas City Elementary School District students and that their mother is a migrant essential worker. To protect her and her daughter's identities due to the sad increases in discrimination towards migrant workers, their faces have been covered and the mother is called Juana. Juana is a single mother doing her best on her own to raise her girls, but a combination of the pandemic and the Californian wildfires has left their family struggling during hard times, and they were facing eviction from their home. As their basic utilities were being turned off, the young girls resorted to going to going to Taco Bell to use their WiFi to complete their homework from school.
Jackie and a local organizer named Flor paid for a hotel for Juana and her family to move into as they were evicted, and Jackie helped setup a GoFundMe for the girls and their mother. They also were able to provide them with food, clothing, school supplies and other essential items. Within days, their kind neighbors donated $146,260 to help this struggling family.
"For now they are safe but they need as much help as they can get," Jackie shared. "Thank you for helping change their lives. All children deserve a happy place to live and because of their dedication, these little girls deserve a safe space to learn. We appreciate every single one of you for helping making that happen."
Jackie hired an accountant at Eagle Accounting to handle the funds for Juana and her family and provided full transparency. She wants to encourage others to reach out and help others as well.




"I encourage everyone to reach out to your own communities to help students in your area," she wrote.
Update: Several false claims were made, likely originating from people discriminating against migrant workers, that Jackie had not yet transferred the funds to Juana, but the local police department dismissed these claims and verified that everything was done correctly. The city of Salinas also stepped in to donate a free WiFi hotspot to the girls, to make sure that they would not be without internet again.
Thousands of hearts have been so grateful that the young girls have been helped.
"I always say Angels are real they walk on earth. God Bless You.❤️❤️❤️❤️❤️❤️❤️ And May God Keep You Safe!" commented Brenda G.
"The tears, the emotion, the love, the support. It's the heart that YOU have to change the world," wrote Suga H.
"If they need additional help please PM me. All kids need access!" wrote aekanzler.
"It's nice that they got this kind of help. But unfortunately this is just one example of a much larger problem in our society. These days internet should be a basic amenity that every child has access to – as basic as indoor plumbing or electricity (although even that's still a problem now). How many more children that we don't hear about live like this?" wrote Balasurr.
"This is wonderful and shows how many people in communities do a wonderful job supporting good movements! Great charity!" shared M.G.
"I live here and it is true! Many were quick to judge, fortunately the majority came to their defense with similar stories of their own. I am happy the person took this photo with the intention of helping these young ladies and not knowing how much she's helping others by highlighting the "ELEPHANT in the room" by bringing much needed attention," wrote J. Juni.
"You girls are amazing!!! I am so happy they are now safe ❤️  this is proof that together we can accomplish anything! ?  Let's keep fighting for our people," commented Natali.
Thanks to Jackie's compassionate heart, not only will these young girls now have WiFi, but their family will not face homelessness.
You are Loved.
See Also: Kind Young Woman Saw Boy's Sad Face After He Learned He Couldn't Afford Shoes, So She Bought Him A New $180 Pair