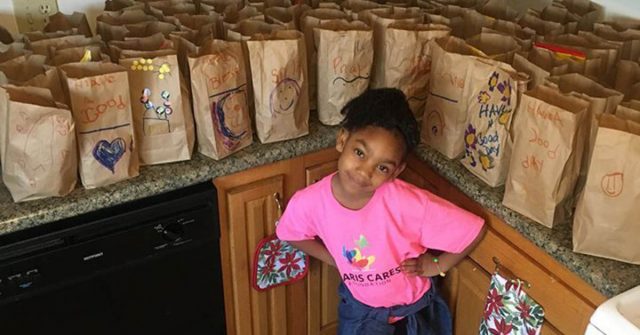 Paris Williams is a first grader on a mission to help the homeless. This sweet 6-year-old has prepared and delivered more than 500 care packages to the homeless, as well as more than 250 meals to essential workers in St. Louis, Missouri.
Paris became inspired to help the homeless after reading the children's book "One Boy's Magic" by Cari Chadwick Deal, a story where a boy uses his powers to better the world by helping to feed the homeless.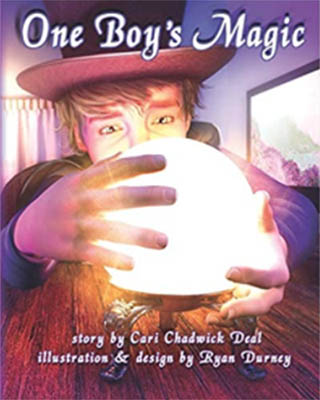 "The world today faces many challenges that can make us all feel a little helpless," the back of the book reads. "A young boy realizes this and decides that only magic would be able to fix it. If it can't, then what will? His determination to better the world is strong and eventually leads him to the only answer that's needed."



After reading the story, 6-year-old Paris had an idea.
"I wanted to give something to the homeless," Paris explained, "like the boy in the book."
"She was reading books at school about giving and she came home one day, and she was like, 'I want to give back to the homeless. What can we do to help the homeless?'" Paris' mother, Alicia Marshall explained. "We kind of brainstormed some ideas and we came up with making care packages."
They came up with the idea of making 'Paris Care Packages' which were filled with food, water, and other daily essentials which the homeless need. Her parents helped her gather the materials, and then Paris prepared them each herself.
She also wanted to create a human connection with each homeless person she helped, so she hand-drew pictures and personal messages on each of the care packages that she delivered.
"Have a good day," "Bless you," "Smile," as well as many hearts, smiling faces and flowers can be seen on the care packages.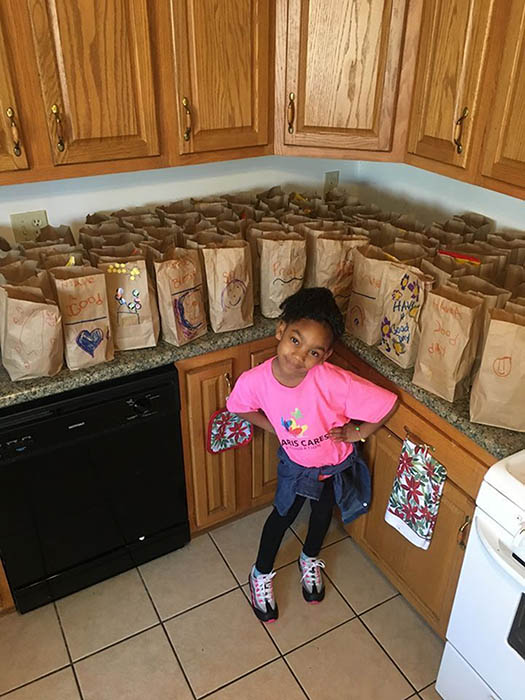 "I would help put in all the food and help draw all the pictures on the bags," Paris sweetly said.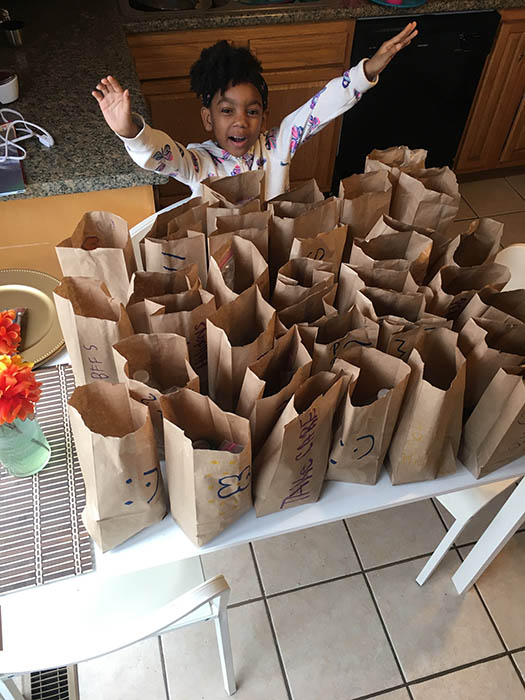 After hearing that others wanted to support Paris in her mission, her parents setup a nonprofit and GoFundMe for Paris' Care Packages. She's been able to raise several thousand dollars, which will be used to make more care packages, to deliver hot meals to the homeless during Thanksgivings, and to buy and donate toys for children each Christmas.
"It makes me really proud because with everything that's going on in the world, this small child who is entering first grade has such a big heart," her mother said. "She is very outgoing. She is creative. She has a big heart. She's always willing to help people. She's the driving force behind everything and we are just trying to support her the best we can."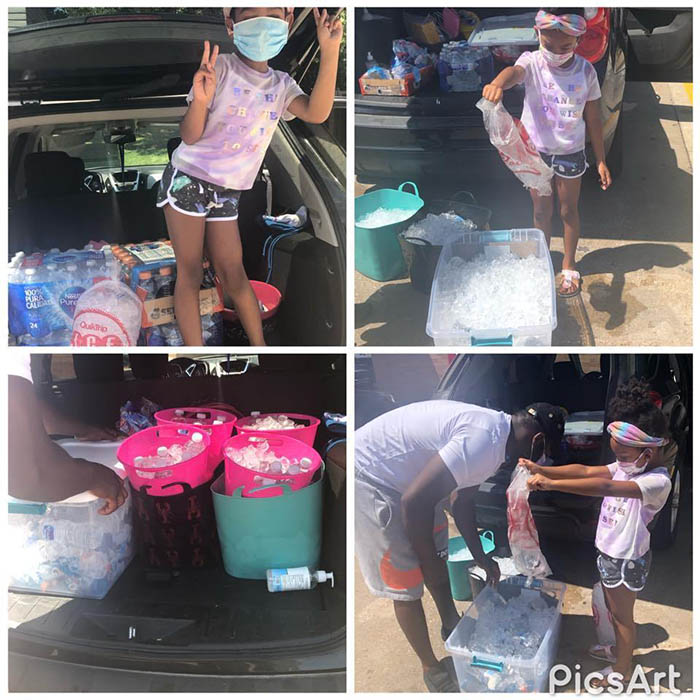 "I want to inspire people to do good things," Paris said.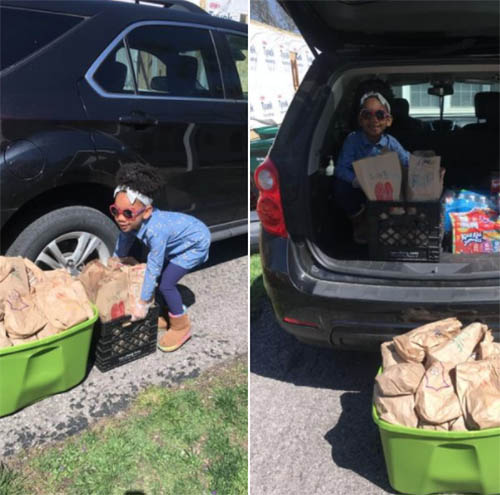 Many of those who donated left kind and encouraging messages for Paris.
"Paris has a huge heart and is a fine example of someone who puts thought into action. And I love the artwork on each paper bags. Excellent messages, Paris!" wrote Al N.
"This news story was the light we all needed today. Not only the warmth and bright spot that Paris is, but the perfect examples of loving parents that is lucky to have. THANK YOU ALL for raising a wonderful young woman with a giving heart. She is destined for amazing things." commented Katy J.
"Thank you for doing the good work Paris! It's been an especially rough summer for our unhoused family, and your acts of love are incredibly encouraging." said Andrew S.
"You embody the kindness and empathy our world so desperately needs these days — and you act upon it. Thank you, Paris, and keep up the great work!" wrote Trevor M.
It's wonderful to see what a compassionate impact Paris' big heart is having in her community, and her mission shows us not only how beautiful it is to help the homeless, but also how important it is that children read stories and books which encourage kindness and compassion towards others.
You are Loved.
Please share kindness with others: when we share stories and examples of compassion and kindness, we inspire and encourage others to be kind and compassionate in their daily lives, making the world a better place for everyone.
See Also: This Kind 6-Year-Old Girl Showed Compassion To A Homeless Man In Tears