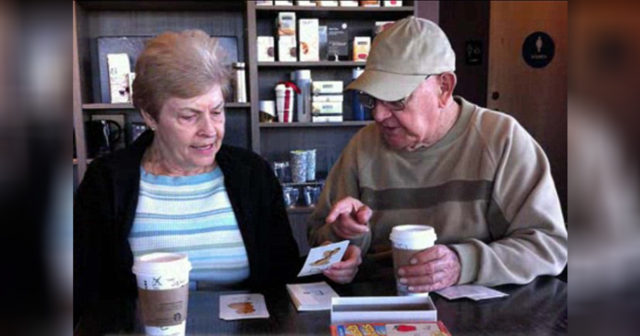 This picture tells the story of recovery, but more importantly, it tells of love.
Millions of people around the world found a place in their hearts touched when a picture appeared online showing a man teaching his partner how to read again after she had suffered a stroke.
The image was taken in a Starbucks, where 82-year-old John Allen takes his long-term partner Linda Alexander, 70, six times each week.




It was an image of True Love; the picture of John Allen, 82, teaching his partner Linda Alexander, 72, how to read after she suffered brain damage from a stroke that was posted on Reddit.
After falling ill five years ago, Linda suffered severe brain damage following a stroke, losing much of her memory.
To help in her recovery, John Allen has taken it upon himself to teach his partner how to read again, using flashcards while drinking their morning coffee.
A picture of the couple, who have been together for 11 years, was taken by a fellow customer, who posted it to social media saying he was "overwhelmed by the love the couple showed for each other".




Touchingly, Linda told an interviewer that for a long time after her illness the only words she could say were 'I love you'. She told NBC news, 'I'm still enjoying my life, you know? I'm not sad. I'm not angry.'
More than two million people have seen the picture of Mr Allen teaching his partner with flashcards.
The right side of Linda's body is still partially-paralyzed, but she said that she still had an ambition to drive and was determined to read.
Not only does he take his beloved to coffee and lunch every day, but Mr. Allen also takes her to the gym three times a week to help her build up her strength in the right side of her body.
The couple's affection was initially captured by Matthew Ballestero, who posted it to Reddit, with the caption 'Patience, love and understanding at its finest'.




After meeting the couple, Ballestero explained: "My friends and I were overwhelmed by the love that these two had for each other, and I knew I wanted to let them know how much of an inspiration and a perfect example of true love they were to me."
He added; "You may be losing your memory, Linda, but the love that you and John have for each other will never be lost. Thank you for your beautiful example, Linda and John."