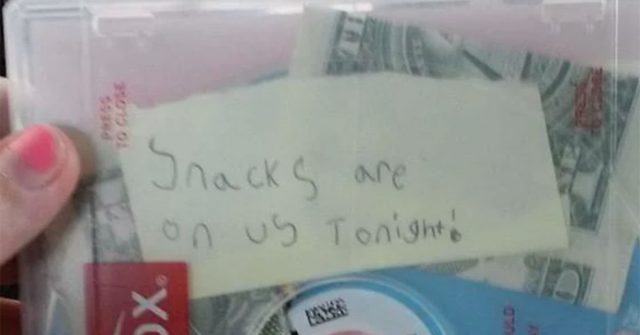 After renting a movie from a Redbox DVD machine, a woman found a lovely random act of kindness inside.
Inside of the movie she had rented, were folded up dollar bills with a note which read,
"Snacks are on us tonight!"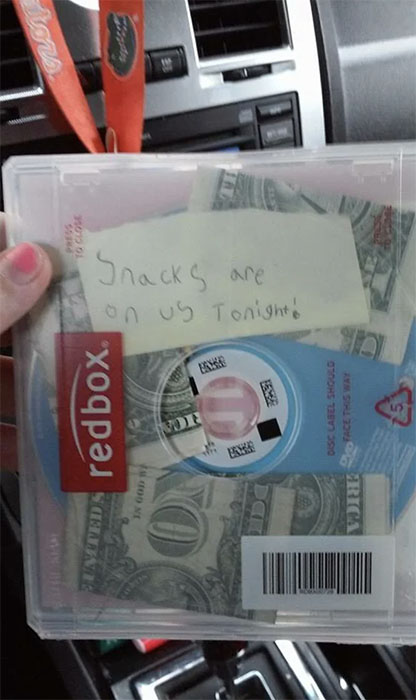 Thousands of hearts online have appreciated this sweet and thoughtful random act of kindness.
"I love this as a new idea for a random act of kindness," commented S.L.
"Wow, sweet act of kindness :)" wrote another.
"This is a cute idea," wrote Rosio H.
"More proof that there are kind people all around us," wrote another grateful heart.
You are Loved.
Post by @understanding_compassion

View on Threads
Subscribe for free to Understanding Compassion on YouTube and help us make the world a kinder place.
Related Compassion:
4 Heartfelt Lessons Of Kindness From The Netflix Christmas Movie 'Klaus'
Kind Young Man Rode Bicycle 7 Miles To Get Key For Stranger Who Locked Himself Out Of Car
Kind Supermarket Chain Store Opens Slower 'Chat Checkouts' To Alleviate Loneliness Among The Elderly