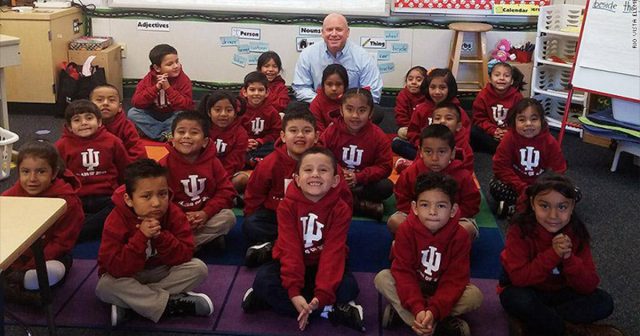 While these bright kindergartners won't be finishing college until 2032, they now don't have to worry about being able to afford going thanks to the kindness of a stranger. Lawyer Marty Burbank and his wife pledged to pay the college tuition for all 26 of these students, rather than buying a yacht they had been considering.
Marty was planning to buy a yacht, and had narrowed down his choices to two of them which sold for around $1 million each, but his pastor inspired him to help the kids of a local kindergarten class instead.




Paying for their college does come with a small price though; the students at Rio Vista in Anaheim California are asked to give Marty an annual update of either a picture or a short essay teaching him what they want to be when they grow up and what going to college would mean for their families.
"I'm a strong believer in visualizing your goals, and this way they'll be think about this each year for the next 12 years," Marty said.
Marty's generous heart will be able to pay for two years at a California public university and two years at a community college for each student, or the same amount will be paid if they decide to attend university elsewhere.
Kindness is worth its weight in gold, and the love we receive in our hearts from helping others is more valuable than the material things we can buy.
If you're considering a new purchase, or buying a new toy, think about how you would feel if you donated that money instead to a beautiful cause that you believe in. You just might find that by doing this, you were able to buy something worth more than money.
"The only things we can take with us when we leave this world, are the things we've packed inside our hearts."
You are Loved.
See Also:
Kind 12-Yr-Old Gave Her Only $5 To A Homeless Woman
5-Yr-Old Sweetly Invites His Entire Kindergarten Class To Courtroom Hearing To Celebrate His Adoption