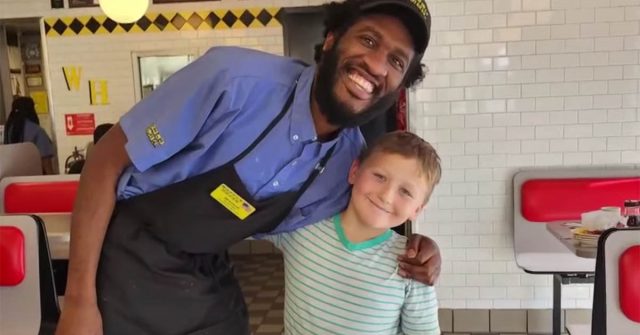 When a kind 8-year-old learned that his favorite waiter was walking to work after his car broke down, he started a $5k GoFundMe which ended up raising more than $120,000 for the struggling young father of two.
Kayzen Hunter and his family regularly eat breakfast at their local waffle house in Little Rock, Arkansas, and each week, little Kayzen asks to sit in his favorite waiter's section: Devonte's.
"Every time he comes in, I always give him a high five," Devonte said.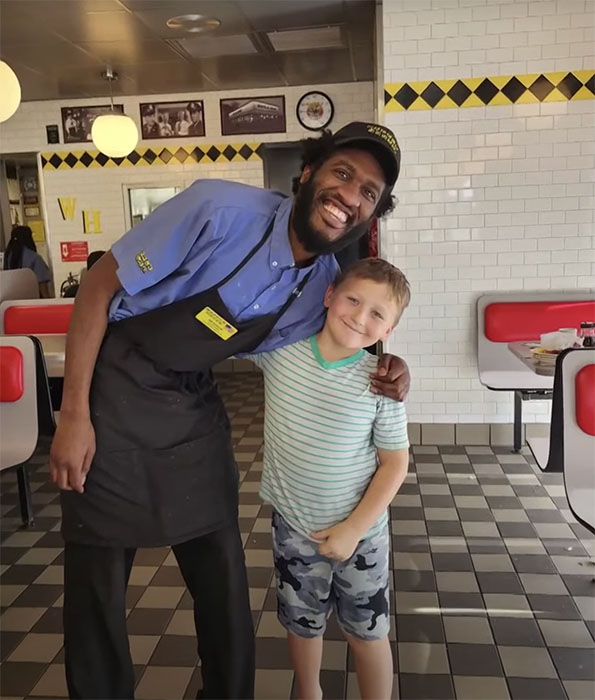 Over the years, Kayzen and his family have gotten to know Devonte, and describe him and his positive attitude as "a light in the world." Devonte has also memorized what Kayzen loves to eat; scrambled eggs with cheese, no toast, hash browns covered with cheese and an Arnold Palmer.
"Devonte always treats everyone with kindness, and he always knows exactly what I want: hash browns with cheese and eggs with cheese," Kayzen said.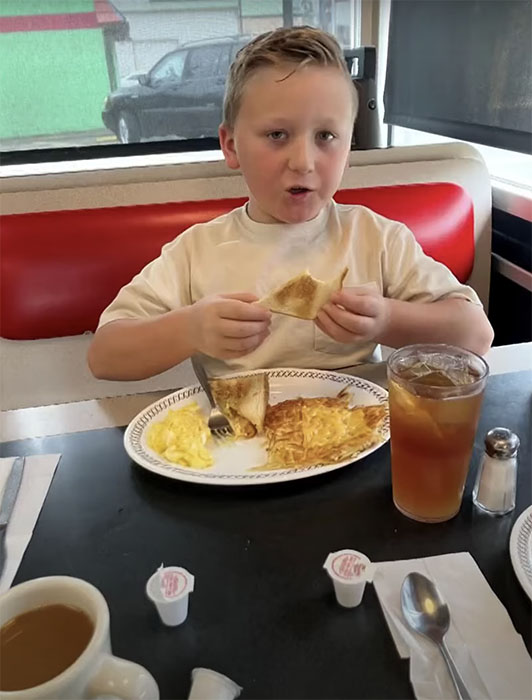 "He's a wonderful kid. He tells me jokes every time he comes in, like, 'Hey, Devonte, I got a joke for you,' and the next thing you know, we're laughing," Devonte said. "I love working at Waffle House, basically just, you know, meeting new people every day, and making their day. I come with a positive attitude. I treat everybody with positivity. I love to see everybody smile."
Devonte's car broke down one week, and unable to afford to fix it, he started walking and catching rides to get to the Waffle House. When talking with him on one of their regular visits, Kayzen and his family learned about his car, and after a bit of a deeper conversation, learned about his difficult housing situation. Devonte had been previously been living in a rundown apartment with his wife and two daughters, but mold had caused his daughters to get sick, so he moved them all into a motel and had been living there for the past 8 months, paying $60 a day.
"All my tips and everything I get, it goes straight to my kids. I pay for the room daily, pay $60 a day," Devonte shared.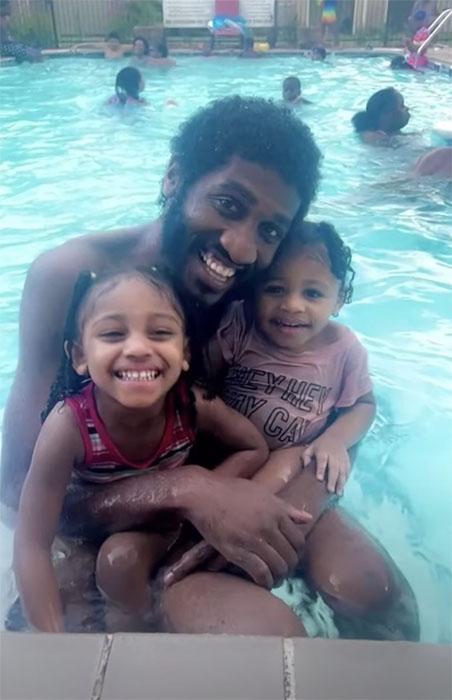 After learning about his situation, Kayzen came home one day after school and told his mom that he wanted to start a GoFundMe to help Devonte.
"He came home and told me that, 'Hey, Mom, Devonte walks or gets a ride to work and I'm gonna start a GoFundMe,'" Kayzen's mom, Vittoria Hunter, said. "I was like, 'Well, okay, that's really sweet… It's a great idea."
So Kayzen's mom helped him set up a GoFundMe, and this is what he wrote:
"Hi, my name is Kayzen, I am 8 years old. I am wanting to raise funds for my friend, Devonte, who I met and have come to know from eating breakfast at Waffle House. Devonte is a hard-working dad with two little girls and a wife. He is a dedicated worker and has to walk or get a ride to get to work every day. He was looking for a decent priced car, and his family was unfortunate and ended up in an apartment riddled with black mold. He had to get his kids out and it set him back a lot. We are now helping him get into a clean rental property and want to help him even more by raising funds so he has a reliable vehicle to drive his family and get to and from work. Devonte is one of the most joyous and positive people you've ever met!! He always greets us with the biggest smile. I hope your heart is as BIG as mine and you will help me spread kindness in the world. Any amount helps!!"
Kayzen's goal was to raise $5,000 to help Devonte get a new car, as Devonte had mentioned he was looking for one but that his plans were on hold due to his living situation. While donations started out slow at first, news began to spread of what little Kayzen was trying to do for his favorite waiter, and kind hearts from around the world showed up online to support him. Altogether, Kayzen helped raise $120,815 to help make life better for Devonte and his little girls.
Devonte was overwhelmed when he learned about what his little 8-year-old friend had done for him.
"I started crying… I'd been quietly struggling, and didn't want to ask anybody for anything," Devonte shared.
Devonte and his family have since been able to move into a nice and stable apartment, and he's looking to purchase a family sedan or minivan. The rest of the funds he plans to save for his daughters.
"I'm gonna save the rest because I want to put my daughters in a good school, I want them to be in a good environment," Devonte said. "Everything I'm getting is going mostly towards my daughters to make sure they have a great, great life. Make sure we won't have to struggle anymore."
Kayzen and his family just saw Devonte recently at the Waffle House, where Vittoria took this quick photo of a joy filled Devonte: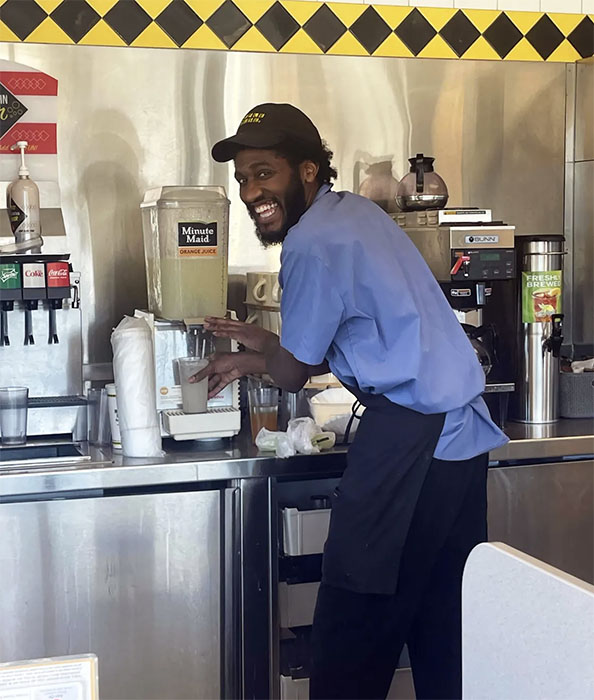 "He's a positive young kid. He has a very huge heart, and I'm thankful he came into my life," Devonte shared of Kayzen.
"Kayzen's middle name is actually, Love," Kayzen's father, Korey Hunter, shared.
You are Loved.
Watch This Heartwarming Video Of Devonte And Kayzen Right After He Started The GoFundMe:
Subscribe for free to Understanding Compassion on YouTube and help us make the world a kinder place.
Related Compassion:
Child Asked Kind Waiter If He Would Visit Him After His Surgery; He Showed Up With A Card And Gifts
Kind Waiter Sat And Listened To Lonely 91-Yr-Old Veteran On His Break, And Then Paid For His Meal
Kind Man Gave His Dinner Money To Homeless Woman Outside Restaurant; Person Watching Bought His Meal