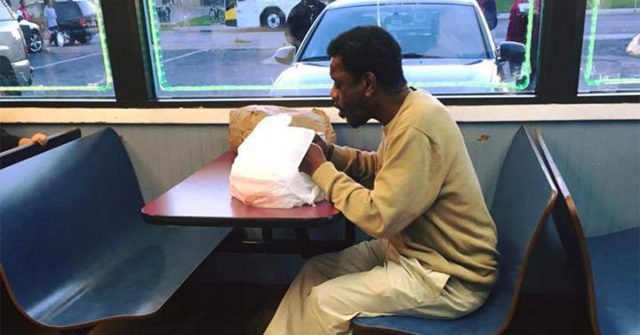 When a kind man heard a homeless woman asking him for spare change to help her and her child get to a shelter, he gave her all the cash that he had, including his dinner money.
Fernando Herrera was heading into Hook's Wings to get some dinner, when he overheard a homeless woman asking another man walking in for spare change to help her and her child get to a local shelter for the night. The kind man gave her all of the cash that he had, which was what he was going to use to pay for his own dinner, and then started walking away.
"This man stuck out to me more than anybody ever has," Fernando shared in a post online. "He gave all his change to a mother and her child so they could take the bus to their shelter. He was walking into Hook's Wings when the mother asked him for some money so her and her child could get home. He knew if he gave it to her he wouldn't have money to eat and yet he still gave it to her."
Deeply moved by the man's kindness, Fernando walked up to the man and offered to buy his dinner for him. The kind man humbly declined the offer, but after a bit of talking, he accepted and together they headed into the restaurant.
"He started walking away when I called him. I offered to pay for anything he wanted and he still remained humble enough to decline my offer. After a few words, I finally got him to agree. Even though he agreed, he still tried to pick the smallest order possible. He ended up ordering a 6 piece wings with fries and I ordered a 20 piece wings with fries and a drink."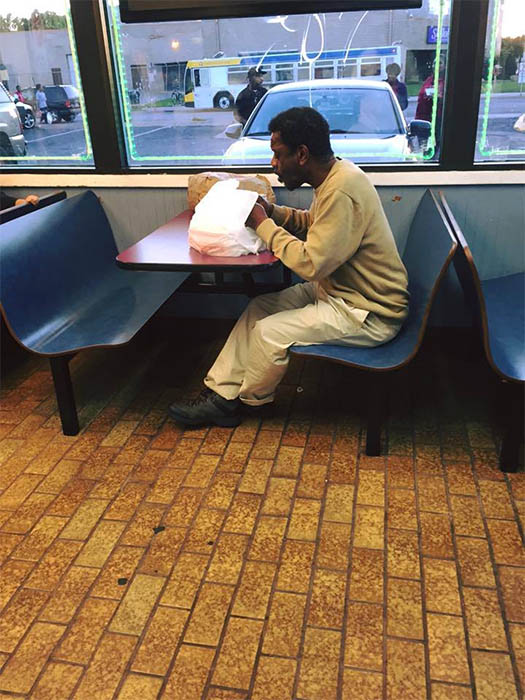 After ordering the smallest meal on the menu, Fernando ordered one of the biggest, and when the meals were ready, Fernando switched meals and gave him the larger order.
"When we finally got the food I gave him my order and I took his. I thanked him for showing me that money doesn't mean anything if you aren't helping others. In tears he thanks me and hugged me. Some people are blessed more than others, but that doesn't mean we're better than them. It's a test God gives us to see who we really are. Help others because you never know when you'll need help."
Thousands of grateful hearts have appreciated their kindness.
"The stories I have read the last week or so have more than once given me a moment of pause when I find myself judging others! Thank you for reminding me that I too am human and that I need to remember that we are put here to serve others! A bit of humility goes a long way for this guy…" wrote Ritch D.
"The part of this I find so beautiful is that he seems just as much in need as she was. He gave what little he had because he thought she needed it more. That's truly amazing," commented Rachelle S.
"This is what Social Media should be promoting, not racial hate. This story brings a tear to my eye, and hope in my heart. Thank you sir, whoever you are. You're a shining light in a dark time, and I hope this motivates more of us to be selfless, and put others before ourselves," wrote Mike M.
"I love this so much. People who have plenty and share are good people but people who have hardly anything and share are heroes in my book. God bless this wonderful man for being such a wonderful guy, I sure do look up to him, he is on higher ground than I am!!" wrote Linda L.
You are Loved.
View this post on Instagram
See Also:
Kind Woman Bought Warm Meal For Grateful Homeless Lady Who Was Asking Diners For Leftovers
Kind Stranger Saw Only One Young Boy In A Group Was Able To Afford Food, So He Bought Them All Meals
Kind Waitress Holds And Gently Calms Woman's "Fussy" Baby So She Can Finish Her Meal