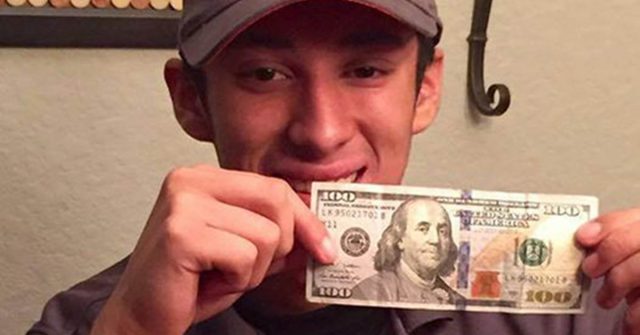 When a homeless man walked into Burger King with only 50 cents to buy something to eat, a kind cashier decided to himself treat the man to a large meal.
Matthew Resendez was working behind the register at a Burger King in San Antonio, Texas, when a homeless man standing in line asked if there was anything on the menu he could afford.
"Proud mom moment!" Matthew's mother, Michelle Resendez, wrote in a post online. "Matthew worked this evening and a homeless gentlemen walked in the restaurant with .50 cents and asked if there was anything on the menu he could buy. Matthew asked him what he would order if he could and the man said anything would help his hunger pains."
Matthew then ordered the man a "hearty meal" and kindly pulled out his own debit card to pay for it.
"So Matthew rung him up for a hearty meal and then used his own debit card to pay for the man's meal. He handed him the receipt and told him to relax and take a seat."



Without realizing it, another woman in the restaurant watched the sweet exchange between Matthew and the homeless man and was deeply moved. When she came up to order her meal, she left Matthew a $100 tip to reward him for the good deed he had done.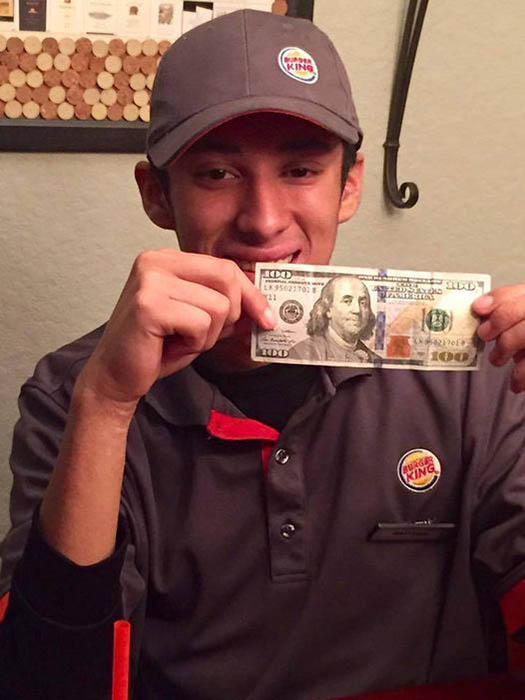 "The story could end there and it would be a happy ending, but apparently a women watched my son during his random act of kindness. Not only did she write the company to let them know about the caring employee they had working for them, she also rewarded my son with a very generous tip! So proud to be his mom and I can pat myself on the back knowing that I've played a part in raising this big hearted young man," Michelle said.
Thousands online shared that they too appreciated, that Matthew, who likely was earning minimum wage, generously used his own card to pay for the homeless man's meal.
"He gives me hope for the future! What an amazing young man you've raised ??????? " commented Natalie J.
"Good Job, Son!!!" wrote Peg M.
"I love random acts of kindness…I think I'm gonna cry…? " commented Dee C.
"That's a really good man you have there. Keep up the work son, God will reward you in ways you never thought could happen. God bless you," commented Gary J.
"There are angels among us! Thank you for sharing!" wrote Mandi M.
"Truly an amazing story. Thanks for doing the right thing Matt," shared Russell E.
"Lets all share this and have this story go viral wherever you are. This story is an inspiration to others and particularly to our younger teenagers and they can learn to be generous and full of love towards other people. There is hope for people that are praying for help and WE can reach out and serve. This photograph and story can be an example of kindness," wrote Lisa V.
You are Loved.
See Also: Kind Teenage Cashier Pays For Family's Meal When Stressed Mom Forgot Her Purse At Home
View this post on Instagram