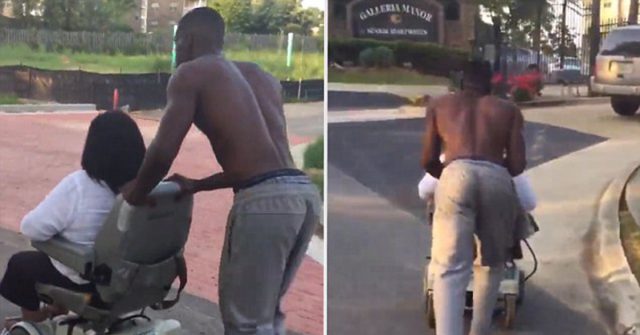 When a disabled woman's electric wheelchair suddenly stopped working on the side of the road, she wasn't sure what to do. It was over 90 degrees and humid, and she knew she needed to get help. She saw a stranger jogging nearby and called out to him.
"She asked if I could call for help and I said, 'I'm in good shape. Where is your house? I'll take you myself,'" Bilal Quintyne, 24, explained.




Bilal recounted that her wheelchair was completely out of battery, with her wheels partially on a busy street and partially on the sidewalk. She told him where she lived, nearly a mile away, and Bilal immediately got behind the wheelchair and started pushing her home, uphill.
"I don't care what you're going through. When God calls you for help, you're supposed to help, period," Bilal explained as his jogging partner pulled out his phone and took a video of his friend's amazingly compassionate deed, which later went viral online.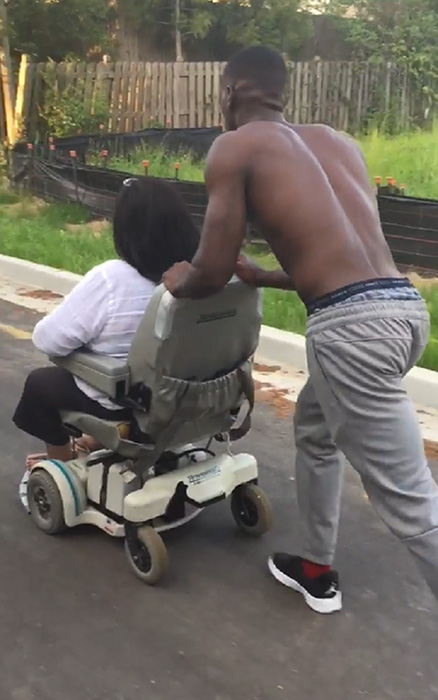 "When I learned she was on her way to the grocery store, I offered to go food shopping for her, but she wouldn't allow me. She was crying, very grateful, and said that many people had driven by without stopping to help," he added.
Bilal hopes that his actions will spread positivity and be a good example for his four-year-old son and six-year-old daughter.
"God's Plan. God's Work. Her battery gave out and she didn't know how she was getting home. God blessed me with an able body. So WE pulled her home. A mile or not I wouldn't go home until she was home. Period," Bilal commented online.




For anyone who has ever tried to push an electric wheelchair that is out of power, let alone with someone riding it and uphill in 90 degree heat!, just know that it is not an easy physical task pushing the chair itself.
After kindly helping the woman home, Bilal headed to the gym with his friend, after what most would consider quite a workout.
"I was doing my job as a man. There's so much hatred in the world and it costs nothing to love someone. My only goal in sharing this is to restore the values we've lost as people," he said.
Bilal's wonderful act of compassion serves as a great example that when we see someone in need, we are being put there as the ones who should help them. That we should always help someone; as we might be the only one that does.
Watch this video of Bilal pushing a stranger's electric wheelchair home:
You Are Loved.
See Also: Proud Dad Moment: His Kind Sons Asked Him To Stop Car So They Could Help Man In Wheelchair Shovel His Sidewalk