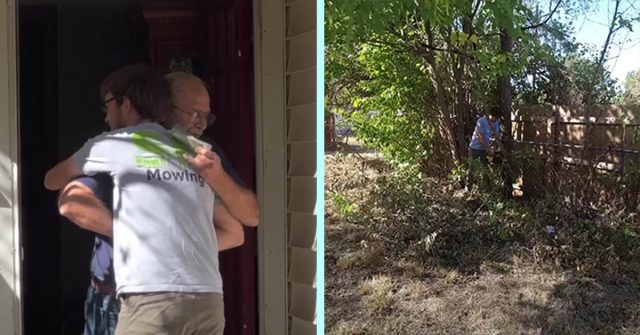 After mowing a stranger's lawn for free and learning that he hadn't eaten in two days, a kind man raised $10,000 to help get his life back on track.
Spencer, from Wichita, Kansas, was driving through a neighborhood when he noticed a house with a very overgrown lawn. Each week Spencer looks for one house which has an unkept lawn, and he then knocks on their door and offers to mow it for free.
"Usually with lawn care, the people's doors I knock on, most of the time they say 'yes,' because it's someone that's unable to mow their lawn. And it's been that way for a really long time," Spencer said of the lawns he mows for free. "If they were to pay someone to do it, it's going to cost them a few hundred bucks at least. And it's either that or wait for the city to come out and fine them a whole bunch of money on their property taxes."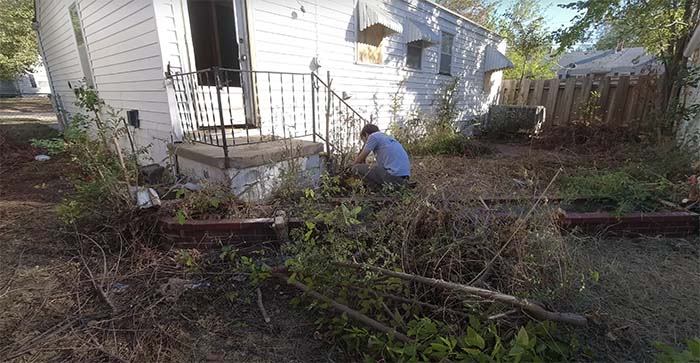 This particular lawn, the owner referred to as a "jungle", as it had not been mowed in what appeared to be years.
The owner, Mark Edens, is a retired veteran and has had multiple serious health problems in recent years which has kept him from being able to mow his lawn.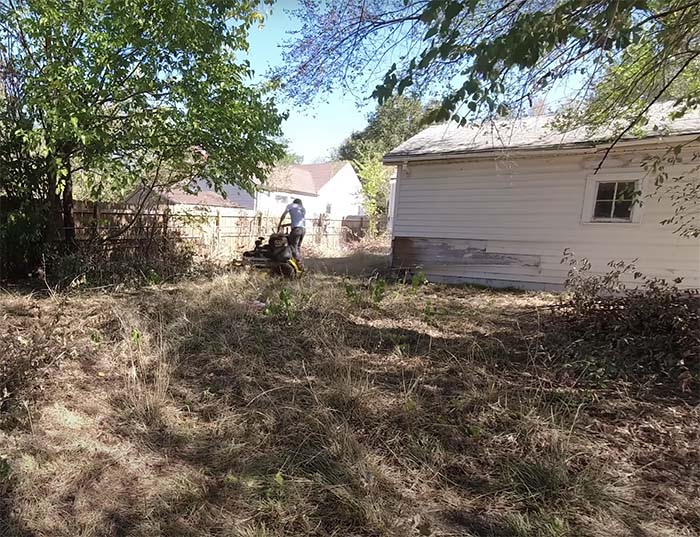 Spencer mowed the entire front and back yard and trimmed various plants, bushes and trees that were growing through the fence.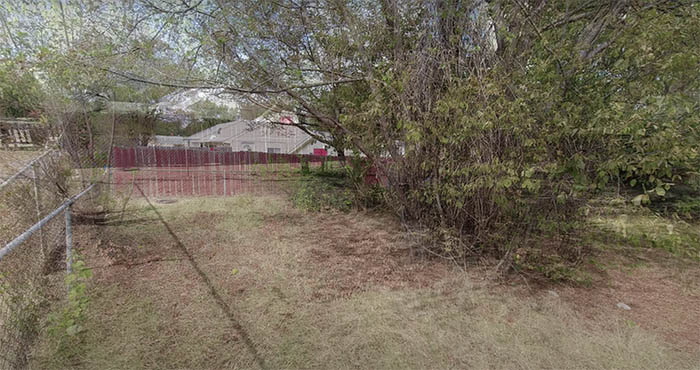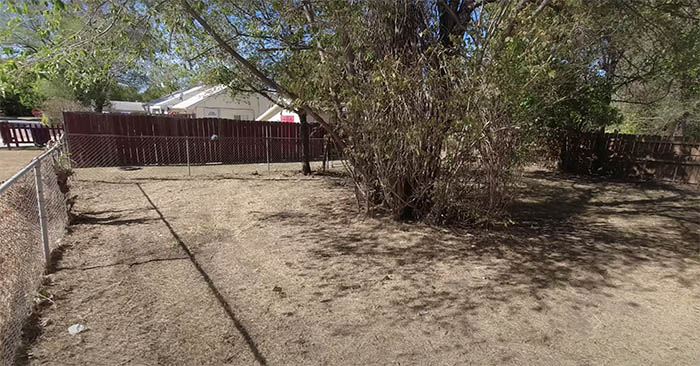 He also cleaned off a large amount of grass and dirt from what was discovered to be a backyard patio, transforming Mark's backyard.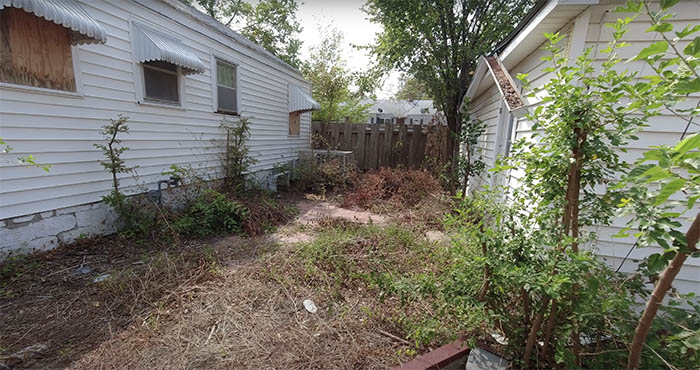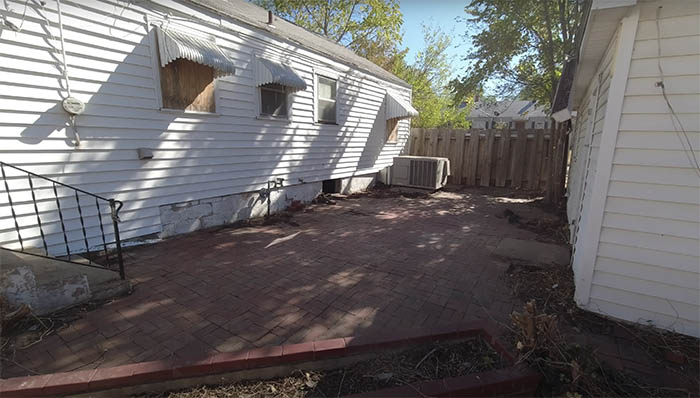 Spencer recorded a time lapse video of mowing the lawn for his YouTube channel SB Mowing, where he shows befores and afters of overgrown lawns he mows for free. After learning about Mark's difficult situation, Spencer decided that he wanted to raise some money to help him out. He started a GoFundMe and said that he would match the first $500 in donations, with a goal to raise $1,000. Altogether, kind hearts from around the world donated $10,000, and Spencer stopped by Mark's house to give it to him.
For around five to ten minutes, Mark was in a state of shock and couldn't believe the kind and generous gift he was receiving.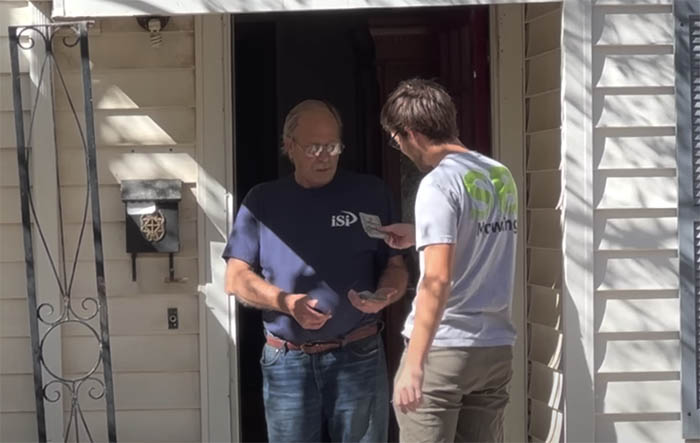 "Wow… this gets me out of so much stuff right now," Mark said. "I'm gonna go pay my electric bill, my gas bill and my water bill… Brother… I mean… Thank You…"
Mark shared how he had been praying that week, and he believed that Spencer's random act of kindness was a blessing from God. Mark had been living for months without electricity or water in his home. He had also not eaten in the past two days.
"I was in the house with nothing. No electricity, no running water," he said. "I'm just amazed by the whole situation. A free lawn cut, now a free back lawn cut, and ten grand. Life is good, and so is God."
Mark shared a hug with Spencer, thanking him profusely, and also thanking the kind hearts who donated.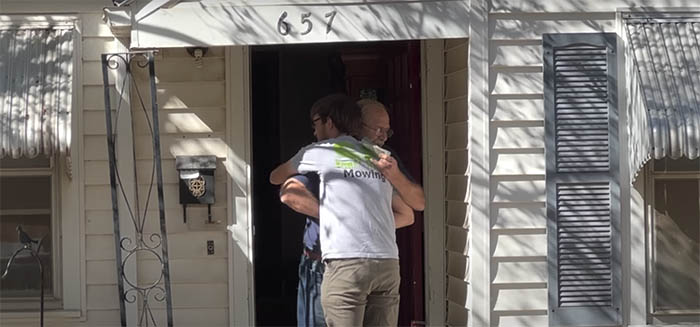 "You folks are Godsends to me," he said.
A week later, Mark shared how he was able to get his water and utilities turned back on, and that he was able to eat a warm meal.
"I deposited the money, I paid off my court fine, and got my gas, water, and electric turned back on today. That's how much of an impact [it had]," Mark said.
Spencer later shared how much he enjoyed being able to help Mark.
"To spread goodness in the world where there's not a lot of goodness right now… it's nice to be able to do that," Spencer said.
Millions of hearts online have appreciated Spencer's kindness and generosity for Mark.
"I am a veteran, have a handyman business and you have motivated me to help someone in need. God bless you!!!" wrote one grateful heart.
"This gardening man is an ANGEL in disguise! We need people like him in EVERY community to make this world a better place. God bless you all who helped!" commented Catherine T.
"I think you actually saved this man's life. The fact that he hadn't eaten in 2 days says he was probably about the point of giving up. Thank you so much for helping this veteran. Too many are just forgotten and left to die…." wrote Keith J.
"I'm not even from your Country, but what y'all did for this man was life changing. Keep up the good work my friend, God has a special place for you," commented Sheldon T.
Watch This Heartwarming Video Of Spencer Mowing Mark's Lawn and Giving Him $10K:
You are Loved.
Post by @understanding_compassion

View on Threads