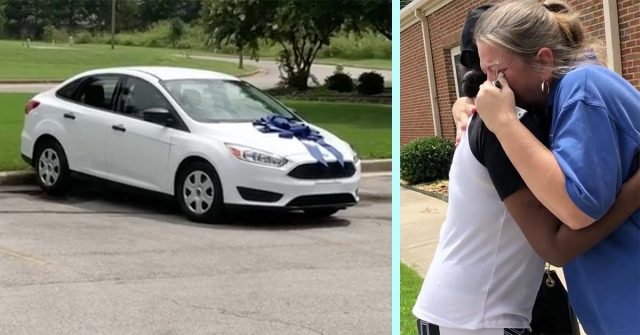 After a kind family learned that their daughter's teacher was taking multiple buses in the heat and cold just to get to school each day, they bought and gifted her a new car.
Courtney Adeleye's 11-year-old daughter has a favorite teacher at her elementary school in Alabama. Her husband was having a friendly conversation with the teacher one morning after dropping their daughter off at school, and they learned that she regularly takes multiple buses, or asks for a ride, to get to school.
Courtney is the CEO of a beauty care line that specializes in haircare for African American women, and her husband is a doctor. Wanting to bless the teacher who helped raise her children, Courtney, her husband and her daughters came to find their teacher after school and asked to speak with her for a moment.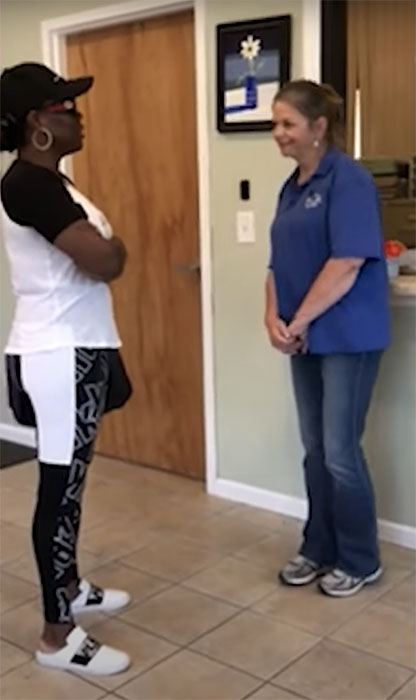 "So my husband came up to me this morning… and he said… you two had a conversation?" Courtney said.
"Yes, about how you have to pay for that school stuff," her husband said.
The kind family understood that their daughter's teacher was taking multiple buses each morning to get to their school, in the rain and also on very hot days. Rather than being able to buy a car, she was also spending her own money buying school supplies for their daughter's class.
"He was saying how you catch a bus when coming to work, and… I don't know, I just felt a little compelled… we wanted to do something. We wanted to gift you with something."
"Gift me with… Oh my gosh! Gift me with what?" the teacher replied.
"Why don't you come outside?" the mother said with a smile.
"You're kidding, right?" the teacher replied.
As she held the door open for their beloved teacher, she saw a new car, a Ford Focus, parked in the parking lot with a big blue ribbon it.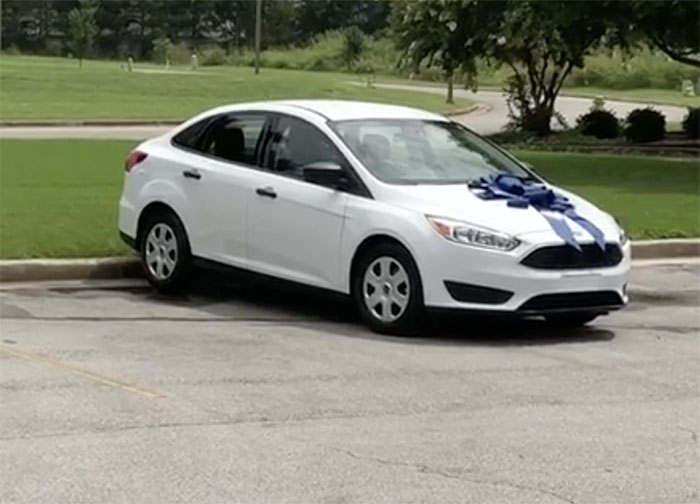 "Are you serious…" their teacher said as tears filled her eyes.
She began to cry, and gave her student's mom and dad a hug.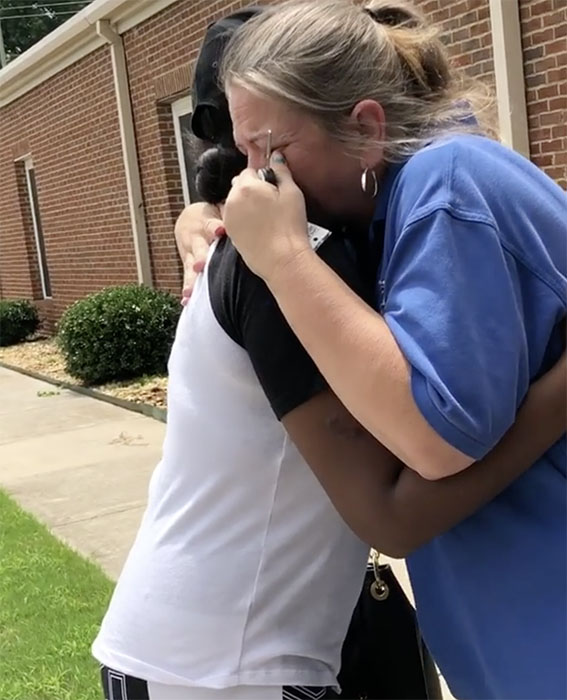 "You're really serious!?"
"We're serious," Courtney said. "So we don't want you to have to catch the bus… or try to get to work."
"Oh my gosh I don't even know what to say," she replied with deep gratitude. "You guys just don't know… you just don't know… oh my gosh…"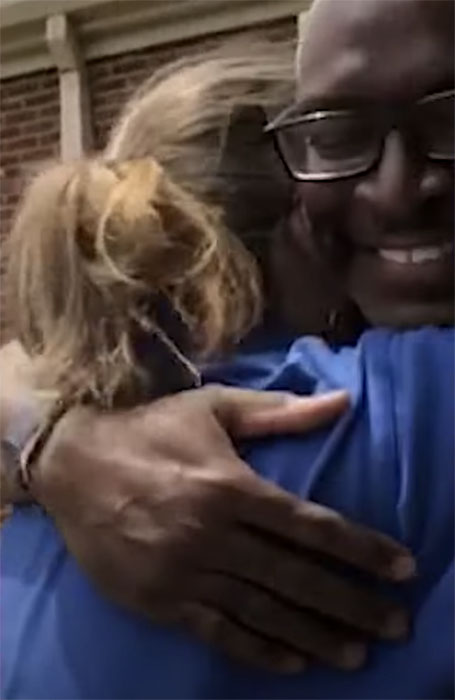 "When he came to me, and he mentioned it. You know, we don't get a chance to talk much," Courtney said to their teacher. "I know we be in and out, but I always felt like, something. I think I got a good sense of your character. So when he said it to me this morning, I just felt like it was a no brainer."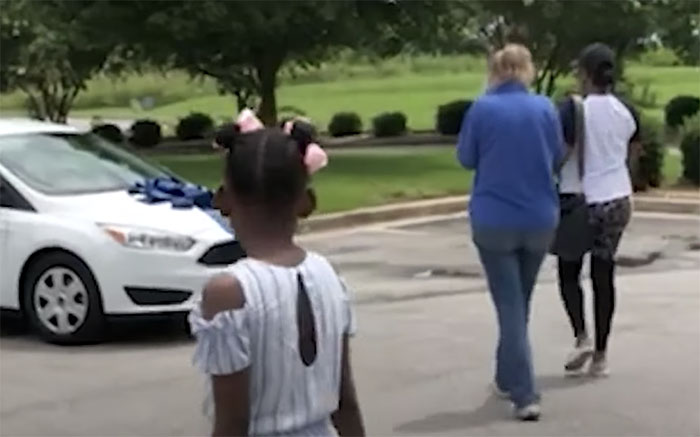 "Cause I love your babies, like they're my babies," the teacher said.
"We appreciate that," Courtney said with a smile.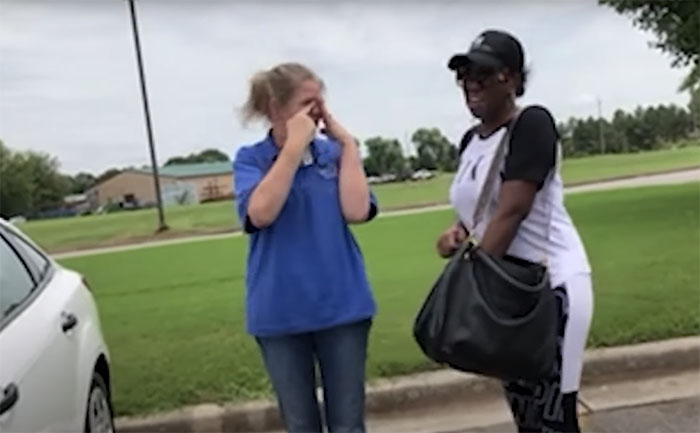 "When my husband told me that the teacher who has been teaching my girls for the last few years has been catching multiple buses to get to and from work everyday in the hot sun and cold, he said we should give her something," Courtney shared in a post online. "I said….say no more! When you ask me to define success… this is my response! (Give to those without expectations). All glory to GOD! She's like legit the sweetest person you would ever want to meet!!! She said she never had a new car before!"
As their beloved teacher sat in the driver's seat, she shared that she's never had a new car before.
"Wow… like wow! Just wow. I've never had a new car before. Oh my goodness," she said.
Their teacher has since shared that she's loving her new car, and has been grateful that she no longer has to sit in the cold or wait for someone to pick her up.
You are Loved.
Post by @understanding_compassion

View on Threads
Related Compassion:
Kind Teacher Wears The Same Hairstyle As Student Who Didn't Believe She Liked Her Hair
Kind Students Surprised Their Teacher Who Took The Bus 4 Hours Each Day With New Car, Insurance And 1 Yr Gas