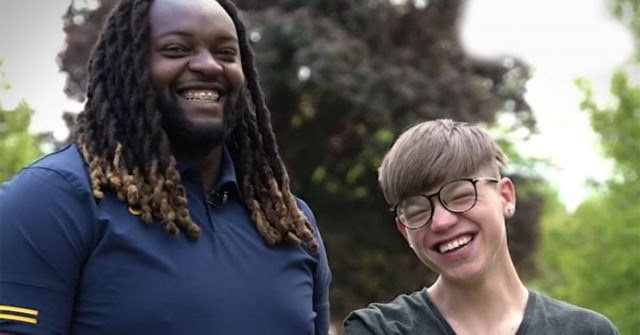 When a kind football lineman saw a lonely teenager throwing a football by himself in a park each day, he decided to become his friend.
The boy in the park, 15-year-old Wynter Knisely, was born with a heart defect which required three open-heart surgeries to treat as a baby. Because the surgeries happened so early in life, it led to multiple developmental delays.
"Even though Wynter is very outgoing, it's still hard for him to make friends," Wynter's mother, Jennifer, said.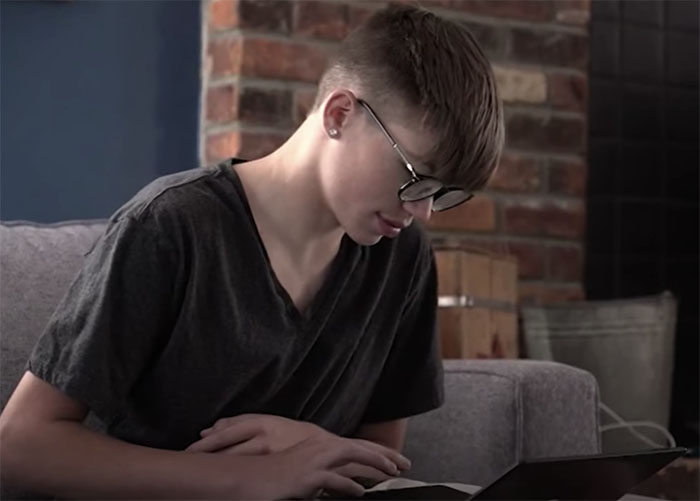 Wynter has a love of football, and he spends most of his free time throwing a football by himself in a park near his home.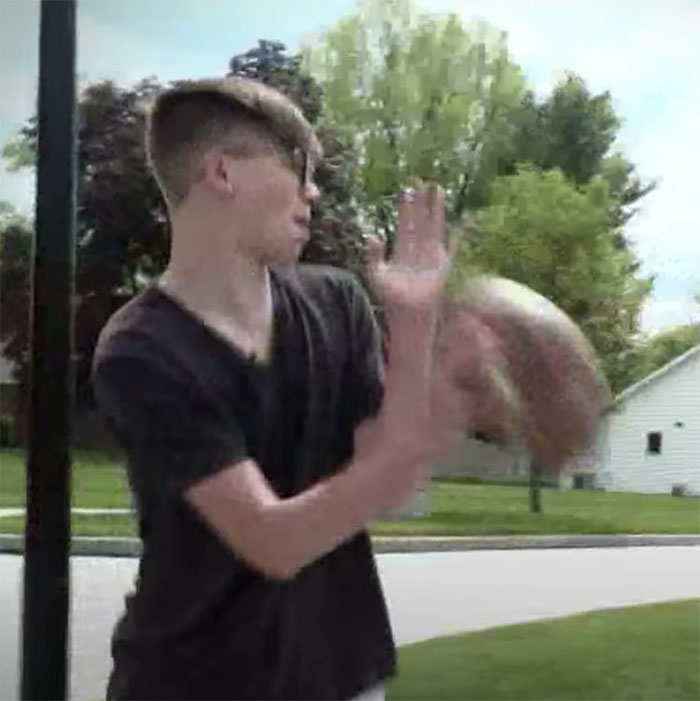 After seeing a teenager throwing a football each day in a park, alone, while he was driving to class, college student Lavel Dumont decided to stop by and say hello. Lavel plays for the University of Toledo Ohio's Football team, and he thought it would be a kind gesture to offer the young man a free ticket to come see a game.
"Hi," Lavel said. "I'm on the Toledo football team. It looks like you really care about football. Would you like to come to a Rocket game sometime?"
Wynter was surprised by Lavel's kind offer, and later looked him up online and learned that he is a lineman for the Toledo Rockets.
"I was surprised when Lavel pulled up that day," Wynter said. "I would be out there all day every day and no one would come up."
After researching online about Lavel with his mom and talking with her about it, Wynter accepted his kind offer and was able to go see the Rockets play. Wynter had a great time, and he and Lavel became friends. Lavel learned a bit about Wynter's situation, and understood that he had been having trouble socializing and making friends.
The 6-4 300 pound lineman began encouraging Wynter's football game and would often join him in the park to play catch, and they also played Madden Football video games together.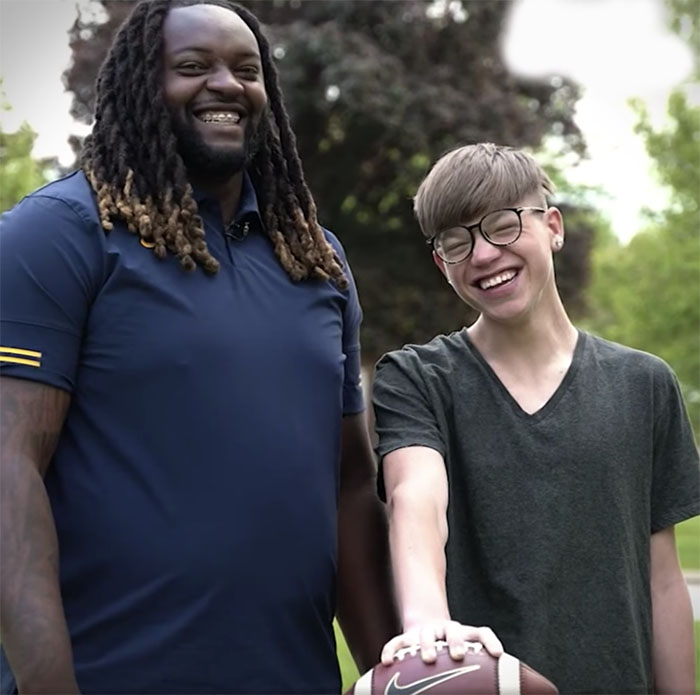 When later asked what inspired him to befriend a lonely teenager who he saw playing football alone, Lavel shared that it was something his parents had always told him:
"There are others less fortunate than yourself. Help them if you can."
"My parents instilled in me to think of others before yourself. Your life might be hard sometimes, but there are others who have it much harder," he said.
Lavel's mother is a special education teacher in Tampa, Florida, and exposed Lavel at an early age to many of the challenges faced by people with developmental disabilities.
"My mom usually had students with autism in her class and some of them participated in Special Olympics," Lavel, a media communication major in his third year at UToledo, said. "I volunteered numerous times at Special Olympics. She would also take me to volunteer at elementary schools, pre-K schools and soup kitchens."
Wynter's 16th birthday was coming up, and Lavel told Wynter he wasn't able to make his birthday party, but secretly Lavel had organized a group of his football friends to show up with him to Wynter's birthday. When they walked in, Wynter was all smiles.
"I just saw a bunch of big guys walk in and I didn't know why," said Wyntr. "Then I saw Lavel… I gave him a big hug."
"His face just lit up… he was pretty happy to see me," Lavel said.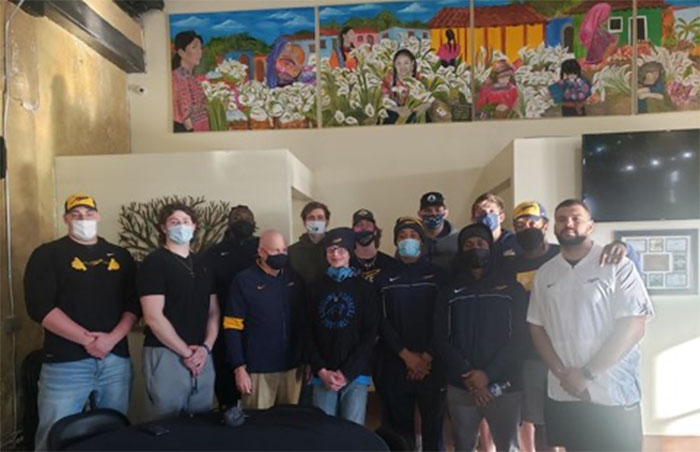 Wynter's mother is deeply grateful for the kindness shown to her son by Lavel.
"Lavel is such a special young man to befriend a kid he doesn't even know," Jennifer said. "I haven't expressed to him enough how important his friendship has been to Wyntr. He doesn't have a lot of strong male role models in his life, but Lavel has been a wonderful mentor that will help Wyntr grow up to be an amazing young man."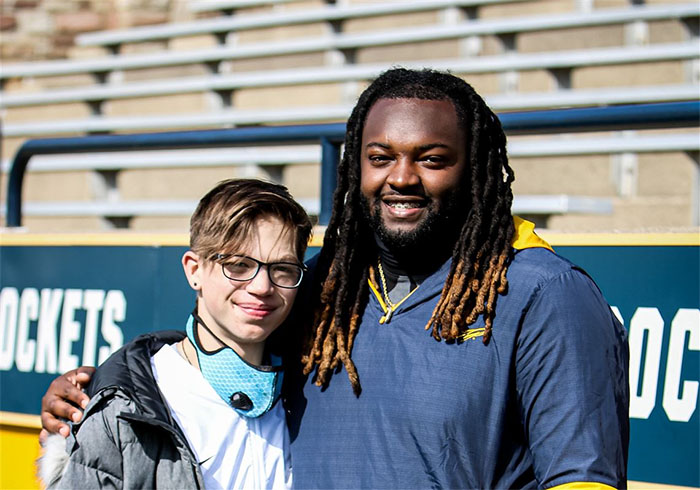 "That's my buddy, man. That's my buddy. I love Wynter," Lavel said.
"He's a brother to me. He's a friend to me. He's my family," Wynter said.
You are loved.
Watch this heartwarming interview with Wynter:
See Also:
Kind Man Stepped Forward And Paid Student's Airline Bag Fee So She Didn't Miss Flight
NFL 49ers Player Richard Sherman Pays Off Over $27,000 To Clear A School's Cafeteria Debt