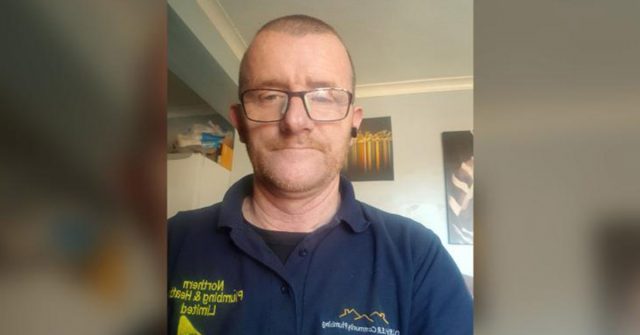 "No charge for this lady under any circumstances. We will be available 24 hour(s) to help keep her as comfortable as possible."
'It's free of charge' are words one doesn't normally associate with getting a broken boiler fixed.
When Christine Rowlands, the daughter of a 91-year-old terminally ill woman, saw the $0 bill and kind note her mom's plumber had left, she was deeply moved and shared his wonderful act of kindness online.
When the kind plumber, James Anderson, learned that the 91-year-old who he was fixing the boiler for had terminal leukemia, he insisted that she would not be paying for his service. He instead made sure she was kept warm during the winter, and insisted that she will have "free plumbing for life."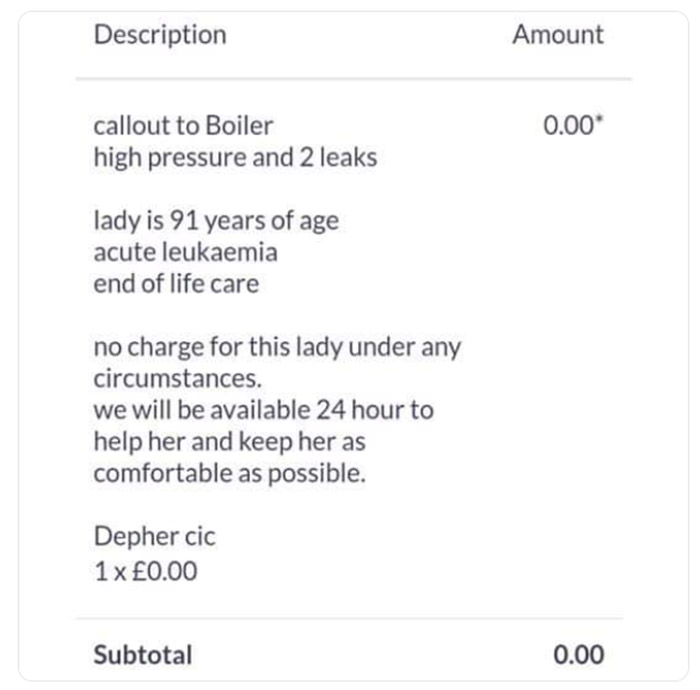 The receipt reads:
"callout to Boiler, high pressure and 2 leaks: 0.00*.
lady is 91 years of age. acute leukaemia. end of life care.
no charge for this lady under any circumstances.
we will be available 24 hour to help keep her as comfortable as possible. Depher cic 1 x  £0.00 Subtotal 0.00"
This isn't the first act of kindness and compassion from James Anderson. In an interview with CNN, he explained that he's been able to help 2,389 people since March of 2017. He gives heavily discounted plumbing services to those in need. The cost helps to cover the materials, and he often gives his services for free and pays for the materials himself.
James setup his plumbing nonprofit DEPHER after witnessing a vulnerable elderly man being taken advantage of with a £5000 repair bill when only a small part was needed, and he realized that many vulnerable and elderly people are also in need. The elderly man was so relieved, and it changed James' heart:
"The customer was over the moon and crying as he did not have the finances and time to replace the boiler or anything else that he got told he had to. I gave him the invoice at the end with a full discount because I knew he was struggling and he deserved to be treated with respect and deserved it. What would you do if this was your grandparent or parent," James explained.
"It got me thinking about other elderly and vulnerable people — we need to do something more to help the people who need it most. A lot of elderly and disabled people don't like asking for assistance and if they can't afford something like fixing the boiler, they might not do it and get into trouble. We are there to take that worry away."
James hopes that by lowering the costs, the elderly and vulnerable can use that money instead to provide for themselves, and to help them "keep their independence."
While James wants to always give his services for free, he did say that he does need to charge the discounted rates at times to cover costs, and that it has been a "struggle."
DEPHER relies heavily on donations and crowdfunding to provide the services through his nonprofit. The Queen's charity, Duchy of Lancaster Benevolent Fund, had previously donated £2000 to James' beautiful cause. But his costs and debts have continued to grow, to more than £8000 from helping so many people. James says that his debts are under control though and that he has been paying it off in £100 installments to the bank.
Even when his funding is empty, James still offers big discounts for the poor and vulnerable.
"As long as I have enough money to fill up the tank in my car, I will be there to try and help the people who need it."



A local Burnley cafe owner, Kelly Decruz, explained that James recently donated enough money for her to host a festive lunch for the homeless and families in need for Christmas.
"James is an absolute godsend, this money will make such a difference. We have invited him to come along on the day so that he can see everyone's faces," Kelly said.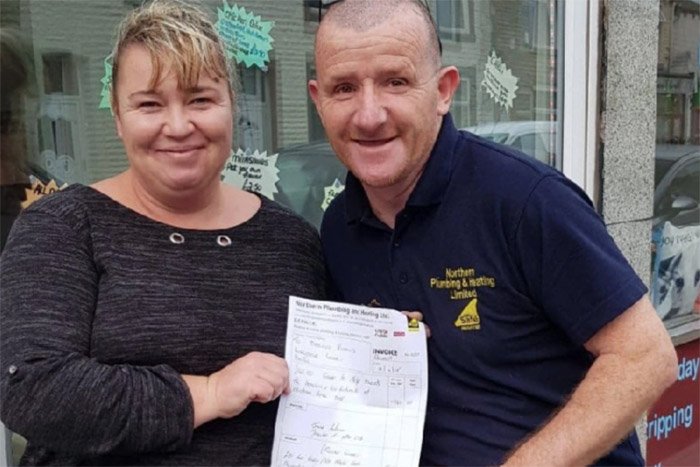 The daughter of the 91-year-old woman he helped described James as an "angel dressed as a plumber."
"James is an absolute star, it was overwhelming to see that it cost nothing," she said.
James said that he does get something back from his work for serving the elderly and vulnerable people: simply put, it makes him feel good inside.
"It makes me feel human, humble and a little giddy inside… I want to expand this service across the country. I will never give up the fight."
While James doesn't always ask for payment, he said that sometimes he loves receiving a "smile and a cup of tea."
If inspired, you can donate to James' beautiful nonprofit DEPHER here and help support him in taking care of the elderly and vulnerable.
You are Loved.
See Also: This Kind Restaurant Made 1,000 Free Meals For Hurricane Victims, Hasn't Been Covered By Media. Let's Thank Them