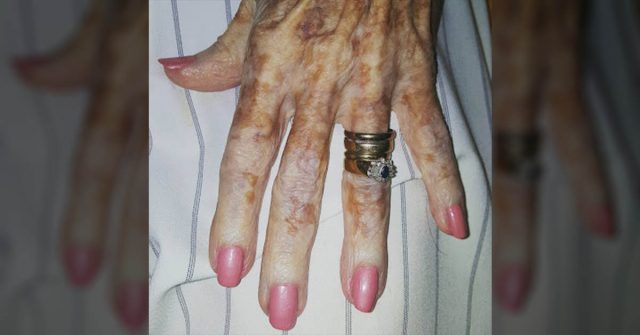 When an elderly woman didn't want to draw attention to her hands, which she thought had become unattractive as she had aged, Brandalyn Mae Porter helped her realize that their story contains a beauty worth being appreciated.
Brandalyn works at a nursing home in Texas, and she regularly helps the elderly residents with their everyday activities. She came to help paint one resident's nails, yet the elderly woman's response left her heart wanting to show her love.
"Today I painted a new resident's nails at work," Brandalyn said, "and as we were going over colors, she mentioned she wanted clear. The only thought that came to my mind was 'CLEAR?! That's no fun.'"
Brandalyn wanted to know why the woman wanted clear, rather than the various other colors she had available.
"I asked her why she wanted clear and she said, "My hands are ugly, I don't want to draw attention to them.'"



The elderly woman had some natural age spots on her hands, which is normal for her age, yet they left her feeling that her hands were "ugly". Brandalyn carefully and beautifully responded to the older woman's concern.
"I then carefully responded with, 'Your hands tell the story of your life. They tell the story of love, of care and adventure. These hands have touched and held things that most people can only wish to one day.'"
After a few moments of quiet reflection, the elderly woman then changed her mind.
"And with that, she went with the color pink for her nails," Brandalyn said. "Sometimes what we are so insecure with, others find beauty in ? "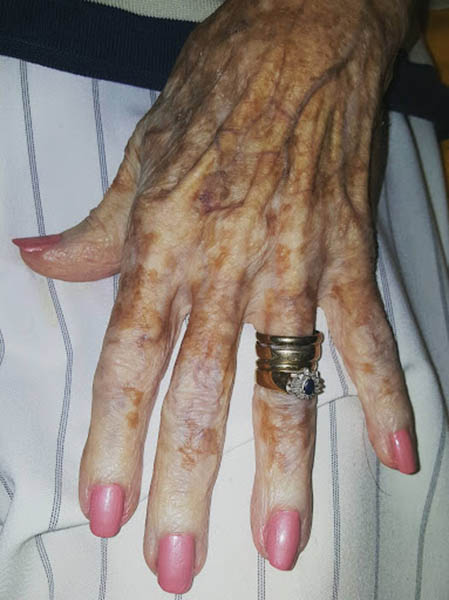 Brandalyn taught the elderly woman to recognize and value the story that her beautiful hands were telling; that they contained a lifetime's worth of love, care and adventure. Helping the woman change her perspective allowed her to love her hands again, and she felt okay with letting them be seen.
Reminding our older generation that they are still beautiful is both true and also a wonderful act of love.
You are Loved.
See Also: Kind Plumber Fixed The Boiler Of A 91-Year-Old Terminally Ill Woman, His Bill: $0
View this post on Instagram