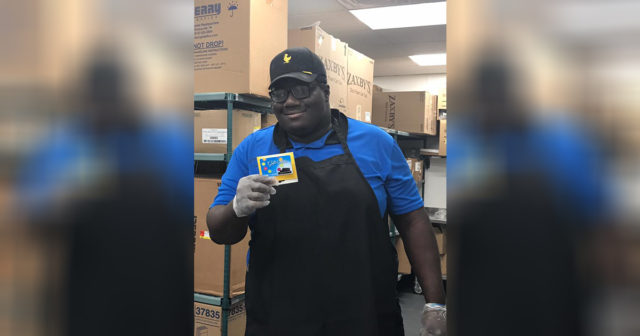 Sometimes a chance meeting becomes the setting for a beautiful act of compassion. Such was the case when just as he was leaving work, Noah held the door open for someone, and had a few brief words with her;




"Meet Noah, a part of our kitchen staff. A few days ago, Noah was leaving after his shift and he opened the door for a customer and shared a few words with her. While she was talking to Noah she noticed that Noah was wearing shoes that had "seen better days."
She finished her meal, and left. But in a little while she returned with a gift card for Noah to go and get himself a new pair of work shoes.
She left the card with a manager so Noah did not get the chance to say thank you. If you are the person who "paid it forward," Noah would like you to stop back in so that he can say Thank You in person. If you decide to remain anonymous, then accept his (and our) thank you here."
Credit: Zaxbys




A sweet gesture by this man Noah was enough to touch the heart of a customer, who in turn spent some of her day and money getting him a gift card for some desperately needed new shoes. We never know how our kindness will affect another, but often times it's the light in someone's day. This beautiful story can and does happen every day, when we just offer a small bit of kindness to someone we pass by.
If you were touched by this story, let it inspire you to share some love and kindness with a person you encounter this week. Love and Gratitude ❤