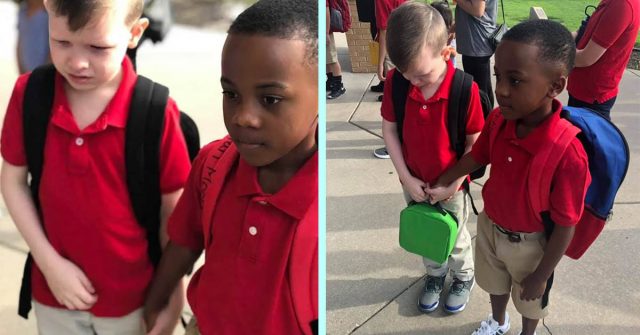 When a kind 8-year-old saw a boy with autism crying before the first day of school, he walked over to him and held his hand, comforted him, and then the two walked in to school together.
Christian Moore was getting ready to walk into school for his first day of second grade at Minneha Core Knowledge Elementary in Wichita, Kansas, when he saw a classmate, Conner Crites, crying in a corner. Conner has autism, struggles with speech and he is sometimes overwhelmed by big experiences, so the first day of school was a little difficult for him.
Before going into school, Christian walked over to Conner and tried to cheer him up. After a few minutes of talking, he held Conner's hand, and the two boys walked into school together.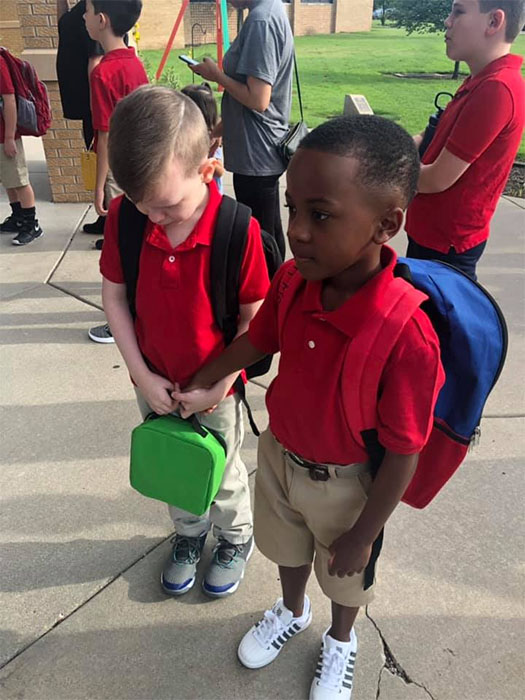 "I saw him on the ground with Connor as Connor was crying in the corner and he was consoling him," Christian's mom, Courtney Moore, said. "He grabs his hand and walks him to the front door. We waited until the bell rang and he walked him inside of the school. The rest is history. They have an inseparable bond."
Conner is very sweet and said that he felt happy after Christian came to him.
"He was kind to me. It was in the first day of school and I started crying, then he helped me and I was happy," Conner said.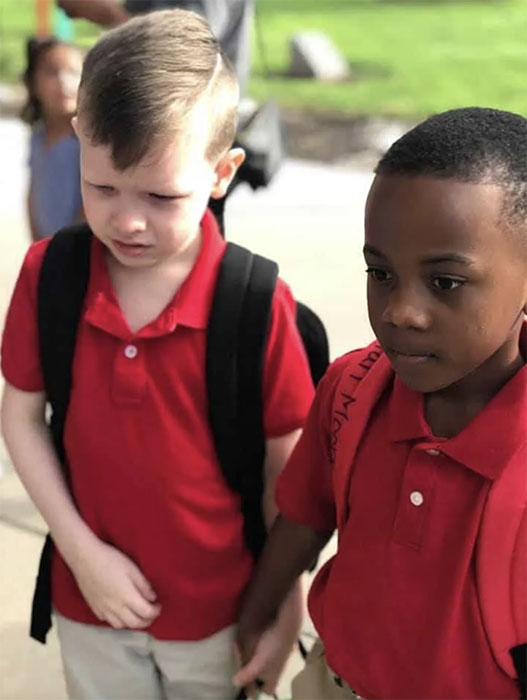 Conner's mom, April Crites, later learned about how Christian had helped her son and she expressed her heartfelt gratitude. She explained that she worries daily about if her son will be bullied or teased at school because he is different, but seeing how kind Christian was to Conner gave her a sense of joy and relief.
"I fear every day that someone is going to laugh at him because he doesn't speak correctly, or laugh at him because he doesn't sit still or because he jumps up and down and flaps his hands," April said. "I started crying when I saw the picture. I couldn't believe it. The fact that Christian was able to be there and comfort Conner with a simple gesture, was just awesome."
"This absolutely warmed my heart. I'm so happy a caring little boy was so kind to my baby."
Courtney was also deeply proud of her son for helping Conner.
"I'm so proud of my son! he saw a kid balled up into a corner crying, so he went to console him, grabbed his hand and walked him inside of the school! It is an honor to raise such a loving, compassionate child! He's a kid with a Big heart, the first day of school started off right!" Courtney wrote in a post online.
April is now excited and relieved that her son has a kind friend at school.
"Knowing Conner has Christian now makes me feel so much better. It alleviates some of the anxiety. Christian is Conner's first real friend. I'm so excited we have someone to invite for a birthday party," she said.
You are Loved.
Post by @understanding_compassion

View on Threads
Subscribe for free to Understanding Compassion on YouTube and help us make the world a kinder place.
Related Compassion:
Kind Bus Drivers Helped Child With Autism Overcome His Fear Of Using The School Bus, Were Given Award
Kind Company Made Lifetime Supply Of A Discontinued Cup For Boy With Autism Who Would Only Drink From It
Kind Snow White Noticed Nonverbal Boy With Autism Crying; Gave Him A Hug And Walked With Him Around Epcot