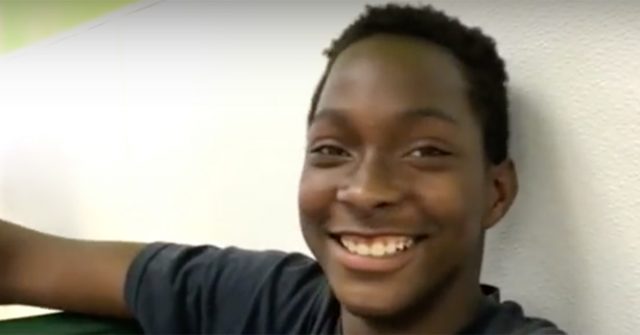 Sometimes a simple act of kindness can have an incredible ripple effect, and sometimes a small bit of compassion shared between strangers can inspire tens of thousands of people.
The following story came from Matt White, as he encountered one of the most inspiring people he'd ever met; 16-year-old Chauncy Jones:
"I just met the most inspiring person ever. His name is Chauncy Jones. He's a 16 year old from Memphis. He had taken the bus at 9:00 at night to get to the "rich people's Kroger" on Highland as he called it. He approached me while I was shopping for produce asking if he could help me carry my grocery bags to my car in exchange for buying him a pack of glazed donuts.




This kid looked like he had been turned down 100 times. He looked ashamed, hungry and broken. In my heart I screamed a loud "yes!", but to him I just chuckled and said, "yeah dude, we'll get you some donuts". I asked him if he was by himself and he said that he had come all the way out here with the hopes of someone buying him something to eat because he and his mother had nothing at home.
He had no phone, a bus pass, and he was depending on the graces of a stranger to feed him within the hour before the bus left. So, needless to say, he and I went on a shopping spree. We had so much fun! We got cereal and chips and frozen veggies, pizzas, Cheetos, melons and pasta, peanut butter, milk, soap, tooth brushes, just a little bit of everything. All the while we talked and he told me how he makes straight A's in school and is trying to get a job to help his mom pay rent.
This kid was amazing. Chauncy kept calling himself poor, but he told me that one day he was gonna be wealthy and own his own businesses so that he could help other people in his neighborhood and buy them groceries like me. I was in awe. I gave him a ride home so that he didn't have to take the bus and when we got to his house I was truly humbled.
He wasn't kidding. He and his mom had nothing. They didn't even have beds or furniture. They were sleeping on pads made out of sleeping bags, they had two lamps and nothing in their fridge. Nothing. His mother was so sweet but very fragile. I couldn't tell what it was, but she had some sort of physical and/ or mental disability that made her shake and made walking difficult.




I thought I was going to cry. As we unpacked the food into their kitchen, you could see the hope coming back into Chauncy's eyes. He knew he wasn't going to be hungry. He looked like a kid again. As I was leaving I gave him a hug and told him how much God loved him and that he was going to grow up to be an incredible man. I'll never forget that hug. It meant more to me than any possession I have. Our God is an awesome God, and we can never be thankful enough for the blessings we have.
(Edit) I never thought in my wildest dreams that this single post would create such a tidal wave of kindness and encouragement from everyone. So, I decided to create a page for Chauncy and his mom with lists of things they need here: https://www.gofundme.com/293uu9x3
Thank you so so much to everyone who has taken he time to donate, reach out and overall just show that they care. It means the world."
Story courtesy of Matt White.
What started off as a GoFundMe to raise enough for Chauncy's food, bed and clothes, turned into an amazing $342,000 for Chauncy's future education and life.
It's truly beautiful to witness compassion being shown to a vulnerable teen, who wants the best for his family, and who is able to maintain and keep a positive and cheerful attitude even while living through the extremely difficult struggles of poverty.
For someone like Chauncy, who struggled every day to help his Mom put food on the table, for him to manage to get straight A's in school is quite an incredible thing to witness.
Here is a short video of Chauncy that Matt took after they had met so you can get to know this inspiring human being:
You are Loved.
See Also: Kind Dad Took His Son's Bully Shopping After Finding Out He Was Homeless