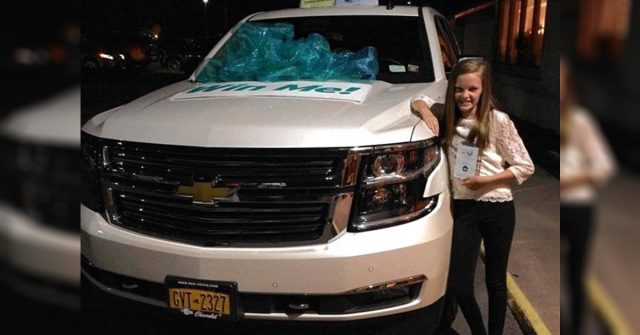 13-Year-Old Erin Byrnes had spent all summer saving cans and bottles in order to earn $200, which she could then donate to the charity Joseph's house through buying raffle tickets. She knew that if she bought some raffle tickets, the money would go to babies in need. Joseph's House gives mothers with unplanned pregnancies a place to go when they are struggling and facing homelessness.




Every Thursday, Erin volunteers and babysits those babies whose mommies are still figuring things out.
Her $200 helped her buy 60 raffle tickets, which were pooled with another 26,000 during the Joseph's house fundraiser.
To her and everyone else's surprise, Erin's ticket was the grand prize ticket drawn to win the $70,000 SUV.
Erin deeply loves Joseph's house and the babies she helps take care of each week, and her compassionate heart decided that she was going to donate the car itself to Joseph's house as well.
Erin is one of four children, so the family could have really used the car, but her mother agreed that it was her choice and she was deeply proud of her daughter.
"Joseph's House is very important to me. They need the money more than I do. And if you saw those babies, you would have done the same thing," Erin said.
"We never dreamed in a million years that Erin would win," said Erin's mom, Jeanie.
Erin knew that there were families out there who needed it more.
See the news coverage of Erin below:
If you are passionate about a charitable cause in your area, consider helping to raise some money for them. A few phone calls, or even a few bottles and cans can end up making a tremendous difference for beautiful causes that help some of the most lovable and vulnerable people in our society.
What are your thoughts? Let us know in the comments.
Please share this good news with others: when we share stories and examples of compassion and kindness, we inspire and encourage others to be kind and compassionate in their daily lives, making the world a better place for everyone.
You are loved.
See Also: 12-Year-Old-Boy Learns To Sew To Create Over 900 Teddy Bears For Hospitalized Children