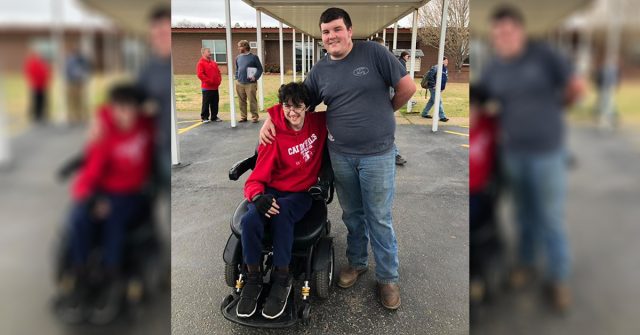 Kindness is just so beautiful…
When Tanner Wilson saw his friend Brandon Qualls struggling to use his manual wheelchair to get around each day, he knew that he wanted to do something to help.
Brandon had been using a hand-push model wheelchair for years, and going up and down the halls of their school, Caddo Hills High School, was causing him pain.
"My arms would get really tired," Brandon said. Brandon explained how each day he would need to take periodic rests when moving from one place to another.




That's when Tanner decided to step in. After seeing how difficult each day was for Brandon, Tanner began saving the income from his part-time job at a local mechanic shop in order to buy his friend an electric wheelchair. Yet he kept this compassionate decision to himself for more than two years, and while most people would assume he was saving up for a new video game or for even a car, he had grander intentions in mind.
The love Tanner has for his friend kept him going for more than two years, as he worked and saved in order to improve the life of Brandon. When the day came that Tanner had finally saved enough money, he purchased an electric wheelchair that he had found on Facebook, and surprised his friend with it at school. Brandon was so overwhelmed by the kindness of his friend that he broke down in tears.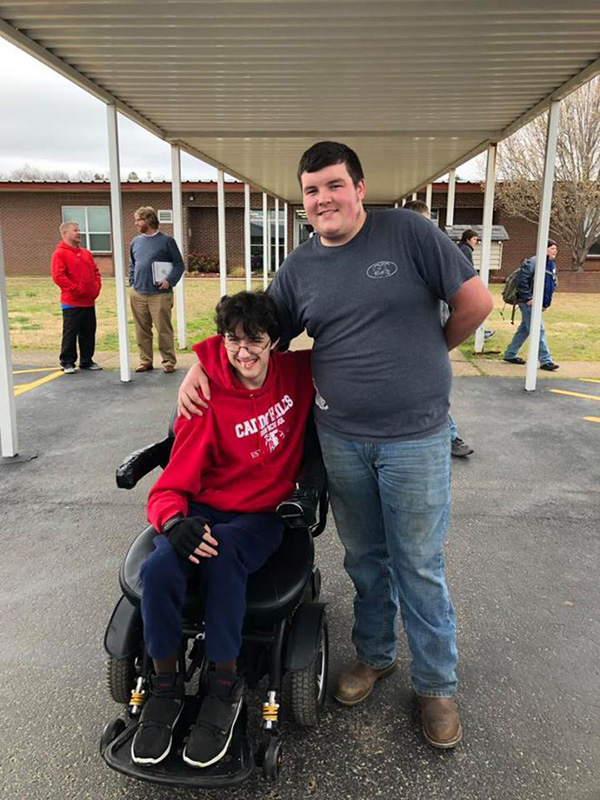 "They came in and my face just blew up," Brandon told News9. "I was just crying everywhere. I was like, 'Wow I can't believe he did that for me.'"
"It's been my dream to just have one of these," Brandon said. "And my dream came true."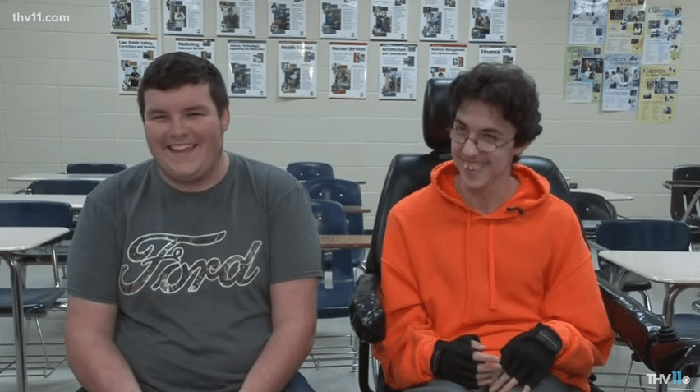 "He's just been a really good friend and I wanted to do him a favor," Tanner said. "I just felt like I needed to do it. … Brandon, he's just always been there for me."




After purchasing the wheelchair, one of Brandon's teachers, Ginger Wray, wanted to do what she could to help as well. Knowing Brandon's interest in cars and trucks, and also that his favorite color is orange, she created some custom orange flame decals for his new wheelchair. The chair's fenders now have orange flames, and the back of the headrest reads, "Qualls," which is Brandon's last name.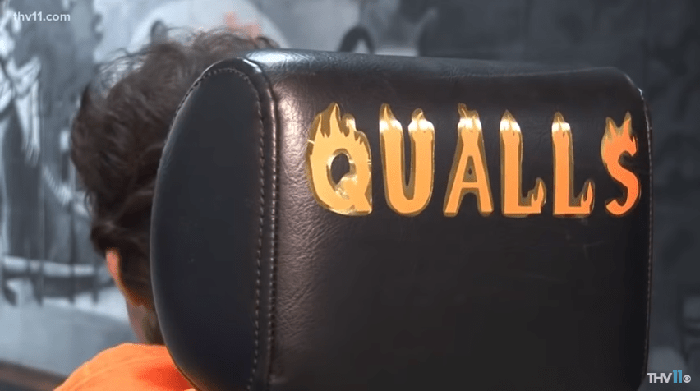 "When he came by I said 'Brandon, you got to have some flames on there because you're going to be buzzing down these halls in no time!' So I went home and made him some flames," Ginger said.
Brandon says that he is still getting the hang of maneuvering his new decked-out wheelchair: "It's awesome, I may hit a few doors but it's worth it!"
Teacher Kathy Baker explained how practicing kindness is something that Tanner regularly enjoys doing. "He loves to do for others," Kathy said. "He is just a great young man."
Tanner's mom also said that she was not surprised by her son's behavior; "That's him. He's always been about everybody else and not himself," she said. "We let him know, you get nowhere being mean." She explained that being able to help others and knowing that he made a difference has helped her son cope with some of his own personal struggles, and has brought out the best in himself.
Tanner said that the look on Brandon's face when he saw his new electric wheelchair was unforgettable. He said he would do it all over again, working a part-time job for two years as a full-time student, because seeing his friend smile like that was just priceless.
"There's many people out here that have troubles and need a little bit of help. Sometimes they can't do it for themselves," he said.
As Tanner's act of kindness is now receiving much deserved national attention in the media, Tanner simply wishes that, "people would care more about others, than just themselves," and hopes that it will inspire others to do the same.
Watch this video of Tanner and Brandon with his new electric wheelchair:
You are Loved.
See Also: This Kind 10-Year-Old Used His Life Savings To Buy His Favorite Gas Attendant A New Bicycle