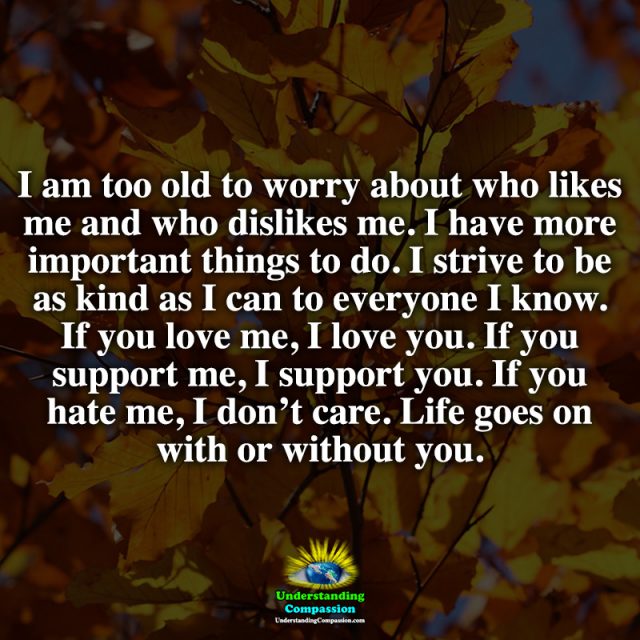 I am too old to worry about who likes me and who dislikes me. I have more important things to do. I strive to be as kind as I can to everyone I know. If you love me, I love you. If you support me, I support you. If you hate me, I don't care. Life goes on with or without you. 
You seriously have no idea what people are dealing with in their personal life so just be nice, it's that simple. 
Let them judge you. Let them misunderstand you. Let them gossip about you. Their opinions aren't your problem. You stay kind, committed to love, and free in your authenticity. No matter what they do or say, don't you dare doubt your worth or the beauty of your truth. Just keep shining like you do. 
Everyone has untold stories of pain, hurt and sadness that takes them on different paths and makes them love and live a little differently than you do. Please stop judging and instead try to understand. Be Kind, Always. 
You may see me Struggle, but you'll Never see me Quit. 
You have to Love Yourself because no amount of love from others is sufficient to fill the yearning that your soul requires from you. ~Dodinsky 
I'm Just ME I'm not perfect, I'm me. I've made bad decisions and wrong choices, but I'm me. I've said the wrong things at times and I've said the right things, because I'm me. I don't like everything I've done, but I did it because I'm me. I've loved and trusted people who didn't always stay true to me, but I'm still me. If I had the chance to start again, I wouldn't change a thing. Why? Because I'm me. There are a lot of good things about me; you just need to look past the imperfections to see what's right. If you can't do that then it's your loss. I'm the best I can be. I am ME! 
We all have our own struggles. Let's just be there for each other. 
Never Judge… It's easy to look at people and make quick judgments about them, their present and their past, but you'd be amazed at the pain and the tears a single smile hides. What a person shows to the world is only one tiny facet of an iceberg hidden from sight. And more often than not, it's lined with cracks and scars that go all the way to the foundation of their soul. Never Judge… learn to respect and acknowledge the feelings of others. 
Grudges are a waste of Perfect Happiness. Laugh when you can. Apologize when you should, and Let Go of what you can't change. 
A Gentle Word, a Kind Look, a Good Natured Smile, can Work Wonders and Accomplish Miracles.
~William Hazlitt 
Sometimes the best thing you can do is not think, not wonder, not imagine, not obsess. Just breathe, and have faith that everything will work out for the best. 
You are Loved