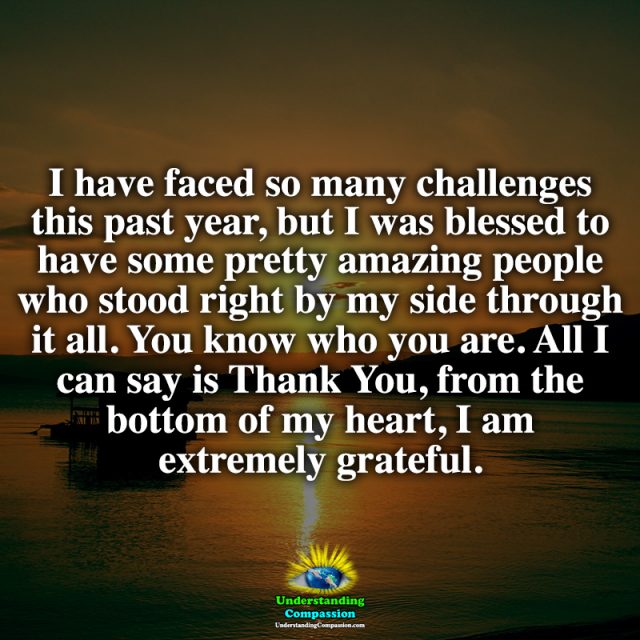 I have faced so many challenges this past year, but I was blessed to have some pretty amazing people who stood right by my side through it all. You know who you are. All I can say is Thank You, from the bottom of my heart, I am extremely grateful. 
To my family and friends: just want to say Thank You for being in my life. Love you. 
To my Family and Friends, sometimes I forget to tell you how much I love you. Thank You for being in my life. You are special to me. Big Hug. 
I Truly Appreciate Kindness. I appreciate people checking up on me. I appreciate a quick message. I appreciate those who ask if I'm okay. I appreciate every single person in my life who has tried to brighten my days. It's the little things that matter the most. Thank you. 
Be Grateful for every second of every day that you get to spend with the people you love. Life Is So Very Precious. 
If someone comes into your life and has a positive impact on you, be thankful that your paths crossed. And even if they can't stay for some reason, be thankful that somehow they brought joy into your life, even if it was just for a short while.
Life is change. People come and go, some stay, some don't and that's okay. Remember the good times and smile that it happened. 
Today, Be Thankful and think how rich you are. Your Family is Priceless. Your Health is Wealth. Your Time is Gold. 
There are people in my life that I am convinced are Angels disguised as friends. You are one of them. 
The most beautiful things in life aren't just things. They are people and places, memories and moments, smiles and laughter. 
I am truly grateful for everything I experience. It Is All A Gift.
~Louise Hay 
I want to thank the few special people who check up on me from time to time. That means so much more to me than you know. 
When someone helps you and they're struggling too, that's not help, that's Love. 
I never cared about the material things someone could give me. I care about Time, Attention, Honesty, Loyalty and Effort. Those gifts mean more than anything money could ever buy. 
Thank You to those who hurt me, you made me a Stronger Person. Thank You to those who cared, you made me Feel Important. Thank You to those who worried, you let me know that You Care.
Thank You to those who left me, you showed me not everything lasts forever. Thank You to those who Stayed, you showed me the meaning of Loyalty. Thank You to all who have entered my life, you Helped me become the person I am today. 
At the end of the day, what really matters is that your loved ones are well, that you've done your best, and that you're Thankful for all you have. 
You are Loved