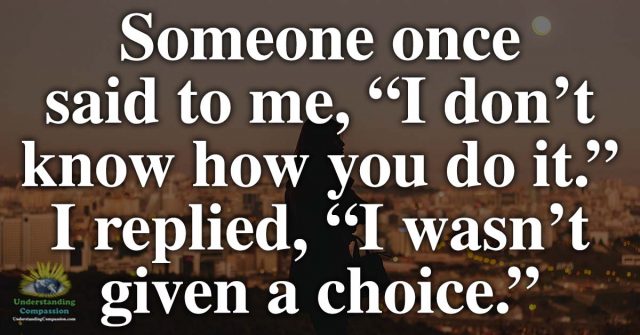 Someone once said to me, "I don't know how you do it." I replied, "I wasn't given a choice."
More Related Quotes:
Just Be Yourself, and don't worry about what anyone thinks. Being Genuine is more important than getting the approval of others. 
Life is so much better with a sense of humor. 
You can't calm the storm, so stop trying. What you can do is calm yourself. The Storm Will Pass. 
You can't hate yourself
happy. You can't criticize
yourself thin. You can't
shame yourself worthy.
Real Change begins with
Self-Love and Self-Care.
~Jessica Ortner 
I'm slowly becoming the person I should've been a long time ago. 
Be Humble and never think that you are better than anyone else… for dust we are, and to dust we shall return. 
I'm Just ME I'm not perfect, I'm me. I've made bad decisions and wrong choices, but I'm me. I've said the wrong things at times and I've said the right things, because I'm me. I don't like everything I've done, but I did it because I'm me. I've loved and trusted people who didn't always stay true to me, but I'm still me. If I had the chance to start again, I wouldn't change a thing. Why? Because I'm me. There are a lot of good things about me; you just need to look past the imperfections to see what's right. If you can't do that then it's your loss. I'm the best I can be. I am ME! 
"We are what we repeatedly do. Excellence, then, is not an act, but a habit."
~Aristotle
Let them judge you. Let them misunderstand you. Let them gossip about you. Their opinions aren't your problem. You stay kind, committed to love, and free in your authenticity. No matter what they do or say, don't you dare doubt your worth or the beauty of your truth. Just keep shining like you do. 
Nobody goes through more difficulties in life than a person with a Good Heart. 
If you want to lift yourself up, lift up someone else.
You are Loved.
Watch this video of a kind 4-year-old who uses his allowance to feed the homeless: