Hope is returning to those with scoliosis and hunchbacklike posture as an 86-year-old woman is showing others that the condition can be greatly healed using several healthy yoga stretches, and within months!
When then-85-year-old Anna Pesce nearly collapsed when visiting her grandchildren and trying to climb a few stairs, she knew that she needed to try something different to deal with her scoliosis.
"I had this horrible pain shooting up my back. I had to be carried up the stairs and put into a wheelchair for the rest of my stay," Anna explained.
"I tried everything: acupuncture, a physical therapist and seeing a chiropractor. You feel good temporarily, but [I'd be] in pain again soon after."
Anna had spent more than 20 years suffering from hunchbacklike posture; the result of scoliosis, a herniated disc and osteoporosis, which weakens the body's bones and often leads to curvature of the spine.
A few months after returning from her visit with her grandchildren, Anna started working with Rachel Jesien, a 28-year-old certified yoga instructor and back care specialist who championed her own scoliosis. Her professional training and personal experience has allowed her to create a specialized program for helping people with scoliosis heal and correct their posture.
Rachel came to Anna's home once per week, teaching her several very important stretches and matching each of the poses to her body; such as Child's Pose and Chair Savasana, where Anna laid down with her back on the floor and rested her lower legs on an elevated chair. Within one month, Anna was able to walk again.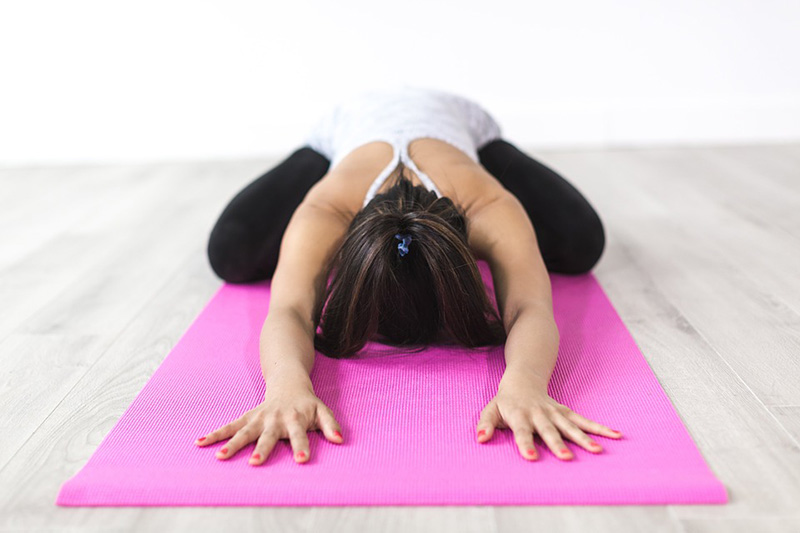 "After two months, another big milestone was that [Anna] knew what poses to do whenever the usual pains would come up for her," her trainer Rachel explained. "For example, if she was having hip pain, she'd sit on a chair and do an ankle-to-knee pose."
By her fourth month of training, 86-year-old Anna could do a modified headstand with her back against the wall. "[Anna] was timid at first, because just moving caused her so much pain," says Rachel. She firmly explained that when the elderly practice yoga under the guidance of a back-care specialist that they can strengthen their bone density, muscles, and can alleviate the back pack which comes from osteoporosis, osteoarthritis and other conditions which cause our older generation to suffer.
Rachel herself spent five years of her life wearing a back brace for her own scoliosis; "I had to wear a back brace for five years and went to physical therapy every week, but this [yoga] was the only thing that worked," she explained.
While some can feel intimidated by trying yoga alone, Rachel recommends that those with back issues seek out a certified back-care instructor.
Anna shared how wonderful her body is feeling now; "I feel wonderful now because I can drive by myself and do the things I wasn't able to do before. I would recommend this to other people."
"She's a tough cookie," Rachel said. "Before we were working together, [Anna] was so down about her condition, but now she has such a different outlook and feels so much better about her life."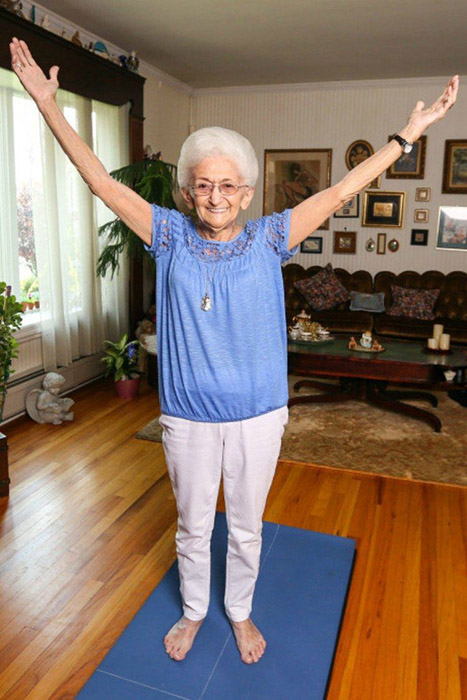 With stretching having such a powerful effect on healing patients with scoliosis, researchers recently conducted a study where participants did the side plank pose for on average 1.5 minutes a day, for 6 days a week and for 7 consecutive months. Their results found that participants' spine curvatures incredibly improved: between 32% to 49.6%.
When Rachel was asked if only performing the side plank would, in her opinion, be able to fully reverse scoliosis, she shared an interesting answer on her Facebook page MySacredSpine; "One question I get asked all the time is, "can side plank really reverse scoliosis if that's all I do?" To this, I firmly say no. It may surprise you to hear this, but the yoga poses you do does not matter. What matters is the ability to adjust for your scoliosis in every pose. That takes time, dedication, and curiosity in learning exactly how your curve behaves, and how to work with it." '
Overall, these exciting findings paired with the wonderfully empowering recovery of Anna Pesce with the help of her back care specialist Rachel Jesien gives us great hope for every person who is suffering from scoliosis and other painful conditions related to curvature of the spine.
If you or someone you know could benefit from this practice, Rachel offers online courses helping those with scoliosis and back issues here.
You are Loved.
See this incredible video of Anna stretching her way to physical freedom:
See Also: 10 Wonderful Piriformis Stretches To Help You Get Rid of Sciatica, Hip & Lower Back Pain